Bayern Munich are struggling because they never replaced Thiago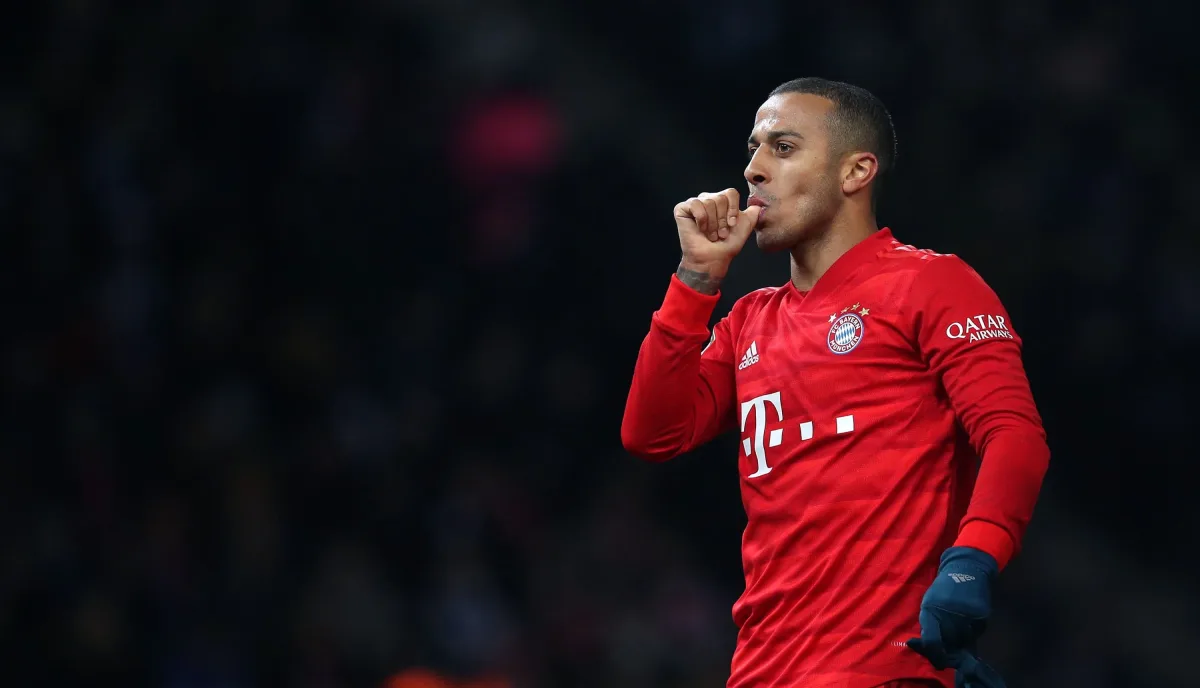 Bayern Munich picked up back-to-back defeats for the first time since December 2019 on Wednesday night after getting knocked out of the German Cup by 2.Bundesliga side Holstein Kiel.
While Hansi Flick's side remain top of the Bundesliga table and are still strong favourites for their Champions League Last 16 clash with Lazio next month, Bayern are undoubtedly struggling far more this season than they did last time around.
In particular, Bayern's defence has simply fallen apart. Not only have the Munich side conceded 10 goals in their last five games, they've also shipped more than any other top six side in the Bundesliga this season.
And while Flick continues to struggle with poor performances and injuries in his back line, much of Bayern's problems can come down to the club's inability to replace Thiago Alcantara.
READ MORE:
Bayern's struggle to replace Thiago
While Bayern were well aware of Thiago's intentions of leaving the club in the summer transfer window, the only signing that was notably similar to the Spanish international was Marc Roca from Espanyol, who signed for just over £8 million.
However, the 24-year-old midfielder has struggled for game time this season. Injuries aside, Roca has been an unused sub in Flick's team on 12 occasions and has amassed just 354 minutes of game time so far this season. A like-for-like replacement, the Espanyol import is not.
And that's the main issue for Flick's team this season. Where Thiago once perched in front of the defensive line, picking out passes each week, Leon Goretzka, Corentin Tolisso, Joshua Kimmich and Jamal Musiala now take turns trying to do exactly that. Yet none of them have managed to match the Spaniard in what he did so well last season.
Over the course of the 2019/20 season Thiago was not only a defensive anchor in midfield, but also retained possession and ensured Bayern were rarely susceptible to counter attacks. His average of 4.7 interceptions and 2.9 recoveries in the opposition half per Bundesliga match may be rivalled by Goretzka's stats from this season, but the graph below shows just how far off Bayern's other midfielder's are in that regard.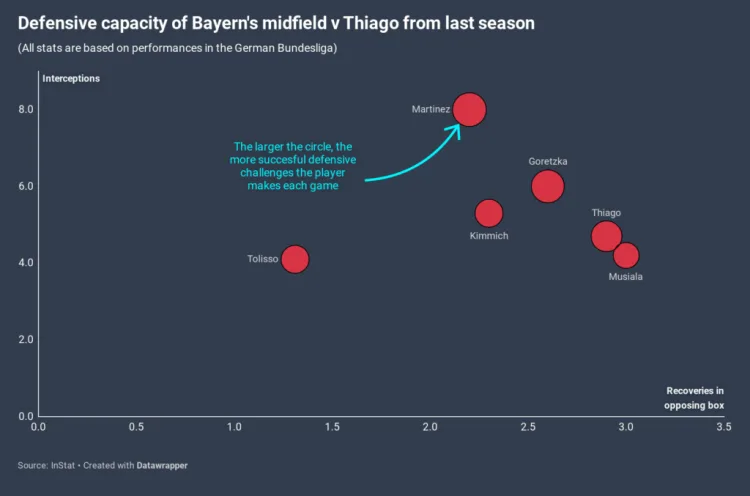 Indeed, the crux of Bayern's defensive issues comes down to their inability to hold on to the ball and how opposing teams counter attack them when they then steal it off the German and European champions.
Last season Bayern lost the ball on average 70 times a match and 10 times in their own per match. Those numbers have creeped up to 73 and 13 per match since Thiago departed. Similarly, the amount of counter attacks they face per game has risen from 14 to 15 and the amount that result in a shot on Manuel Neuer's goal has shot up from 2 to 3.4 per game.
These stats may seem like incremental changes, but they result in Bayern's opponents averaging 1.27 xG per match, rather than the 1.13 they averaged last season. That then means Flick's side go from conceding 0.94 goals per Bundesliga match to 1.27 this season. And, ultimately, winning just 2.2 points per game this time around, compared to last season's average of 2.41.
Whether Flick can rebuild this team around a system that relies upon a midfield partnership of Kimmich and Goretzka or another midfielder in the squad remains to be seen, but at the moment the Bayern manager is trying to play last season's tactics without one of his most crucial players. And until that is addressed the Munich giants may continue stumbling.