Who is Mateo Retegui? Italy's new Argentine striker making his debut against England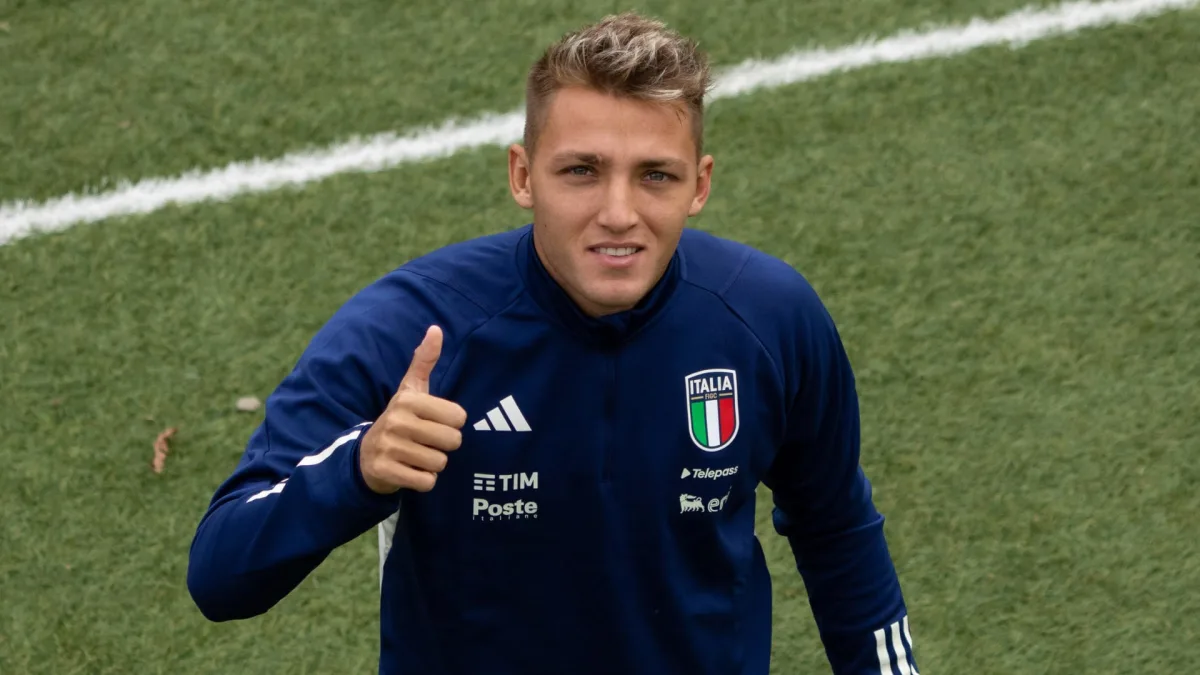 The big story ahead of Italy's Euro 2024 qualifier against England in Naples on Thursday has all been centered around Tigre striker Matteo Retegui.
Retegui earned his maiden call-up for the Italy national team, despite the fact that he was barely known on the peninsula, and has now been thrown into the starting line-up against England.
The 23-year-old was born and grew up in Argentina but qualified for Italy on behalf of his Italian grandmother.
And he debuts from the start against England after impressing in training.
Retegui is a highly-rated striker who has created a great deal of interest from clubs in Europe over the last months.
So who is Retegui and how good is he?
What position does Mateo Retegui play in?
Retegui is a classic centre forward, a striker in the number 9 position.
How good is Mateo Retegui?
Retegui is a classic number 9, a centre forward who has been in prolific form on loan at Tigre from Boca Juniors.
He scored 23 goals in 42 games last season for Tigre last season, which made him the top scorer in the Argentine Primera Division.
He was expected to return to his parent club Boca for this campaign but stayed on at Tigre. He has started the current campaign fantastically with six goals in his first eight matches.
"He loves getting into the area and playing in and around the goal. He leads the line with power and pace," Argentine football journalist Daniel Edwards told the Italian Football Podcast.
"With Tigre he often plays in a front two, in a 4-3-1-2. He has thrived in that system.
"Retegui has a great eye for goal, he is so strong in the air - he is 6ft 2in and scores a lot with his head. He has a grenade of a right foot and he is good at penalties.
Mateo Retegui's first day at Coverciano as he prepares for his Italy debut📚🇮🇹 pic.twitter.com/gAiRe5u3zL

— AzzurriXtra 🇮🇹 (@XtraAzzurri) March 21, 2023
"He has speed and strength and power to get past the last man. He has all the attributes of a classic centre forward.
"In terms of weaknesses, you won't seem him dropping back and away from the area and final third he won't contribute too much. He is still young and he has time to evolve his all-round game.
"He has been likened to Christian Vieri and that is a big stretch. But there are some similarities in their games in terms of his approach and directness. Like Gonzalo Higuain he has the knack of getting in the right positions and being on the end of chances. He is a powerful direct centre forward that we don't see much of in modern football."
Retegui's brilliant form saw him called up for the Italy national team by coach Roberto Mancini for the Euro 2024 qualifiers against England and Malta in March 2023.
Despite being born in Argentina, he qualified for the Azzurri on behalf of his Italian grandmother. Retegui accepted the call and will now play his international football for Italy.
What clubs are interested in Mateo Retegui?
Retegui has become one of the most wanted men in the Argentine league in recent months following his exploits for Tigre.
Both Milan giants, Inter Milan and AC Milan, are following Retegui as both sides are planning to buy a striker in the summer of 2023.
"A lot of clubs are chasing him and playing in Europe is obviously his dream. Clubs from Germany, Italy, Spain, Germany and also in the Premier League are interested," the striker's father told Gazzetta dello Sport in March 2023.
Retegui is expected to transfer to Europe in the summer of 2023.
Mateo Retegui - The Next Immobile 🇮🇹⚽️
pic.twitter.com/ugRI8Xdmjj

— josh 👉🦁👈 (@memphisprop) March 17, 2023
When does Mateo Retegui's contract expire?
Retegui's loan contract at Tigre expires on December 31, 2023.
Retegui's contract at Boca Juniors expires on December 31, 2024.
How old is Mateo Retegui?
Retegui was born on 29 April, 1999. He is 23.
What is Mateo Retegui's height?
Retegui is 185cm, or 6ft 2in.
What is Mateo Retegui's Instagram?
Mateo Retegui's Instagram has 146k followers as of March 2023.