Sergio Ramos: Why Real Madrid are refusing the captain a two-year deal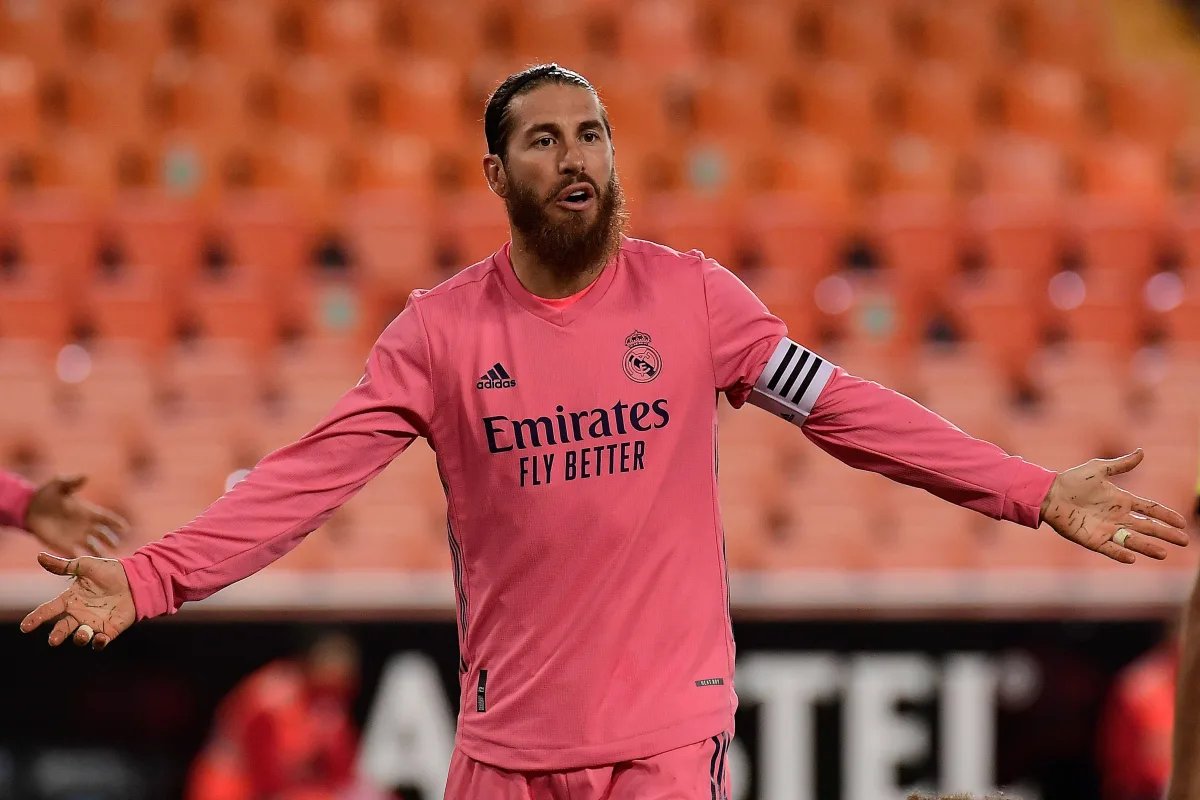 Real Madrid captain Sergio Ramos looks as far away as ever from renewing his contract with the Spanish giants.
Ramos is out of contract in June and negotiations have been continuing for much of the season. The situation has grown in complexity due to the first-team squad facing a coronavirus-related pay cut.
Furthermore, Ramos wants the security of a two-year deal while Los Blancos are only willing to offer him one. They are retaining strict measures regarding their captain's age and while Luka Modric, who has been one of Madrid's best players this season, is only being offered a one-year deal at the age of 35, they don't want to offer Ramos preferential terms.
READ MORE:
Meanwhile, other clubs are circling. Paris Saint-Germain are reported in the Spanish press to be lining up a three-year contract for the stalwart, while Juventus have also been linked with him. Ramos himself has allegedly told the club that PSG, with Mauricio Pochettino now in charge, have offered him terms.
Madrid, though, are unwavering from their unwritten rule of offering players over 30 more than a single-year deal. An exception was made for Cristiano Ronaldo – but he is Cristiano Ronaldo.
Are they right, then, to be reticent over Ramos?
Is Sergio Ramos in decline?
| STATISTIC | 2018/19 | 2020/21 |
| --- | --- | --- |
| % DUELS WON | 63 | 61 |
| % TACKLES WON | 78 | 91 |
| % AERIALS WON | 65 | 68 |
| INTERCEPTIONS P90 | 1.4 | 1.7 |
| RECOVERIES P90 | 6.4 | 5.8 |
La Liga only
The statistics would suggest that Ramos has declined slightly but that, overall, he still provides a similar level of involvement defensively than he ever did.
Take, for example, the number of duels he has attempted and won over the opening matches of this 20/21 campaign.
It's true that he perhaps isn't as aggressive in his approach to defending as he used to be; in terms of duels, his activity in this regard has dropped in each of the last three seasons after hitting a high of 9.7 duels attempted per 90 in 2017/18.
His zenith, though, arrived a year later, when he won 63% of challenges. He is now operating at 61%.
Similarly, there has been a depreciation in the number of ball recoveries he has made per 90 minutes. In fact, in this regard he has dropped in each of the last four years. When once he made 7.7 recoveries in each full game, he now averages just 5.8. That is down more than 10% from last season alone.
Ramos in numbers:
Ramos' influence
Of course, Ramos remains one of the La Liga's foremost defenders. He posts a tackle success rate of 91%, which is among the best in La Liga. Even in terms of the percentage of duels he has won, he fares well compared to his peers.
There is also the gigantic influence that the player holds in the Madrid dressing room. Ramos has matured somewhat in the past 18 months in terms of his on-pitch discipline and there's a marked difference in the stability of the defence from when he plays versus when he doesn't. The available cover, Nacho and Eder Militao, fail to convince and Madrid would have to spend big to fill his sizeable shoes.
But they might question if they will continue to receive value for money for the £10.8 million (€12m) net the player receives annually.
Team-mate Raphael Varane eclipses, or comes close to eclipsing him, in the key defensive numbers, and Ramos' figures are trending downwards. It is clear why the board might conclude that a player who will turn 35 years old in March is not worth risking on a lavish multi-year deal.
And from the player's perspective, with PSG reportedly willing to bump his contract up to €18m net per year, the attraction of a both money and security could be too much to resist.
Having come close to moving to the Chinese Super League in 2019, this could finally be goodbye to Madrid for Ramos.