Why is Bruno Fernandes so bad for Portugal?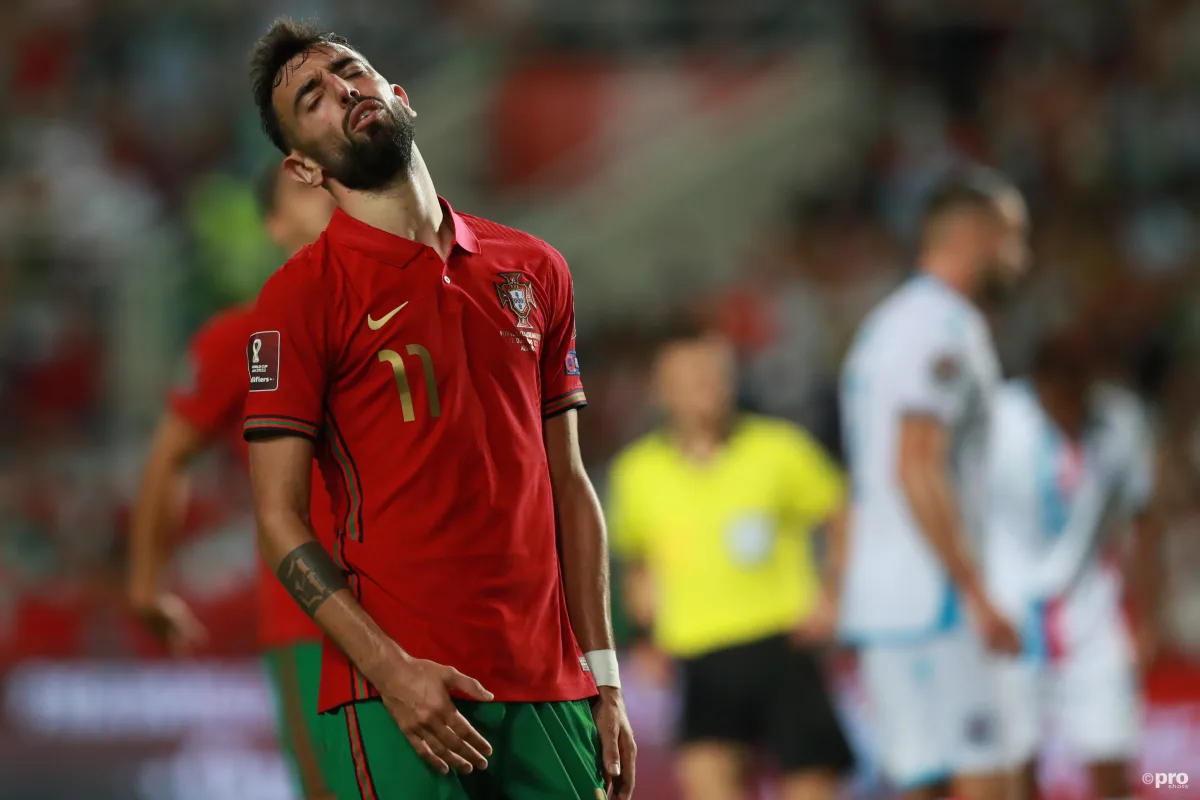 Bruno Fernandes has been a revelation in the Premier League since joining Manchester United, but as Portugal were stunned by Serbia on Sunday night, his lack of influence in the national team was sorely felt.
The Selecao needed only a point to obtain qualification for next year's FIFA World Cup, and looked to be on track when Renato Sanches opened the scoring just two minutes in.
But a Dusan Tadic equaliser followed by Aleksandar Mitrovic's last-minute winner condemned Portugal to the playoffs, and Bruno spent the first hour watching on from the bench.
Coming on in the 64th minute for Bernardo Silva, Fernandes had little impact on the game and couldn't save his country from defeat and from a dangerous path towards Qatar 2022.
But it's not just this once that Fernandes has failed to step up for his country. Coming off an 18-goal, 12-assist season in the Premier League last season, he approached Euro 2020 as one of the form players on the continent.
A 3-0 win against Hungary set up the competition well, with Fernandes playing almost the entire 90 minutes, but it all went rather downhill from there.
The midfielder was hauled off just after the hour mark after being absent in defeat against Germany and was consigned to the bench for the remaining two games – a 2-2 draw with France and a loss against Belgium, resulting in a premature exit at the Round of 16 stage.
That abysmal tournament signalled a turning point for Fernandes in Fernando Santos' team. In the seven World Cup qualifiers and friendlies since the Euros, Fernandes has started just four times and played a full 90 minutes once.
Across this disastrous international break, Santos removed Fernandes with 15 minutes to play against Ireland with his side needing a goal, before he was benched for that crucial Serbia match.
Portugal's issues clearly extend beyond Fernandes, but it is increasingly bizarre that he is so integral to Man Utd but sees himself out of favour in the national team.
Bruno Fernandes is a completely different player for Man Utd and Portugal
Santos' preferred midfield composition prioritises defensive qualities to suit his managerial style, so perhaps with another manager he could be a better fit in the side.
But irrespective of stylistic clashes, the amount of talent in that side should see Fernandes be able to perform at a much higher level than he is currently.
With 40 caps and just six goals to his name, Fernandes has never quite been able to match his club form with the national team, even when he was still at Sporting Lisbon.
And it's indicative of widescale issues for the Selecao. Santos has come under fire, Cristiano Ronaldo is struggling to lead the group and on the pitch performances have been sub-par for some time.
With Portugal having to go through the playoffs and with the possibility of a very tough fixture to earn qualification, Fernandes needs to find some form for his country to avoid a major embarrassment.