'Wenger was kicked out for this!' – Arsenal fans react to Brentford humiliation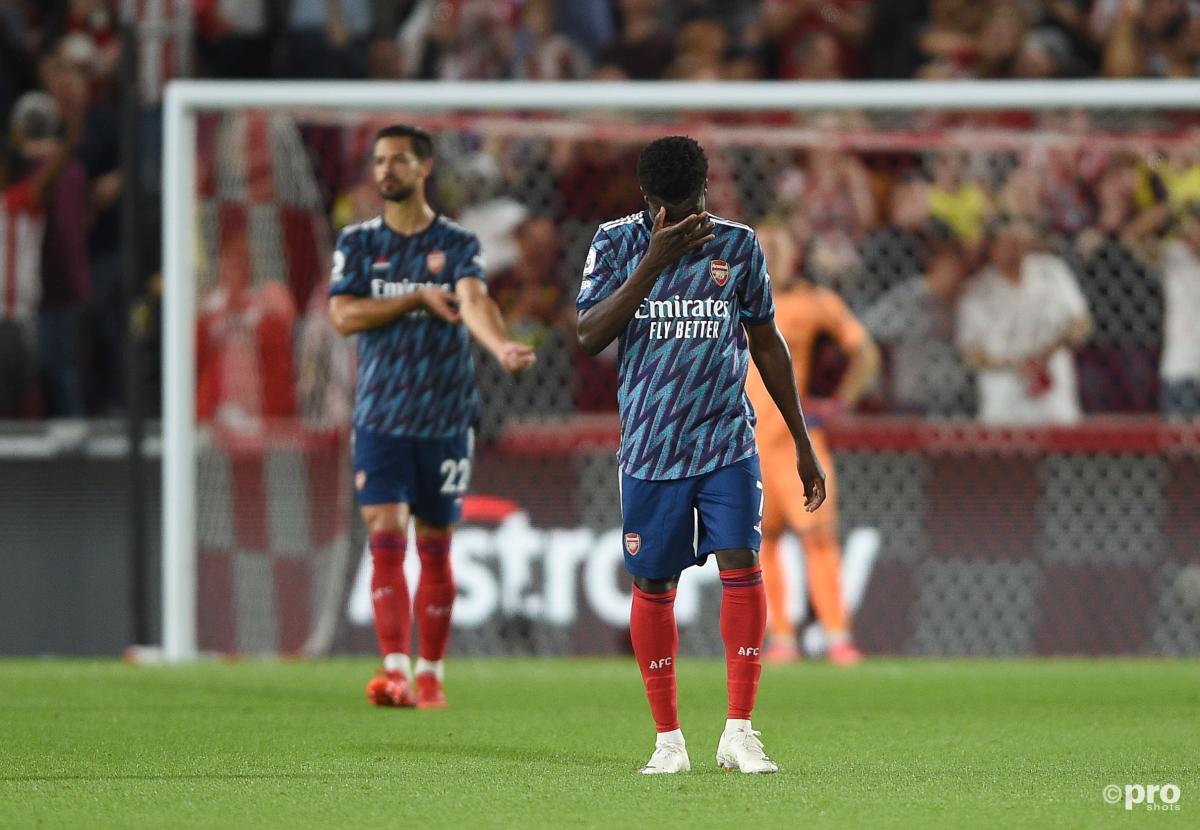 Arsenal's 2-0 defeat to Brentford on the opening night of Premier League action sparked an angry reaction from Gunners fans at full-time.
Goals from Sergi Canos and Christian Norgaard gave the Bees a shock victory on their Premier League debut.
For many Arsenal supporters, it felt like the natural culmination of a summer that has seen the club struggle in the transfer market, capturing only Ben White for £50 million from Brighton.
Meanwhile, they missed out on other important targets and started the match with youngster Folarin Balogun in attack as Pierre-Emerick Aubameyang and Alexandre Lacazette took ill before kick-off.
The natural reaction of the Gunners was one of frustration and embarrassment.
-Lost to Villareal, we trusted him.
-Took us to 8th position, we trusted him.
-Offloaded likes of Guendouzi and Saliba while likes of Willian and Chambers remained, we trusted him.
-He promised us the best, we trusted him.
-We have just lost 2-0 now, i DON'T TRUST HIM #ArtetaOut

— Saliba 🔴 🇵🇸 (@SalibaEra_) August 13, 2021
#ArtetaOut #EduGasparOut #KorenkeOut pic.twitter.com/PI8LX1EpHN

— Ranju STR ™ (@RanjuSTR) August 13, 2021
We want to see actions after tonight. We just lost to a team that had NEVER played in the PL before, were absolutely dominated by them and couldn't score. ANOTHER embarrassing club record is broken. SACK HIM and hire an experienced coach. To think Wenger was kicked out for THIS.

— Andrew Mathew (@anndrewmathew) August 13, 2021
At least we know the first episode's gonna be a banger. pic.twitter.com/cdaABNHEzG

— 📶 (@afc_deji) August 13, 2021
To be honest Arteta is not it.

— WelBeast (@WelBeast) August 13, 2021
If we don't spend 200mil we're finishing 15th.

So basically we're finishing 15th.

— Anshuman (@AnshumanPratyu1) August 13, 2021
Arsenal just lost to a Team that's making their first appearance in PL history😂

This Club is so so finished Man 😭 pic.twitter.com/Lk4LrAxhIc

— Richie Red 🔴 (@robinvanpolar) August 13, 2021
Look what you've done to the most cheerful Arsenal fan on the planet. pic.twitter.com/RFvXMXFk9O

— WH (@Wilshoholic) August 13, 2021
With Chelsea and Manchester City to come, there is no optimism for the future.
0/9pts.

— Rinkiya ke pitaji (@rinkiya_kepapa) August 13, 2021
And, of course, opposing supporters took the opportunity to troll Arsenal further.
Even your fixtures are laughing pic.twitter.com/JKnMS8tGJs

— ∞ (@DeBruyneProp) August 13, 2021
1. Don't
2. Read
3. Too
4. Much
5. Into
6. The
7. Premier
8. League
9. Table
10. At
11. This
12. Stage
13. As
14. It'll
15. Be
16. Different
17. Come
18. 22nd
19. May
20. Arsenal pic.twitter.com/p8ClNH1Yhr

— LiverpoolRoyalty (@liverpoolroyal) August 13, 2021
Arsenal FC have never won a premier league game in which they were trailing at halftime under Arteta 😭

— 🔴™️ (@UtdJay_) August 13, 2021
August 13, 2021
Current state of Arsenal FC:

-Managed by an absolute fraud✅
-Aubamayeng & Laca washed✅
-Has no pull to sign big players✅
-Biggest rivals are now Burnley✅
-Tottenham are a bigger club✅
-North London is white✅
-Greenwood>Saka ✅
-Overpaid for Ben Flop✅

— Bill 🏴󠁧󠁢󠁥󠁮󠁧󠁿 (@Fod3nSZN) August 13, 2021