European Golden Shoe 2023/24: Four-goal Martinez overtakes Haaland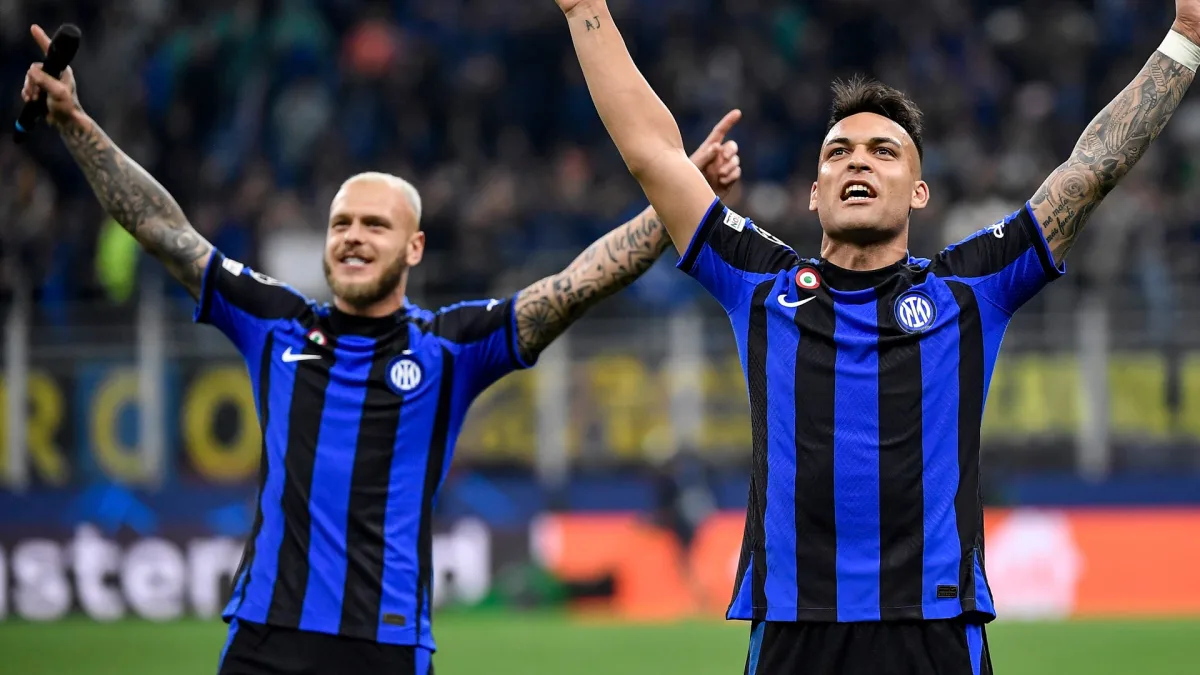 There is an impressive list of names who have previously triumphed in the European Golden Shoe award and everything is to play for in the 2023/24 season.
Manchester City attacker Erling Haaland won the prestigious prize for the first time last season. His 36-goal Premier League campaign set a new record in England's top-flight and saw off his leading scoring rivals on the continent too.
His success ended the hopes of Robert Lewandowski, who was bidding to win a third straight European Golden Boot crown. The Barcelona star is among the contenders again this year.
After his transfer saga ended in a move to Bayern Munich, Harry Kane will bid to score the most goals in Europe during 2023/24. He netted 30 top-flight goals for a struggling Tottenham team last season and is one of the continent's most consistent goalscorers, with a magnificent record in the Premier League.
Kylian Mbappe was another attacker facing an uncertain future as the season started. He has come close to winning this award before, scoring 27 or more goals in four of his last five Ligue 1 seasons with Paris Saint-Germain. He is yet to win the European Golden Shoe title, but is likely to be prominent in the standings once more.
Premier League top scorers: Will Haaland retain the Golden Boot?
Alexandre Lacazette and Victor Osimhen were other candidates from last season who will be back for more in the 2023/24 campaign, while Mohamed Salah will hope to bounce back from what was a quiet season, at least by his high standards.
Not all of the regular contenders are going to be in the running. At the start of last season, Cristiano Ronaldo, Lionel Messi and Karim Benzema were all considered candidates to win the European Golden Boot.
MORE: Saudi Pro League top scorers
But with all three of those greats now playing outside of the continent, a new era has begun.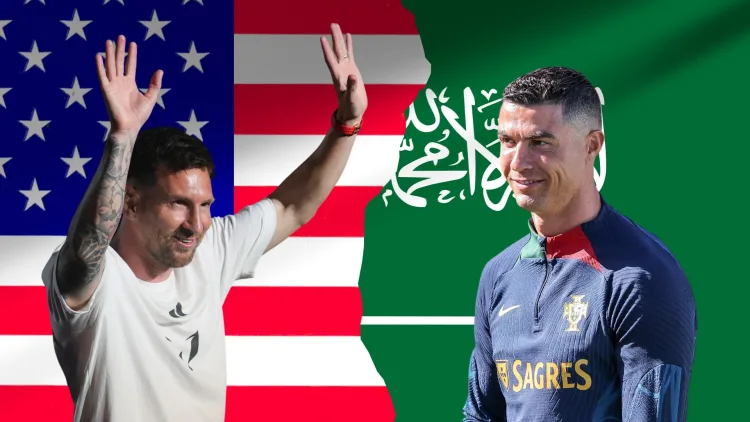 Surprise contenders have often emerged in the past as well, with former Golden Shoe winner Ciro Immobile a regular challenger given his remarkable goalscoring consistency for Lazio.
This page will be updated throughout the 2023/24 season with regular updates on the European Golden Shoe standings.
READ MORE: Who has the most assists in Europe?
Initially, our table tracking the European Golden Shoe standings will only list players from the top five European leagues, where the winner is most likely to emerge from.
Players from outside the top-five leagues in Europe are eligible to win the Golden Shoe, but the winner has not come from one of those divisions since 2002.
European Golden Shoe Standings
Erling Haaland and Kylian Mbappe have been overtaken by Lautaro Martinez as the race to win the European Golden Shoe title for the 2023/24 season continues.
Jude Bellingham is another player performing well so far after making a fast start for Real Madrid.
But the battle to win the European Golden Boot is currently led by Sehrou Guirassy of Stuttgart.
Guirassy has netted 10 times in only six Bundesliga matches so far this season, giving him the most goals in Europe's top five leagues.
He netted a hat-trick against Mainz and followed that up with a double against Darmstadt to propel himself to the top of the standings, a position he retains despite not scoring against Cologne in his most recent appearance.
Haaland has started the season with eight Premier League strikes for Manchester City, ensuring he sits just behind the early leader.
And Mbappe had moved on to seven Ligue 1 goals for the campaign after scoring three consecutive doubles for PSG until an injury in the 4-0 win against rivals Marseille and a goalless outing against Clermont last time out stalled his progress for the time being.
It is Martinez who sits as the closest challenger to Guirassy after coming off the bench to score four goals in a stunning display for Inter against Salernitana this weekend.
European Golden Shoe 2023/24
| Player | Goals | Points |
| --- | --- | --- |
| Sehrou Guirassy (Stuttgart) | 10 | 20 |
| Lautaro Martinez (Inter) | 9 | 18 |
| Erling Haaland (Man City) | 8 | 16 |
| Harry Kane (Bayern) | 8 | 16 |
| Kylian Mbappe (PSG) | 7 | 14 |
| Jonas Wind (Wolfsburg) | 7 | 14 |
| Victor Boniface (Bayer Leverkusen) | 6 | 12 |
| Son Heung-min (Tottenham) | 6 | 12 |
| Jude Bellingham (Real Madrid) | 6 | 12 |
| Robert Lewandowski (Barcelona) | 5 | 10 |
| Mostafa Mohamed (Nantes) | 5 | 10 |
| Jarrod Bowen (West Ham) | 5 | 10 |
| Alvaro Morata (Atletico Madrid) | 5 | 10 |
| Victor Osimhen (Napoli) | 5 | 10 |
| Takefusa Kubo (Real Sociedad) | 5 | 10 |
| Leroy Sane (Bayern) | 5 | 10 |
| Wissam Ben Yedder (Monaco) | 4 | 8 |
| Odsonne Edouard (Crystal Palace) | 4 | 8 |
| Dusan Vlahovic (Juventus) | 4 | 8 |
| Olivier Giroud (AC Milan) | 4 | 8 |
| Callum Wilson (Newcastle) | 4 | 8 |
| Alexander Isak (Newcastle) | 4 | 8 |
| Akor Adams (Montpellier) | 4 | 8 |
| Bryan Mbeumo (Brentford) | 4 | 8 |
| Evan Ferguson (Brighton) | 4 | 8 |
| Kevin Behrens (Union Berlin) | 4 | 8 |
| Takumi Minamino (Monaco) | 3 | 6 |
| Mousa Ta'mari (Montpellier) | 3 | 6 |
Haaland has made a strong start in the race to score the most goals in Europe. Last season's winner netted twice for Man City as they thumped Burnley 3-0 on the opening night of the new Premier League season.
He did not strike when Man City played Newcastle, but scored a thumping header against Sheffield United in Matchday 3, with the relief on his face clear after he had earlier missed a penalty. Haaland then scored a ruthless hat-trick in the 5-1 win over Fulham and netted again versus West Ham and Nottingham Forest, with City the only Premier League side with a 100% record through six games until they suffered a shock loss at Wolves on Saturday.
The Bundesliga, meanwhile, started with a bang as champions Bayern Munich earned an emphatic 4-0 win away to Werder Bremen to kick off the season.
Leroy Sane scored twice and new signing Harry Kane opened his Bayern account on his Bundesliga debut to make it a great night for Thomas Tuchel's side.
Kane was at it again on MD2, marking his first home appearance with a double as Bayern beat Augsburg 3-1, while his first hat-trick for his new team soon arrived too as they recorded a fantastic 7-0 win over Bochum. He has eight goals and 16 Golden Shoe points.
Bundesliga trio Victor Boniface, Kevin Behrens and Jonas Wind are among the other players in Germany to have made fast starts to the campaign.
Amid an uncertain summer, Mbappe got off the mark for PSG after coming off the bench against Toulouse, winning and scoring a penalty. And he followed that up the next week with a fine performance in his first Ligue 1 start of the season, scoring twice in a good 3-1 win over Lens for the French champions. His other doubles followed against Lyon and Nice.
Monaco star Wissam Ben Yedder, who has regularly appeared as a contender in the Golden Shoe standings over recent seasons, has four goals so far, putting him one behind Mostafa Mohamed.
In Italy, Inter forward Martinez has made an impressive start in Serie A and has reached nine goals, putting him four ahead of Victor Osimhen in the scoring standings.
Real Madrid midfielder Bellingham has made a brilliant start to life in La Liga, scoring six goals and adding two assists in his first seven matches.
Alvaro Morata has also made a swift scoring start. His double in the derby win over Real Madrid took him up to five for the campaign so far.
Barcelona striker Robert Lewandowski is also up to five goals in a battle with Bellingham and Morata at the top of the Spanish scoring charts.
It has been an impressive start for many of Europe's top scorers but, as things stand, it is a surprise name who sits at the top of the Golden Shoe charts.
Who won the European Golden Shoe - Previous Winners
Lionel Messi has won the most European Golden Shoe titles.
The Inter Miami forward has triumphed on six occasions. His last success was in 2018/19 for Barcelona, and he did not win the award with PSG.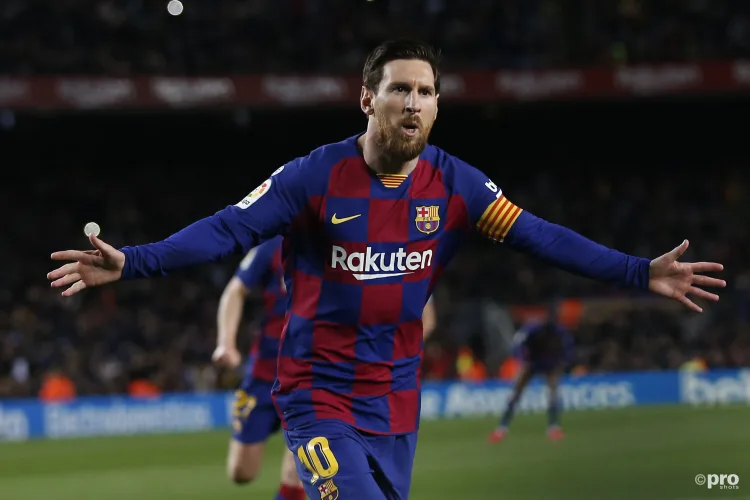 Cristiano Ronaldo is his closest challenger with four career wins, though the Al-Nassr attacker has not come out on top since 2014/15 when he was at Real Madrid, with his most recent spell at Man Utd not hitting the heights of his first.
European Golden Shoe: Most Wins
| Player | Golden Shoe Wins |
| --- | --- |
| 1. Lionel Messi | 6 |
| 2. Cristiano Ronaldo | 4 |
| 3. Robert Lewandowski | 2 |
| =3. Luis Suarez | 2 |
| =3. Thierry Henry | 2 |
| =3. Diego Forlan | 2 |
| =3. Mario Jardel | 2 |
| =3. Ally McCoist | 2 |
| =3. Fernando Gomes | 2 |
| =3. Dudu Georgescu | 2 |
| =3. Gerd Muller | 2 |
| =3. Eusebio | 2 |
Robert Lewandowski's triumph in 2021/22 means there are 10 players who have two Golden Shoe awards each, a list that also includes Luis Suarez and Thierry Henry.
Who is the top scorer in the Champions League?
Messi holds the record for most goals and points in a season as well. He remarkably scored 50 goals in 2011/12, earning himself 100 points.
Ronaldo has come closest to breaking that, scoring 48 goals for 96 points when he last won the crown in 2014/15.
Argentina forward Messi is the only player in European Golden Shoe history to win the title three years in a row, doing so from 2016/17 until 2018/19.
Ronaldo, though, is one of only four players to have won the title with different clubs. The others are Luis Suarez, Diego Forlan and Mario Jardel.
Lewandowski became the first Bundesliga winner since 1972 with the first of his two triumphs in the 2020/21 season, with his remarkable 41 goals from 29 games for Bayern being the best goal tally since 2015.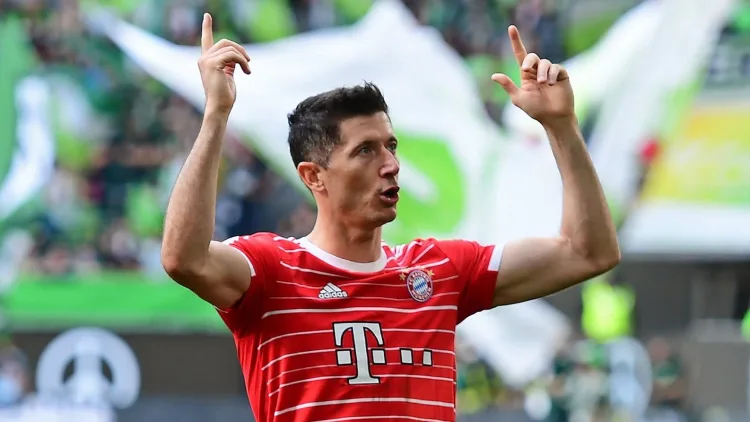 That came after Ciro Immobile won the 2019/20 European Golden Shoe, scoring 36 goals for Lazio in a tremendous Serie A season.
It was his first title, with the striker becoming the first Serie A player to have the most goals in Europe since Francesco Totti triumphed for Lazio's rivals Roma in 2006/07.
Ligue 1 has not produced a winner since Josip Skoblar in 1971, despite the likes of Messi, Mbappe and Zlatan Ibrahimovic playing in the league.
Premier League: Most assists and other records for EPL goals created
Success for Erling Haaland in 2022/23 gave the Norway star his first European Golden Boot title.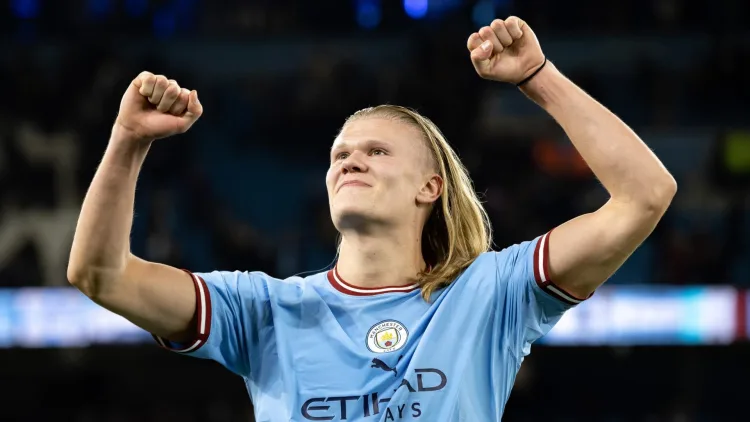 Haaland was the first Premier League winner since Suarez achieved the feat with Liverpool in 2013/14.
Recent Golden Shoe Winners
| Season | Winner | Team | Goals/Points |
| --- | --- | --- | --- |
| 2022/23 | Erling Haaland | Man City | 36/72 |
| 2021/22 | Robert Lewandowski | Bayern Munich | 35/70 |
| 2020/21 | Robert Lewandowski | Bayern Munich | 41/82 |
| 2019/20 | Ciro Immobile | Lazio | 36/72 |
| 2018/19 | Lionel Messi | Barcelona | 36/72 |
| 2017/18 | Lionel Messi | Barcelona | 34/68 |
| 2016/17 | Lionel Messi | Barcelona | 37/74 |
| 2015/16 | Luis Suarez | Barcelona | 40/80 |
| 2014/15 | Cristiano Ronaldo | Real Madrid | 48/96 |
| 2013/14 | Suarez/Ronaldo (shared) | Liverpool/Madrid | 31/62 |
| 2012/13 | Lionel Messi | Barcelona | 46/92 |
What are the European Golden Shoe rules and weightings?
Only league goals are eligible for the European Golden Shoe, with each strike earning points in a weighted system depending on the quality of league.
The five elite leagues - Premier League, La Liga, Bundesliga, Serie A and Ligue 1 - all carry a weighting of 2, meaning that a player will be awarded two points for every goal they score in these competitions.
Premier League table: What are the latest standings?
For the leagues ranked sixth to 21 in Uefa's coefficients rankings - which includes the top-flights in Portugal and Netherlands - goals scored are given a weighting of 1.5, and goals scored in a league outside the top 21 are given a weighting of 1.
That was not always the case in the European Golden Shoe. From 1968 until 1991, the award simply went to the highest goalscorer on the continent, regardless of the strength of league.
Awards were not initially handed out between 1991 until 1996, when the new system came into force. Since then, only two players playing outside what were the five highest-ranked leagues at the time have ever won the Golden Shoe - Henrik Larsson (2000/01) and Mario Jardel (2001/02).
Manchester United: Top scorers and key fixtures
The Golden Shoe has been tied in the past, most recently when Suarez and Ronaldo shared the honour in 2013/14. Going forward, though, the award will be given to the player who has played the fewest minutes if two of them end up on the same number of points.
This page covers the 2023/24 European Golden Shoe race. All the details from the 2022/23 season can be found here.