Arthur Vermeeren: Arsenal, Man Utd and Liverpool target is Belgium's next world star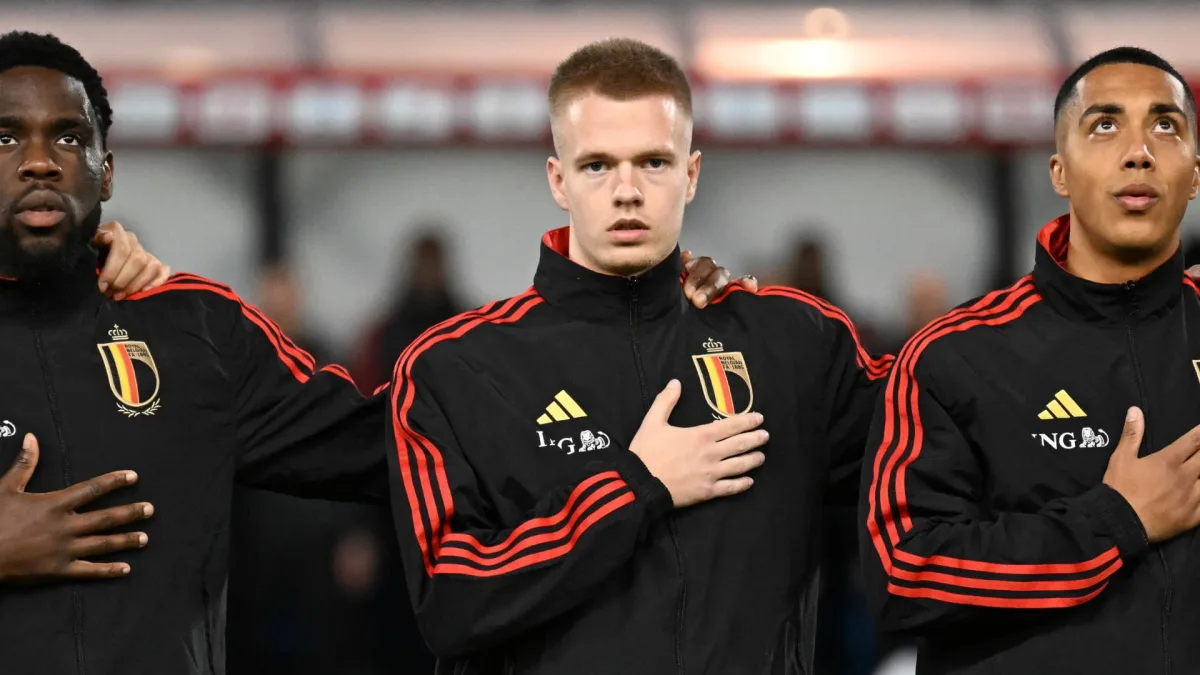 Arthur Vermeeren is living a dream, with the Royal Antwerp player attracting transfer interest from Arsenal, Manchester United and Liverpool among other major club barely a year after making his senior debuts.
As far as breakout seasons go, they do not get much better than making your debut for your childhood club, establishing yourself as a key starter and playing almost every single minute of the title run-in in which your team goes on to lift their first league trophy since the 1950s.
Article continues under the video
And add to that scoring a crucial last-minute winner against one of the strongest teams in the country to keep your side at the top of the table with just three matches to go.
MORE: Casemiro's replacement! Arsenal stand between Man Utd and wonderkid they must sign
Incredibly, that is exactly what Vermeeren did last term. He became an integral figure at the heart of midfield for Royal Antwerp as they won the Belgian Pro League for the first time in 66 years and also added another cup title to their collection.
Born in a place called Lier on the outskirts of the city of Antwerp, Vermeeren came through the club's youth ranks, spent a very brief stint with the second team before being fast-tracked to the first team at the start of the 2022/23 season. He started to impress immediately after making his debut, so much so that he became a key starter around the turn of the year and never looked back since.
Antwerp still top by a point after this 97th minute winner from Arthur Vermeeren, completing a comeback from 2-0 down v Club Brugge. His first professional goal, but he won't go too crazy. He's got school in the morning. pic.twitter.com/VePznehTRJ

— Will Downing (@WillDowningComm) May 14, 2023
Quiet connecting midfielder
If anything, Vermeeren has only further consolidated his spot in the Antwerp XI with his performances this term. He has shown such incredible maturity that he was even given the captain's armband in a UEFA Champions League match recently. Remember, he is still just 18 years old.
Despite this, the young Belgium international is not a player who naturally pops out whenever he is on the pitch. His return of just a solitary goal and three assists in 34 Pro League appearances should make his role quite clear: he is a defensive midfielder.
With that being said, it is worth pointing out that Vermeeren isn't a typical sitting No.6. He moves around from side to side as an integral component of Antwerp's build-up, helping get his side out from their own third to the opposition half by getting into the right positions to receive passes from the defenders and using his excellent close control to retain possession even when put under pressure as well. So, his heatmap shows him moving around quite a bit, especially in his own half.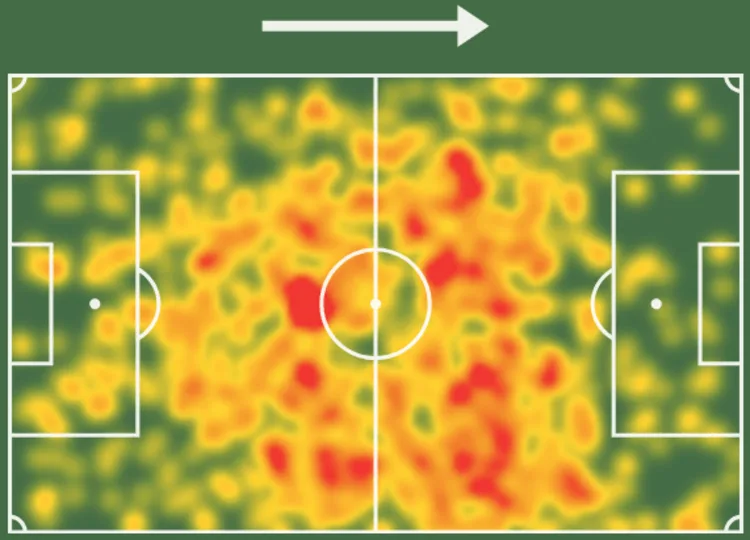 Receiving the ball is only half the job, but Vermeeren also excels at the next aspect – playing it forward. Just as he excellently opens up passing angles through his positioning, he also does a great job of finding them with the ball at his feet and playing pinpoint passes to his attackers and advanced midfielders. All things considered, he is a fantastic player to have in your team for building up and progressing through the thirds.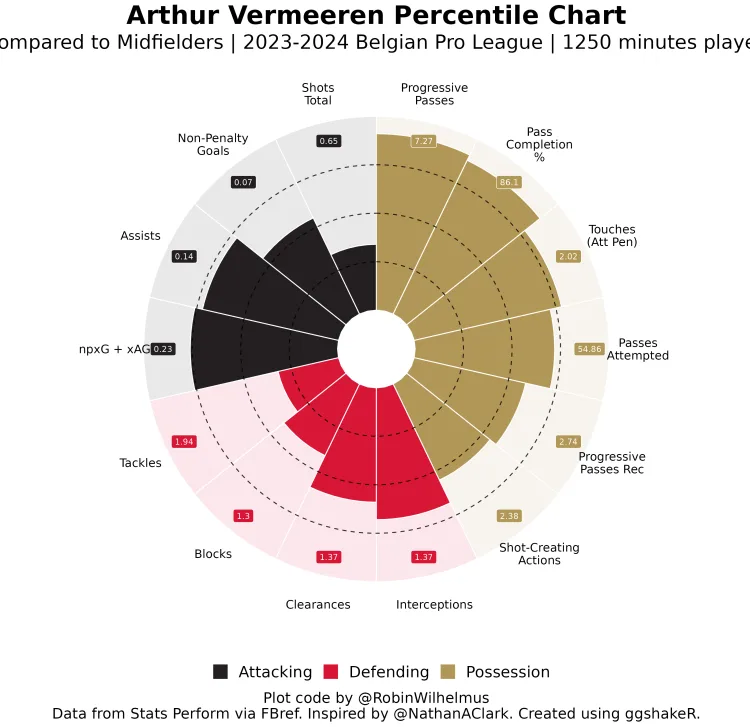 Ball progression is just one facet of Vermeeren's game, but there is much more to him. He is very disciplined positionally in terms of never pushing too far forward and leaving his back line exposed, but he does pop into the final third when possible to contribute to Antwerp's attacking output.
More importantly, one of Vermeeren's primary responsibilities is to protect his back four. This includes the in-possession phase, when his positional discipline proves important to ensure that Antwerp are not exposed by counterattacks. When they are defending, the 18-year-old midfielder has a similar role to play in terms of backing up the press. His exceptional reading of the game and precise positioning enable him to do a fantastic job in this regard, as is highlighted by his high average of 3.37 tackles and interceptions per 90 this season.
Vermeeren's tactical intelligence is worth emphasising. Everyone – including his head coach Mark van Bommel and all of his teammates – was blown away by just how quickly and seamlessly he adapted to senior football and most impressively how well he could read everything that was going on around him. He is showing understanding and maturity well beyond his years, which obviously bodes very well for his future.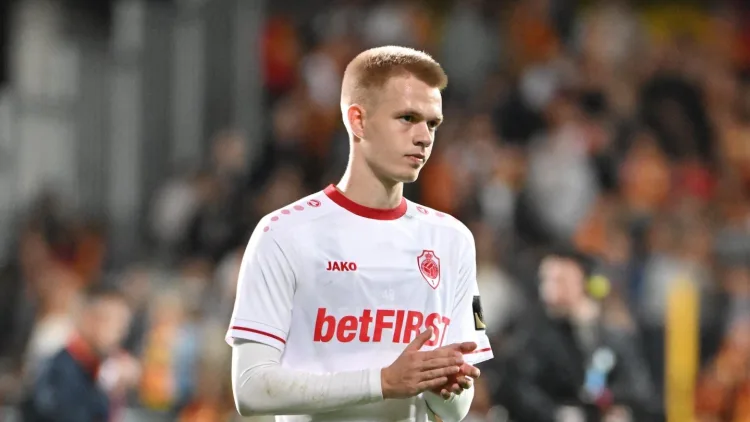 What next?
Unsurprisingly, Vermeeren's performances and incredible consistency have caught the eyes of some of Europe's biggest clubs. Barcelona, Arsenal, Manchester United and Liverpool have already been linked with him, and there are sure to be more joining the party in the upcoming transfer windows.
At the moment, the young Belgian has made the right call to spend another season at Antwerp. But he is evolving and developing very quickly, so it might soon be time for him to seek out pastures new. As is the case for all such young talents, Vermeeren will have to be careful in picking the right destination where he can continue to enjoy regular game time, but his well-rounded skillset means that he should be able to fit into almost any tactical system.