Fantasy Premier League 2023-24 Team Names: Funniest Fantasy Football team names for FPL 2023-24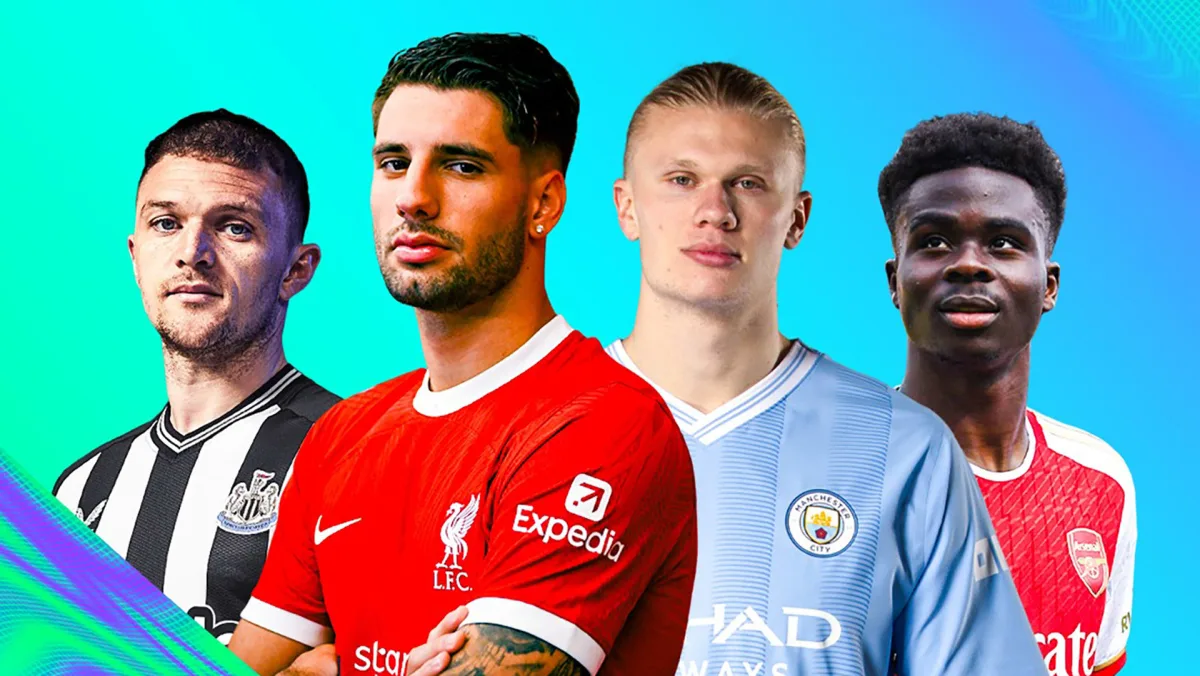 Choosing your captain, finding differentials, wondering when to play your Wildcard. These are all huge worries in Fantasy Premier League, but the biggest concern of all is what to call your FPL team when you set it up.
Pick a good pun and you'll be the envy of your mates, choose something boring, and you're stuck with it all year.
Article continues under the video
Funny fantasy football names need to have two things: a football reference AND a clever pun.
Combining both can be really difficult.
Luckily, we've made the job easier for you by compiling some of the funniest FPL Team Names for the 2023-24 season, featuring all 20 of this year's Premier League teams, as well as the three that went down last season as a nice bonus - it's bad enough your club got relegated, but you can still use them for your team name, right?
Gameweek 1 is now upon us, and we're ere to give you some inspiration...
Funniest FPL Team Names
Arriba Saliba
zinchenKO
Odegaardium Leviosa
Smith Rowe Your Boat
Holding onto you
Timbermingham City
Kai's the limit
Major League Saka
Matty Cash for Gold
Mings the Merciless
Top Ginn
Michael Douglas Luiz
Enter the Wu-Tang (Calum Chambers)
Backa da Neto
News Justin
Lionel Senesi
Get Ouattara
Solank Cheque
Raya Light
Flek off
Collins Dictionary
Brentford Focus
Itsa Mee, Mario
Dasilva Dagold
Throwing Shade
Mbeumo the Titans
Careless Wissa
Slam Dunk
Estup Dogg
Notte Notte, Very Notte
Lallana del Rey
Boyz n Dahoud
Canine, Molar, Enciso
The Kompany You Keep
Jordan Beyer Leverkusen
Cullen Mee
Woutta Control
Anass Anarsenal
Mudryk Moranis
Chuk Norris
Fofana Mateta
Enzo an Era
Hall or Nothing
Slam Dunk Nkunk
Chilwell, serve cold
Guehi Luehi
You better Cheick yoself
Schlupp up
Eze does it
Eze peze
Ayew over there
Odsonne Favourite
Gbamin and Robin
Calvert-Lewin Davis
Onana, what's your name?
Maupay it forward
Suite Life of Zach and Coady
Wout, Wout, the sound of the Police
Faes Value
Yes, Ndidi
Lionel Meslier
Struijk One
Roca all over the world
Can't Believe It's Not Rutter
God Save the Caoimhin
Darwin's Evolution
School Jota
Kloppenheimer
Juels Won
Bloody Marvelous Nakamba
Ogbene Hill
Pepple and Bambam
Elijah Would
Cancelo Culture
Ake Breaky Heart
Keep it Greal
Phillips Screwdriver
Pep Gvardiola
Mi Casa, Su Casemiro
Frank Bruno Fernandes
Garnacho Libre
Martial Law
Sanchosen One
Evans sent
Hojlund Oates
Onana, what's your name?
Onanarama
Van de Ven Diagram
Trippy and Trippier
Off Targett
Krafthwerk
Scharley you can't be serious
Almiron Burgundy
Lingardium Leviosa
Chris Woodn't
Supermangala
Clark Can't
Black and Decker Sander Berge
Baldock of the Bay
Brewster's Millions
Osborn Again Christensen
Tomato Kotchap
Livramento, the freshmaker
Maitland-Niles Crane
Ryan Fraser Crane
Lavia en Rose
Articulated Lloris
Emerson Royal with Cheese
Bentancurblimey
Udogie Mecatie
Richarlison Heung-min
Kate Upton Park
Upton Funk
Zoum Zoum Zoum
Paqueta Rice
Ings can only get better
Backstreet Moyes
Kilman save woman
Hoever the carpet
Barack Adama
Craig Dawson's Creek