Jude Bellingham: Why Dortmund's midfield monster can become a modern great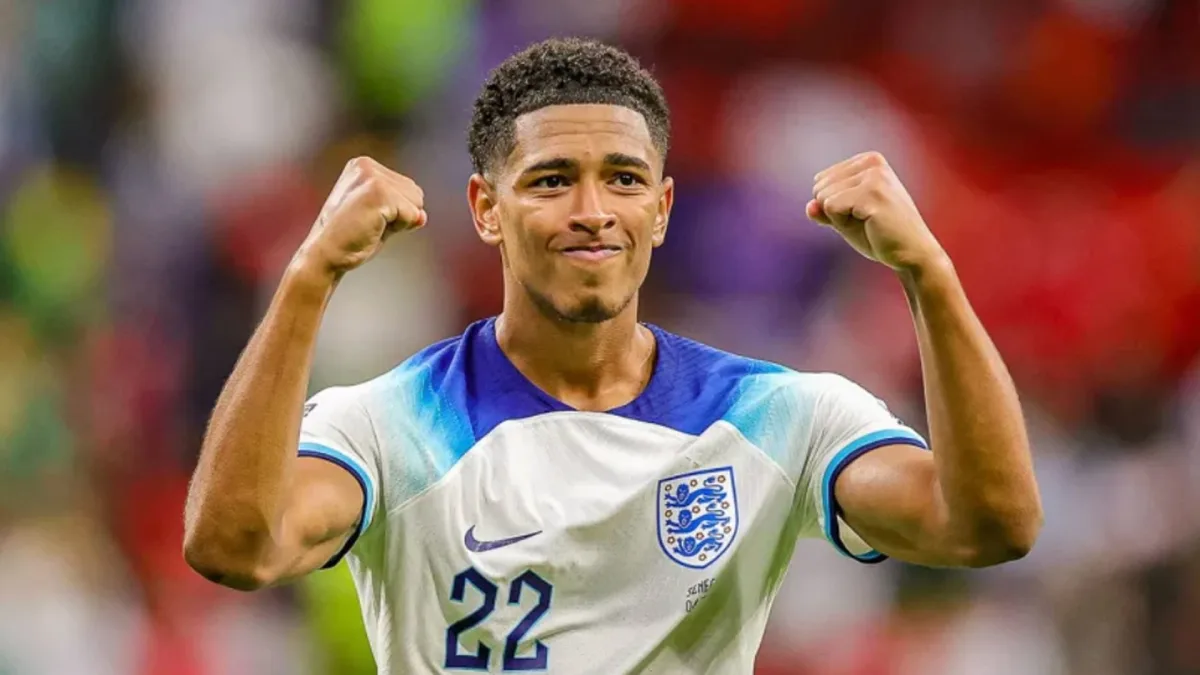 England's 2022 World Cup campaign ended in disappointment once again as they were knocked out of the quarter-final stage, but this time, they went out with their heads held high thanks to a buoyant young squad spearheaded by Jude Bellingham.
The Three Lions were narrowly defeated in a close match against the defending champions France but had looked impressive in previous encounters.
Arguably their best and most consistent performer over the course of the tournament was Bellingham, which is quite a statement to make about a 19-year-old who had not started a single match at a major international tournament prior to this one. But anyone who has been following Bellingham's progress at Borussia Dortmund will not be surprised by it.
EXCLUSIVE: Jude Bellingham: The truth behind Real Madrid rumours
Since joining the club from Birmingham City in the summer of 2020 aged just 17, Bellingham has gone on to make an incredible impression in Germany. He played over half a season's worth of minutes in his first campaign abroad before going on to establish himself as a regular starter and key player in 2021/22 and onwards. This season, he has even captained the club on occasion.
Birmingham City were ridiculed when they retired Bellingham's shirt number as he left, but in retrospect, that does not seem the worst decision as he could already stake a claim to being the best player to come out of the Blues' academy.
Real Madrid, Chelsea, Liverpool, Manchester United, Manchester City and PSG are all following the player, so let us take a closer look at what the hype is all about.
MORE: 'Bellingham's dad talking to Liverpool'
Bellingham is the complete midfielder
It might seem quite crazy to say this about a teenager, but Jude Bellingham unquestionably is one of the best midfielders in the Bundesliga. We'll let his pizza chart from the season do the talking: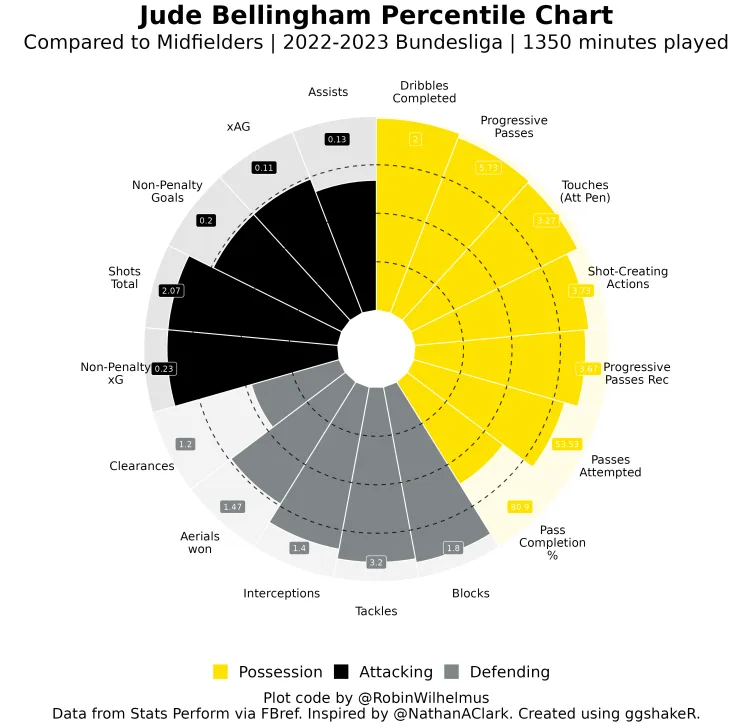 What is even more impressive is the fact that he hasn't exactly broken through this season – he has been operating at such a high level ever since his move to the Bundesliga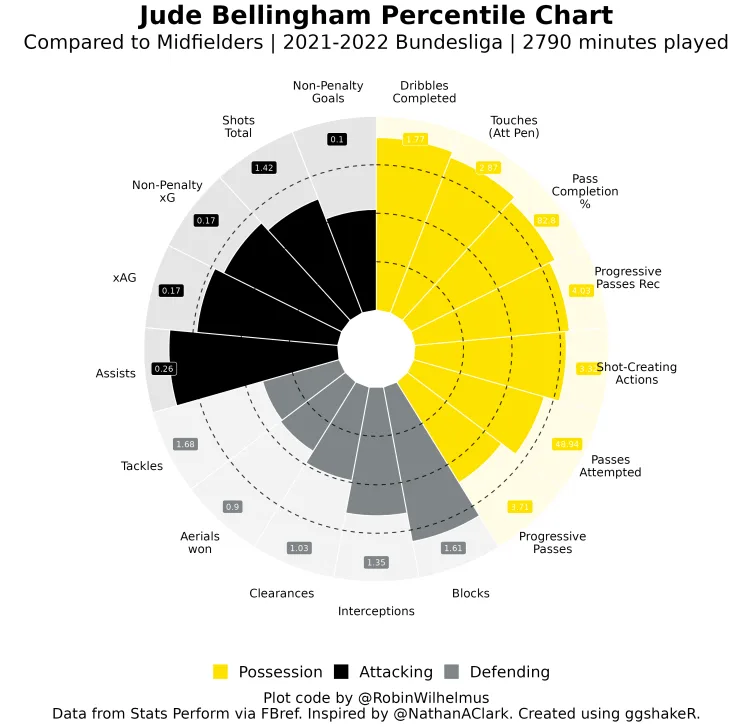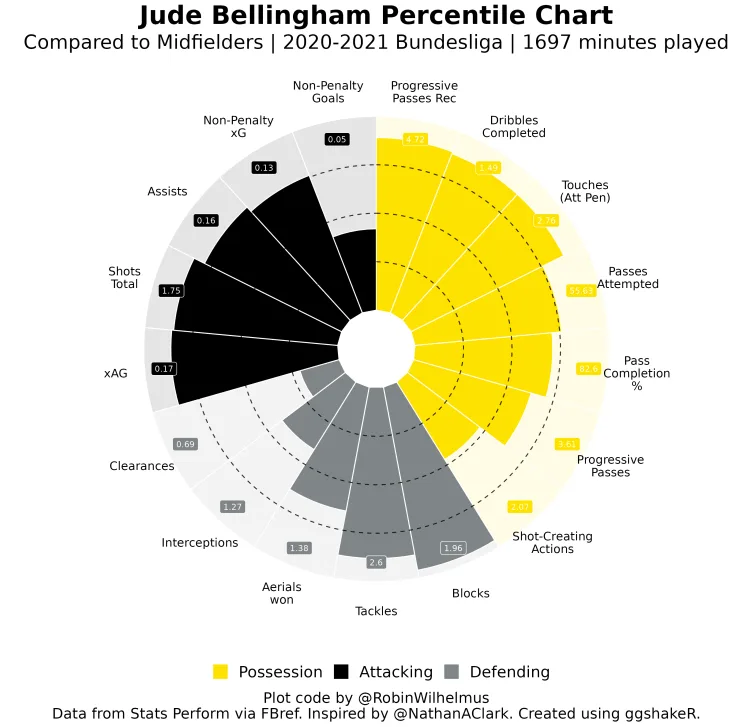 The stats paint a pretty clear picture: Bellingham can do almost everything you would want from a midfielder - and very well too. We will take a closer look at some of his attributes, but first of all, let us understand what sort of role he is used in.
Last season, Dortmund mainly used a three-player midfield, where Bellingham operated as a No.8. This time around, Edin Terzic has mainly used a 4-2-3-1 formation, meaning Bellingham has more of a defensive responsibility. That is not an issue for him though, as he is a very combative midfielder who is strong in duels and hard-working without the ball, either reinforcing his forwards' pressing or defending in his own half. His defensive actions heatmap shows that.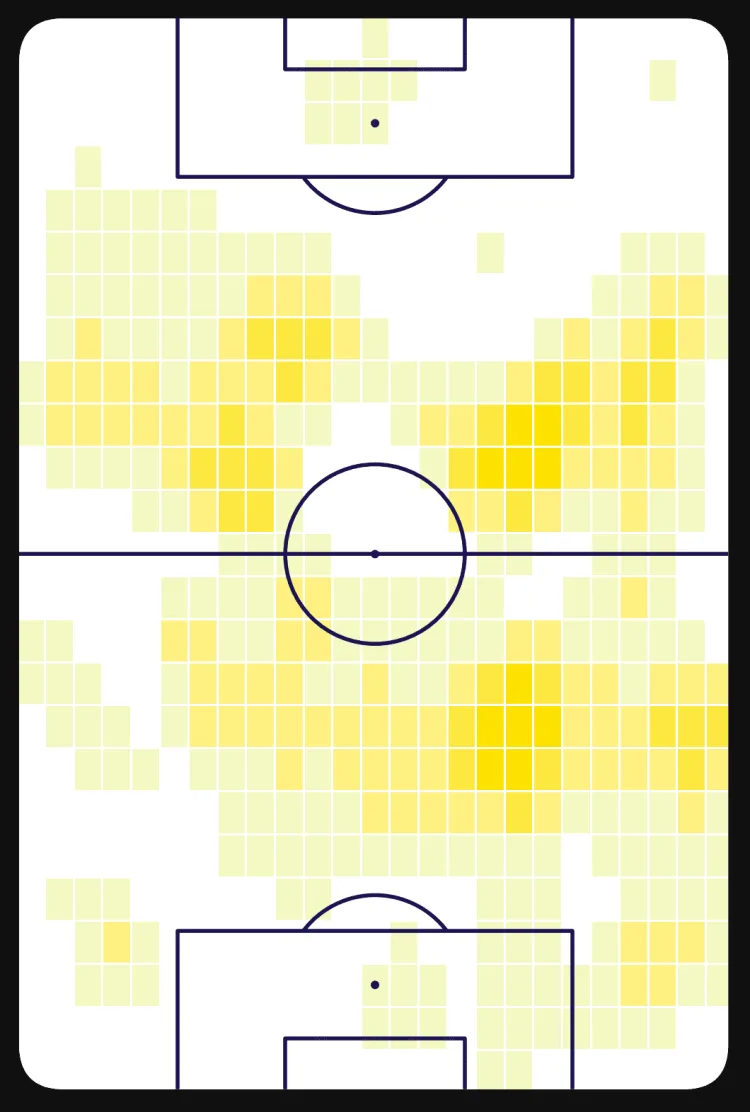 However, Dortmund are using an asymmetrical system in possession. Bellingham usually starts alongside Salih Oezcan in the double pivot, but the Turkey international stays back alone while the Englishman is encouraged to get forward. Dortmund's average positions from the season depict this well: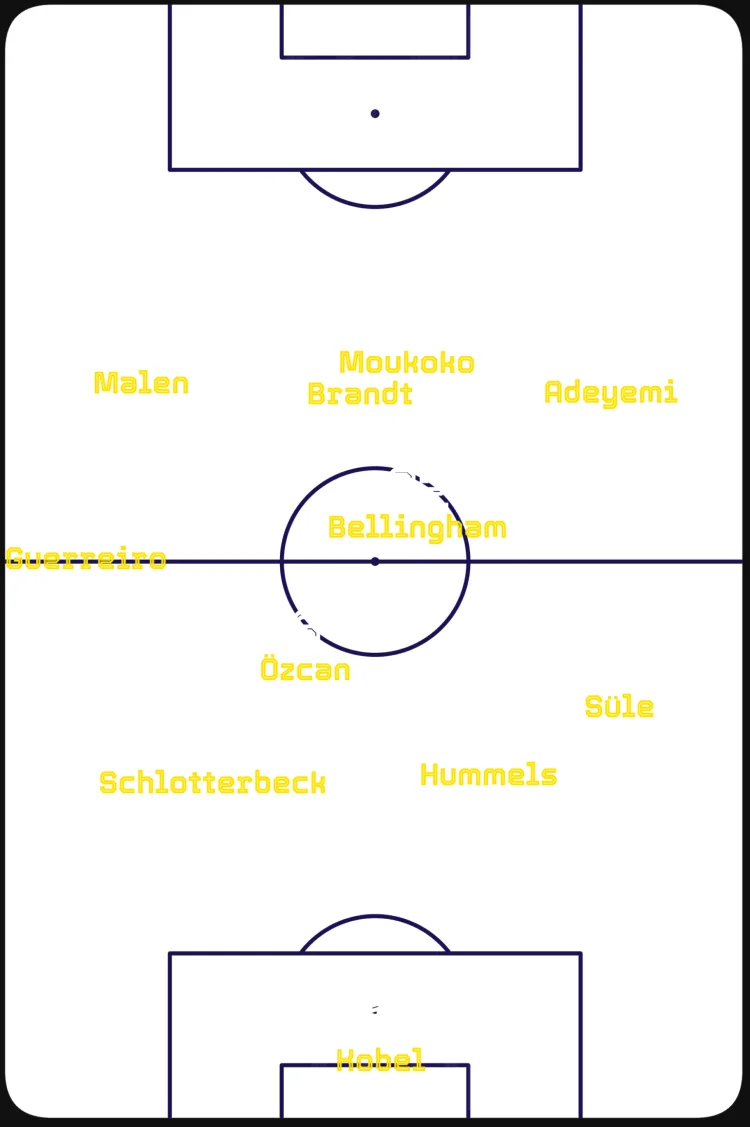 This advanced midfield role means that although Bellingham plays in the position of a No.6 out of possession, but he behaves a lot more like a No.8 when his team has the ball. The 19-year-old midfielder's heatmap from the season backs that up, showing greater involvement in the opposition half and in the halfspaces.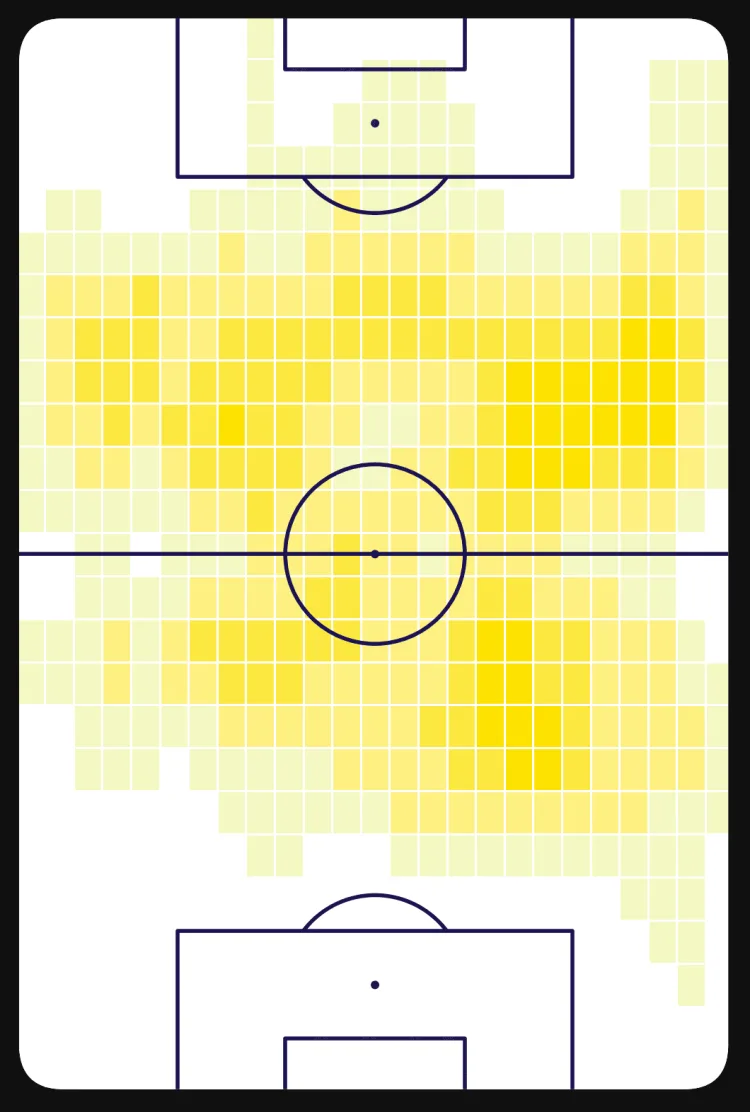 Of course, he does often drop deep to receive the ball but also does so quite often between opposition lines further up the pitch, which explains his average of 3.67 progressive passes received in the league this season.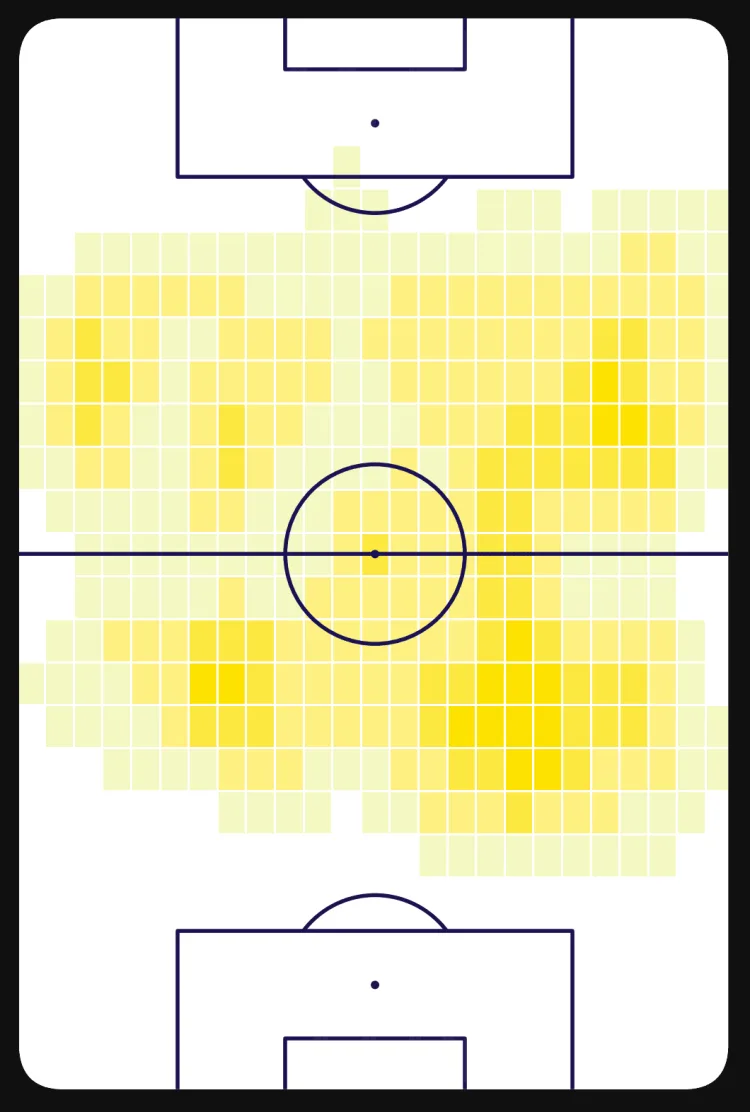 Bellingham should not, therefore, be considered a deep-lying midfielder or anything similar. He has never really acted as a team's deepest midfielder, so one cannot confidently claim that he would excel in such a role.
When he does receive the ball in deeper areas, Bellingham likes to carry it forward. He is a great dribbler, has very good ball control and is capable of exploiting any openings in the opposition midfield, so his progressive carrying is impressive.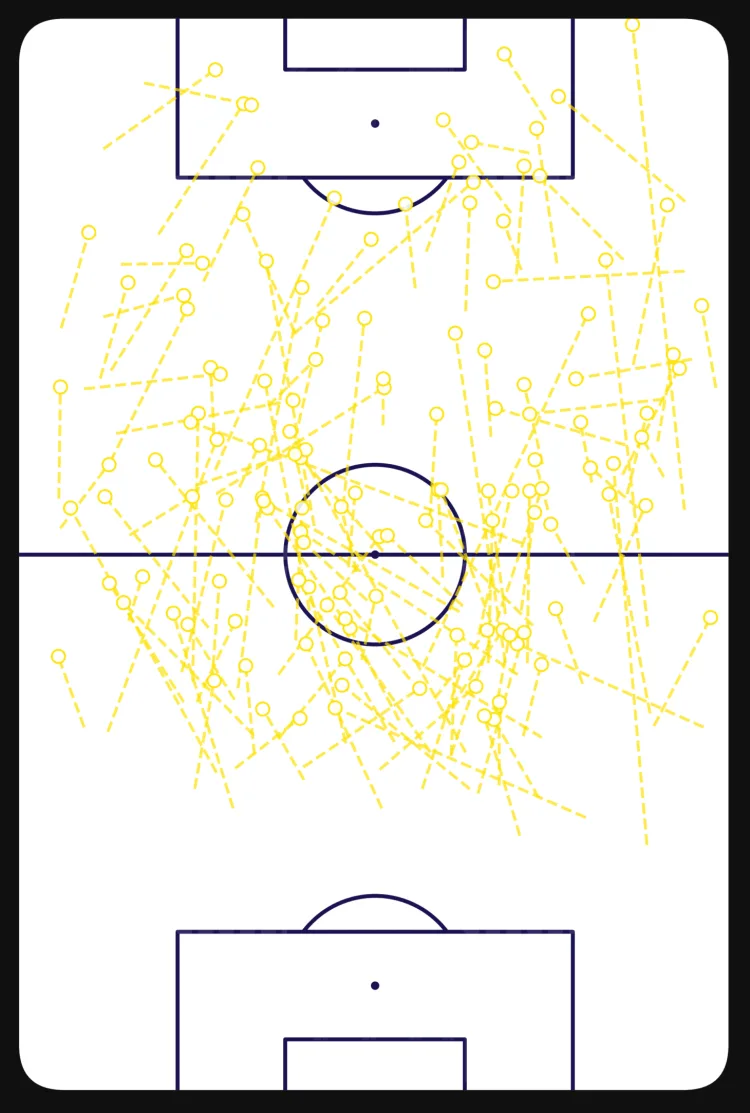 Bellingham's progressive passing numbers were also strong (5.73 per 90 in the league this season), but these are mostly generated further up the pitch. He does find his team-mates between opposition lines from inside his own half at times, but more often plays passes into the final third or penalty area from higher up the pitch.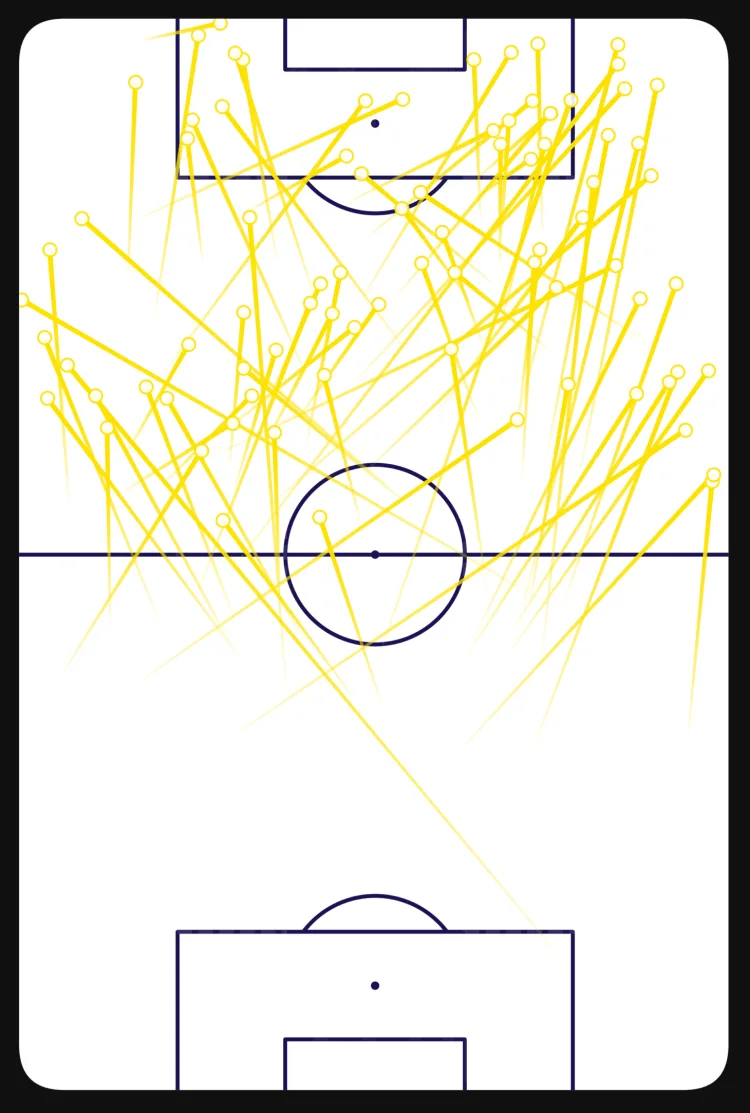 Attacking threat
Clearly, the former Birmingham City man also gets involved at the sharp end of the pitch, and with 12 goal involvements for Dortmund in all competitions, he does a good job of it as well.
His attacking threat mainly is a product of his understanding of the game and ability to get into dangerous areas. For example, his key passes map from the current league season does not show too many incredibly incisive passes, but simple balls originating quite close to or inside the box.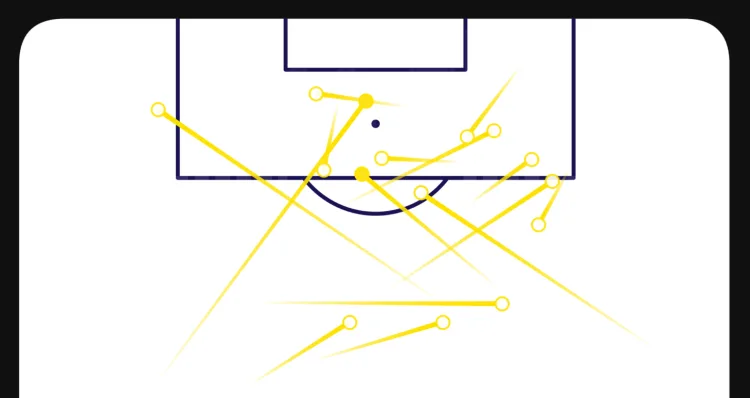 One of the improvements Bellingham has made to his game this season (and this is something he previously spoke of) was adding a greater goal threat. He has scored nine goals in all competitions, including four in the Champions League, largely thanks to his ability to make late runs into the box.
The numbers quite clearly show the midfielder's increased goal threat, as he has gone from an xG per 90 average of 0.17 in the last league season to 0.22 now. He has already matched his league goals tally, and his shotmap shows his knack of getting into good shooting positions (as well as his tendency to let fly from range when his team is losing).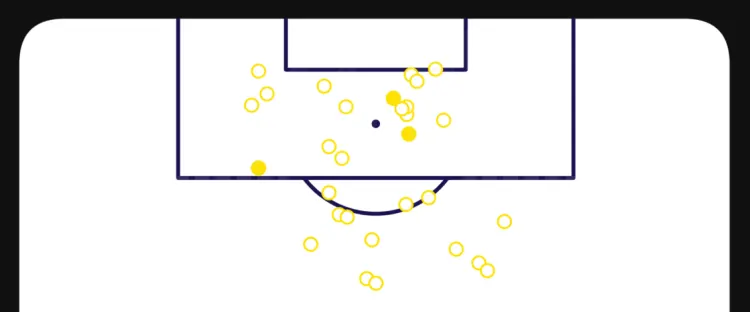 For a No.8, this was arguably the only aspect of Bellingham's game that needed improvement last season. Now that he has strengthen aspect too and does not seem to be slowing down anytime soon: he is the complete midfielder.
Composure and maturity
Bellingham's incredible technical ability and well-rounded skillset are impressive enough in themselves, but what makes him extra special is his composure and maturity.
Often, we see very talented young players who stand out on the pitch, but their decision making is questionable. That has never been the case for Bellingham at Dortmund. Whenever he gets the ball, he always looks calm and is clear about what he wants to do with it. For example, here is one of his best goals last season. His ball control and dribbling naturally stand out, but notice how coolly he slots this away.
The Bundesliga Goal of the Month...presented by Jude Bellingham 🤩pic.twitter.com/TsKGXuNNRJ

— Borussia Dortmund (@BlackYellow) November 10, 2021
In fact, Bellingham has been one of the most dependable players at Dortmund for the last couple of years. That is one of the factors that led to him being given the captain's armband for a match when Marco Reus and Mats Hummels were both out, but the main reason behind that was his leadership qualities.
Even though he is just a teenager, Bellingham is a very vocal presence on the pitch. This was especially apparent when stadiums were empty or had limited capacities during the COVID-19 pandemic. Another quality that makes him a good leader is that he does not let his emotions get the better of himself, which again contributes to his calmness. A great example of this was when he went to console Harry Kane after the Tottenham striker missed a crucial penalty for England against France.
Bellingham is also often spotted doing post-match interviews, where he comes across as a very well-spoken, measured and mature person.
"We could have gone for it more"

"We're happy, we were here to get to the next round"

Jude Bellingham reflects on a tough battle against Man City...💬

There's also a Man City player making funny faces during his interview 😂#UCL | 🎙 @archiert1 pic.twitter.com/lTKAupLH7y

— Football on BT Sport (@btsportfootball) October 25, 2022
By all accounts, he seems to be a great character to have in any dressing room, which makes him all the more attractive to potential suitors.
Next destination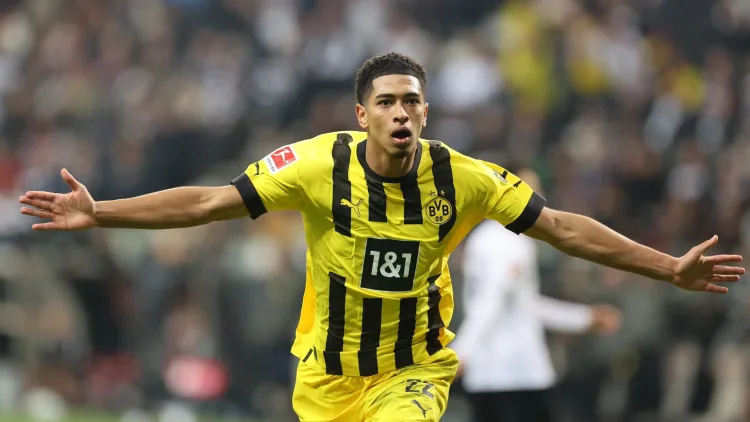 While Borussia Dortmund are one of the biggest clubs in Germany, their relative lack of trophies and inability to dethrone Bayern Munich as champions mean they are a tier below Europe's elite clubs. Bellingham is already starring at the highest level as we have seen, so he will likely be looking to move to a regular Champions League contender soon enough.
The likes of Real Madrid, Manchester City, Liverpool and Paris Saint-Germain are all said to be interested in his signature, which will probably cost them a nine-digit transfer fee. The England international is not expected to leave Germany in the January transfer window, though, so this bidding war will have to wait till the summer.
Of course, Bellingham will have a say in picking from a good few options to decide his next destination. He will have to make a big call in this regard, but if his previous decisions are anything to go by, he should be expected to make the right one. Evidently, moving to Dortmund at just 17 years of age has worked out very well, and he has also not been lured away in the last couple of windows, instead getting regular game time and improving at BVB.
It appears that he will hit his ceiling at the club this summer, though, so moving on is the right option. Whoever he joins is sure to have one position of their midfield settled for potentially more than a decade.