Why Darwin Nunez can't be judged on pre-season misses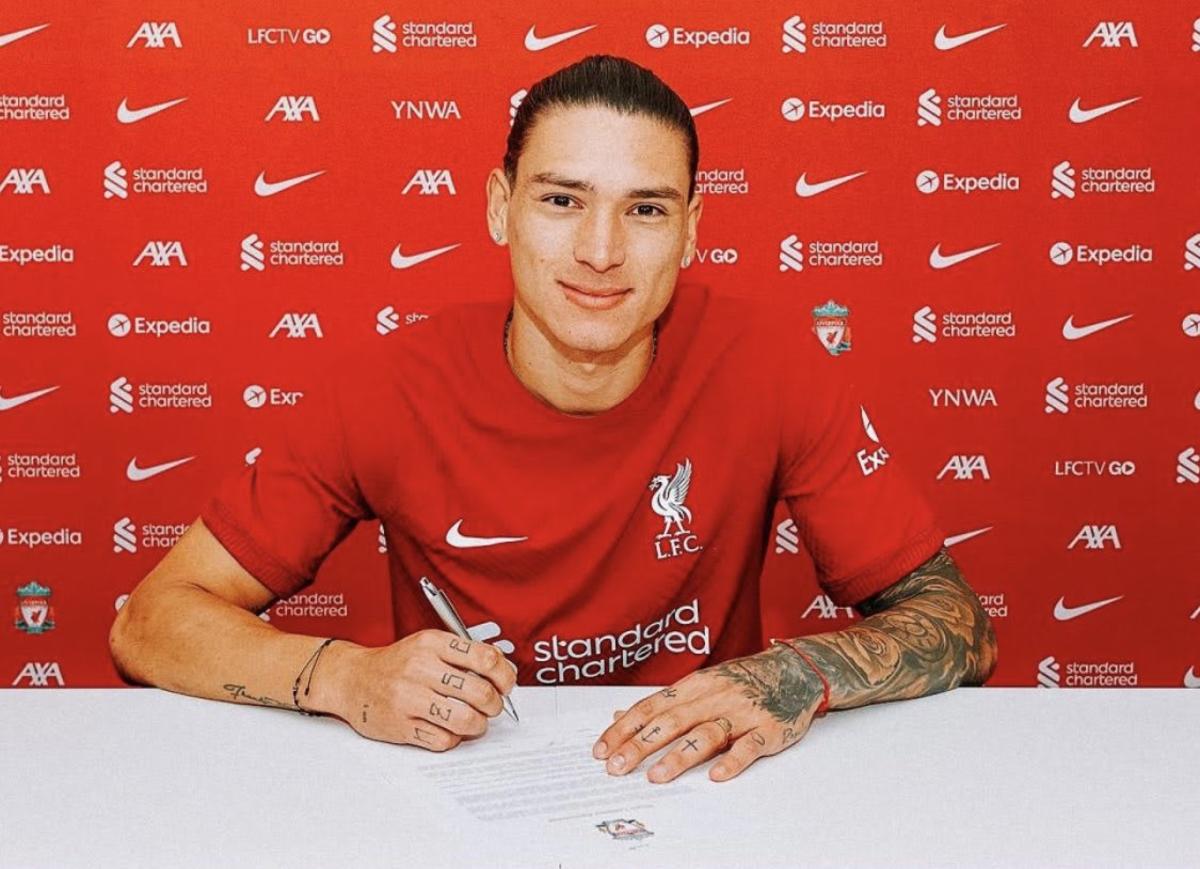 Darwin Nunez has been mocked, ridiculed and laughed at by opposition fans, and he's been a Liverpool player for less than a month.
The Uruguayan forward joined Jurgen Klopp's side from Benfica for a club-record €100 million, if add-on clauses are met, and the deal was officially completed when he could be registered on 1 July.
And, a huge price tag comes with its often insurmountable pressures, which is something that Nunez will have felt already.
Taking a brief look at the most expensive players in history, and few can actually be classed a success. Philippe Coutinho, Ousmane Dembele and Antoine Griezmann, all to Barcelona, certainly can't be, while Neymar, the world's most expensive player, hasn't hit the heights expected of him in Paris.
Then, there's Harry Maguire. Manchester United broke the record for the highest transfer fee ever paid for a defender to sign Maguire from Leicester, and he's been bombarded with criticism and mockery ever since, most notably over the past nine months.
Of course, his performances have played a role in that, but the momentum created means that any small mistake is brutally punished online. Darwin Nunez faces a similar thing already.
Nunez's start to life at Liverpool
He's been branded the 'Uruguayan Andy Carroll', while comparisons to Chelsea forward Timo Werner, who has struggled since arriving in England, have been made. These claims have all stemmed from pre-season misses. First, an open training session in which Nunez blazed several shots over the crossbar and looked unnatural with the technical side of the game.
Then came his miss against Man Utd in the first game of Erik ten Hag's reign. Nunez fired a shot over from inside the penalty area, with Tom Heaton on the floor and seemingly an open net in front of him. Just days later, he air-kicked a chance against Crystal Palace before several other moments he'll want to forget happened.
He headed a beautiful Thiago lofted pass back towards his own goal when taking it down on the chest and shooting seemed possible, and he passed the ball straight out of play when attempting a one-touch pass.
At this rate Darwin Nunez gonna make Romelu Lukaku look like prime Fernando Torres💀💀💀 pic.twitter.com/gKrObeow06

— badboy.jeremy (@badboy_jeremy1) July 15, 2022
All in all, Nunez hasn't enjoyed a particular encouraging start to life at Liverpool. But, it would be foolish and frankly unfair to judge him immediately. Sure, a €100m signing is expected to hit the ground running, but being placed in a well-oiled machine like Liverpool and effectively taking the place of Sadio Mane isn't easy.
Furthermore, the technical side of his game has always been lacking. At Benfica, he was not a forward comfortable in build-up, but rather a player who thrived when using his pace and power to bully defenders on the counter-attack.
In that regard, he's similar to Werner, and Liverpool may have to adapt their system to suit his style of play, something Thomas Tuchel hasn't been willing to do to accommodate his countryman at Chelsea.
Nunez has his flaws, and Liverpool certainly didn't purchase the finished article. However, Klopp is a genius coach, and may well be able to improve various aspects of his game.
Two pre-season cameos and an open training session isn't enough sample size to judge any player, let alone someone thrown into one of the most dominant system-based teams in Europe.
Nunez is a talented player, which is why Virgil van Dijk has spoken so highly of him, but he will need time to adapt to Liverpool's system. Missing chances themselves aren't down to a system per-say, but it's a confidence game, and if criticism builds, then Nunez may not recover.