Who is Alejandro Garnacho? The 'new Ronaldo' set for improved Man Utd contract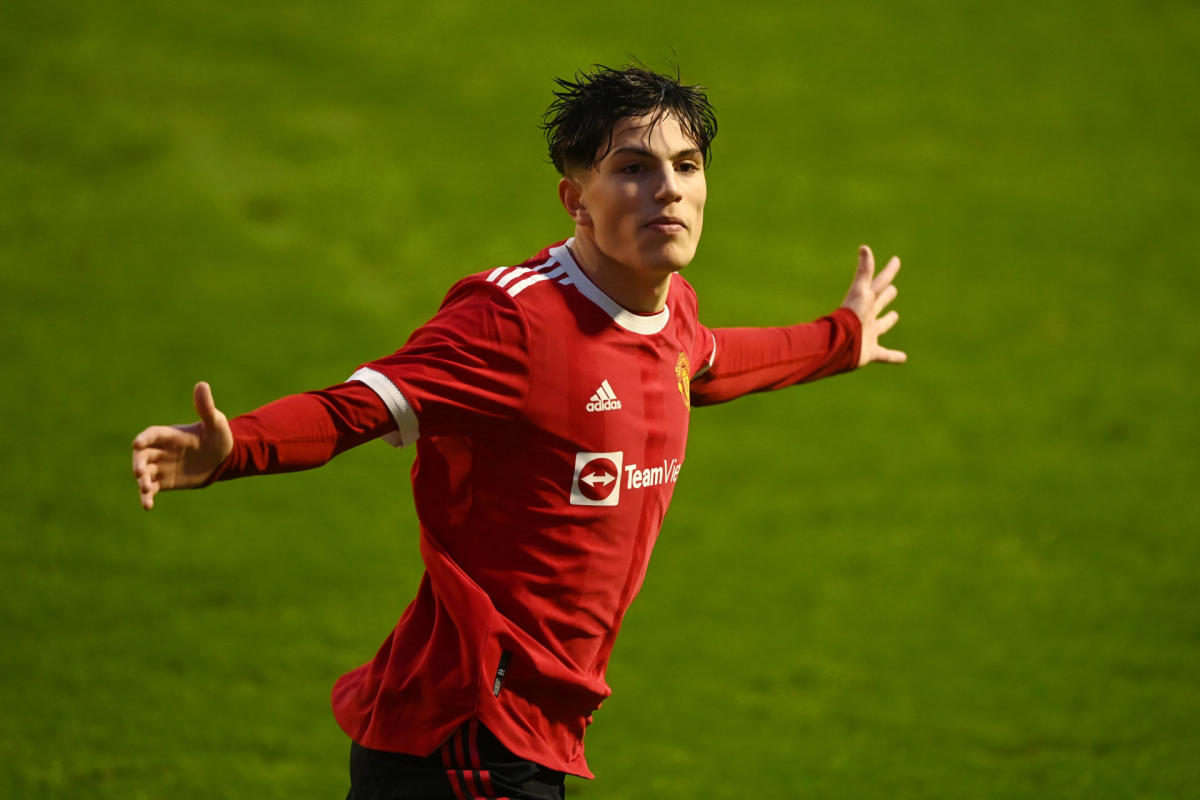 Manchester United superstar Cristiano Ronaldo returned to the club this past summer, and his goalscoring record would suggest he still has plenty left in the tank.
And, it appears the club might have a Ronaldo for the future, too.
Alejandro Garnacho, formerly of Atletico Madrid, is currently within the youth system at Old Trafford and is already making a name for himself.
Man Utd beat Borussia Dortmund and Real Madrid to his signature two years ago, and he is reportedly on the cusp of a newly improved contract to extend his stay at Old Trafford following his FA Youth Cup heroics and his first-team debut.
So, what kind of player is he?
What position does Alejandro Garnacho play in?
Garnacho plays as a winger.
How good is Alejandro Garnacho?
Any player compared to Ronaldo should give some indication of his potential level of talent, though these comparisons can also be attributed to the fact he plays with Man Utd and his position.
Also, the young player has been known to copy Ronaldo's famed celebration.
Like Ronaldo in his early days, Garnacho has pace and power which allow him to terrify defenders, and at just 17-years-old, his physicality will only progress.
Born in Spain, Garnacho is also eligible to play for Argentina due to his mother.
He was recently given a shock call-up to the full Argentina squad, though he didn't make his debut.
Garnacho has recently turned heads in the FA Youth Cup, scoring a beauty in the semi-final against Wolves to send United to the final and backing that up with two goals in the final to beat Nottingham Forest.
He has 15 goals in all competitions for Man Utd teams this season, including seven in the aforementioned FA Youth Cup. The Argentine was also named as Man Utd's Young Player of the Year, and picking up the Jimmy Murphy Award like Marcus Rashford, Ryan Giggs and Paul Scholes before him.
Former Man Utd player Febian Brandy spoke on MUTV about Garnacho and revealed what make him so special. "He's a full-back's nightmare. He can go either side, cut inside. He makes it difficult for defenders all game," he said.
"He is a great talent with a very bright future."
Garnacho made his first-team debut came off the bench in the 1-1 draw with Chelsea in late April, which was just reward for his incredible season. As a result, the Daily Mail have reported that Garnacho is set to be offered a new, and improved, contract at Man Utd.
What clubs are interested in Alejandro Garnacho?
Dortmund and Real Madrid wanted Garnacho before he joined Man Utd.
When does Alejandro Garnacho's contract expire?
Garnacho's current contract at Man Utd expires in June 2023.
How old is Alejandro Garnacho?
Garnacho was born on 1 July 2004. He is 17.
What is Alejandro Garnacho's height?
Garnacho is 180cm, or around 5ft 9in.
What is Alejandro Garnacho's Instagram?
Garnacho's Instagram has 1 million followers as of May 2022.
Who is Alejandro Garnacho's girlfriend?
Garnacho is in a relationship with Eva Garcia.