Alexis Sanchez mocks Man Utd by outperforming every attacker except Ronaldo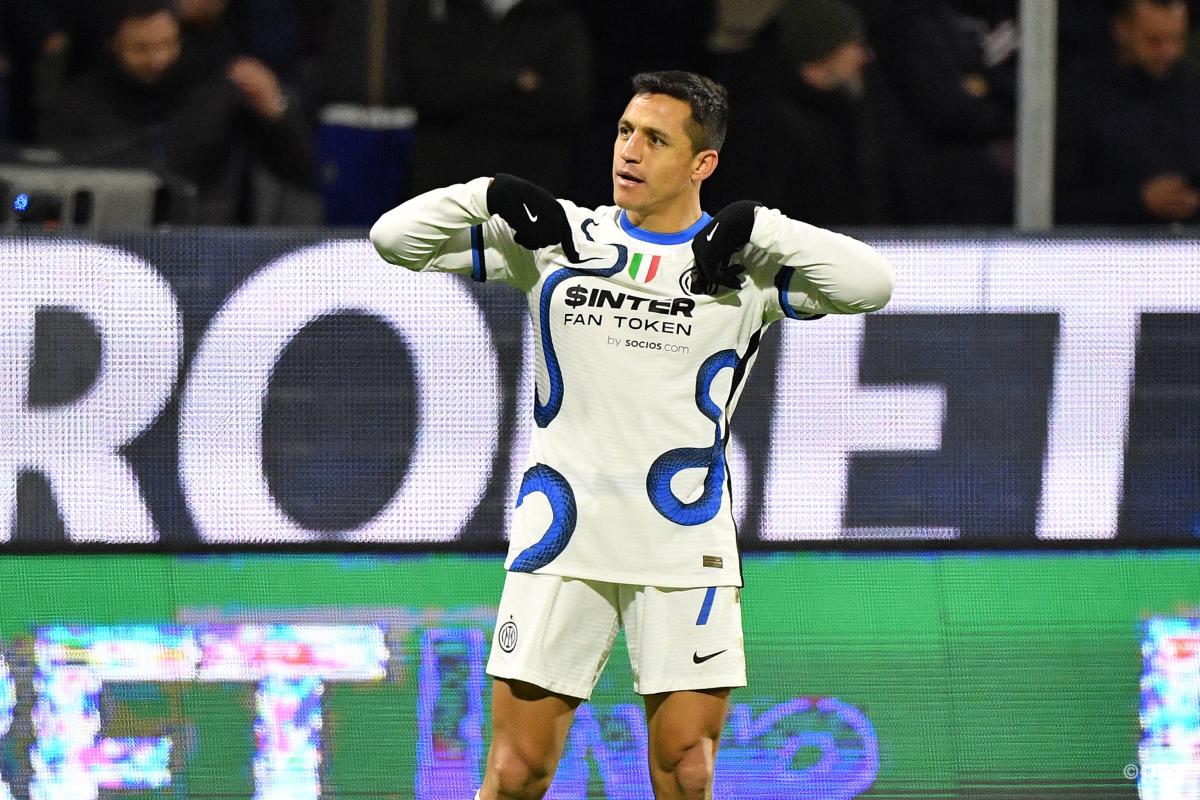 Alexis Sanchez is currently outperforming every Manchester United forward except Cristiano Ronaldo with his goal contributions in the 2021/22 campaign.
The Chilean started his career in Europe with Udinese played and then featured for Barcelona between 2011 and 2014, making 141 appearances for the Blaugrana, scoring 46 goals and recording 35 assists.
He would subsequently move to Arsenal where he enjoyed success, but his career started to go downhill after an ill-fated move to Old Trafford with Man Utd.
In 32 Premier League appearances for the Red Devils he scored just three goals, and as he was on gargantuan wages at the time, scathing criticism soon followed.
FOOTBALLTRANSFERS' MOST VALUABLE PLAYERS IN THE WORLD
Sanchez would then join Inter on loan and then on a permanent basis, but has never been a key player and was initially behind Romelu Lukaku and Lautaro Martinez in the pecking order at San Siro, while Edin Dzeko plays more than him now.
On Wednesday evening, though, he came off the bench to be Inter's match-winner in the Italian Super Cup versus Juventus.
After being introduced in the 75th minute, he would play into extra time before scoring the winner in dramatic fashion in the 120th minute.
That takes Sanchez's tally for the season to four goals and two assists in all competitions.
Rather embarrassingly for Man Utd, that haul is better than everyone currently at United apart from Portuguese star Ronaldo.
Sanchez v Man Utd forwards in 2021/22
| Player | Goals | Assists |
| --- | --- | --- |
| Cristiano Ronaldo | 14 | 3 |
| Alexis Sanchez | 4 | 2 |
| Marcus Rashford | 3 | 1 |
| Edinson Cavani | 2 | 0 |
| Jadon Sancho | 2 | 0 |
| Mason Greenwood | 1 | 1 |
| Anthony Martial | 1 | 0 |
Even though Sanchez is a bit part player for Inter, the fact he is outperforming the vast majority of the forward line at Man Utd is a damning indictment of the showings from the Red Devils this campaign as the club were previously desperate to get rid of the Chilean.
Under Ole Gunnar Solskjaer and now under Ralf Rangnick, Man Utd have been lacklustre and now face a major fight to qualify for the Champions League.
Sanchez begs Inter for more minutes
Following his match-winning performance against Juve, Sanchez lamented his lack of overall minutes for Inter, saying he can be a "monster" on the pitch if given the chance from the start.
"I was never wrong, only they would not let me play. I am a lion in a cage, if they let me play I am a monster," the former Man Utd and Arsenal attacker said.
"They tell me 'I put you in the last 15 minutes because you make a difference in those moments'. And I say 'you make me suffer'. I have always been a lion."
Sanchez remains a high-earning player at San Siro and the club are open to the player departing as they attempt to cut costs.
He has been strongly linked with a return to Barcelona in the January transfer window, with Everton also being mentioned as a potential destination.