Does Robertson injury change Liverpool's transfer plans?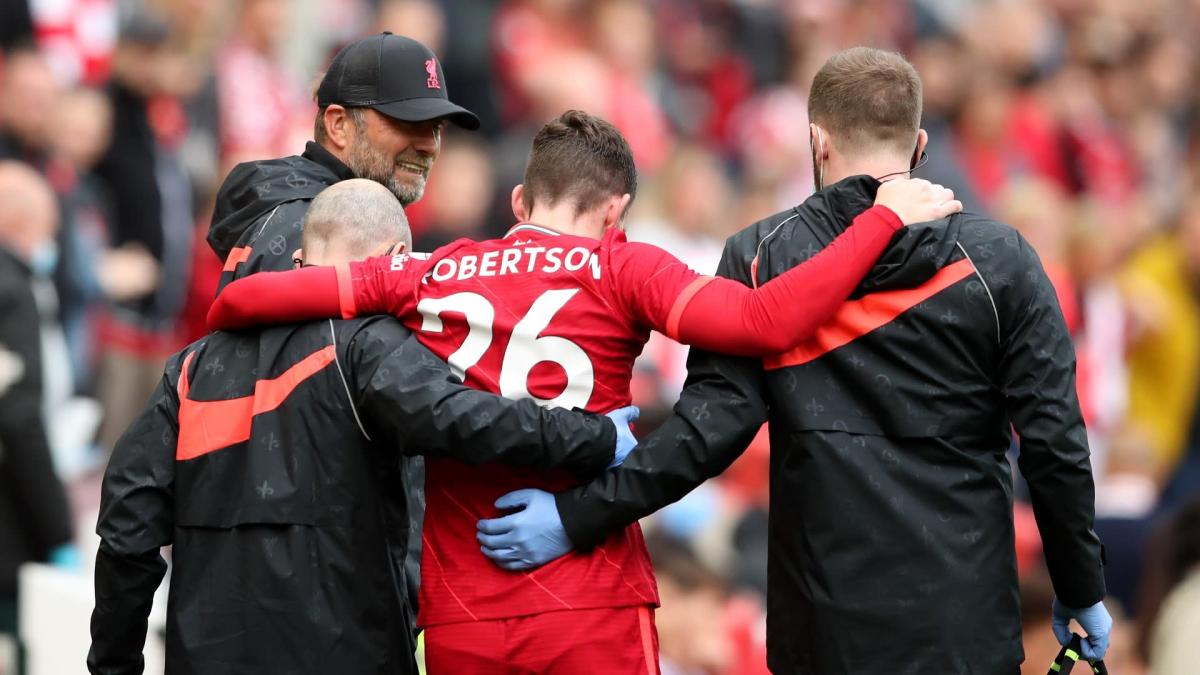 Liverpool manager Jurgen Klopp may have been defiant that he will not be forced into the transfer window again this summer, but Andy Robertson's injury could force his hand.
Robertson limped off in the first half of the Reds' 1-1 draw against Athletic Club on Sunday, leaving Klopp with an all too familiar headache just a week before the Premier League season kicks off in Norwich.
The 2020/21 campaign, after all, was one that was decimated by long-term injuries to Liverpool defenders, throwing their title defence off course.
Virgil van Dijk may have been the most high-profile absence, but Joe Gomez missed the majority of the season and Joel Matip was absent, too.
Reliable Robertson
Robertson, meanwhile, was an ever present in the Premier League, starting in each of the club's 38 games. With one goal and seven assists to his name from the left-back position, there is an argument that he was one of the club's most important players.
This can be furthered when studying the lack of depth in Robertson's role at Anfield. The 35-year-old James Milner has been used as a makeshift full-back at times by Klopp, yet it is Kostas Tsimikas who is ostensibly Robertson's back up. The Greek, though, was used for only 225 minutes last term, and while he too suffered injury problems, his chronic lack of minutes suggests a lack of trust from the management team.
I'm more than happy with the squad I have, the players I have
- Jurgen Klopp
Klopp, though, was desperate to appear cool when quizzed over his squad's depth following Roberson's injury.
"I'm more than happy with the squad I have, the players I have," he told the media. "We've so many things you can't sign. You can't sign pressing, you can't sign counter pressing, you cannot sign atmosphere, you cannot sign team togetherness, you can't sign our anthem, you can't sign a lot of things, and that's what we have to use.
"We have a big squad and there might be something that happens before the end of the window, but I can't say anything about that. That's not to say that nothing will happen."
A wily operator, Klopp is giving little of his plans away, aware that if he shows any sign of weakness, asking prices could be raised 10 or 20%.
Equally, though, he is speaking the truth from an optimistic standpoint. Assuming that Robertson's ankle injury is not one that will keep him out for an extended period, his is not a squad that needs immediate surgery.
Liverpool have proven masters of securing good value in the transfer market in recent years, and there is no need to be pressed into deals for the sake of it.
Robertson's injury aside, they go into the season in excellent shape – and that means Liverpool are in a strong position in the transfer market.