Hazard makes grovelling apology for Chelsea laughing storm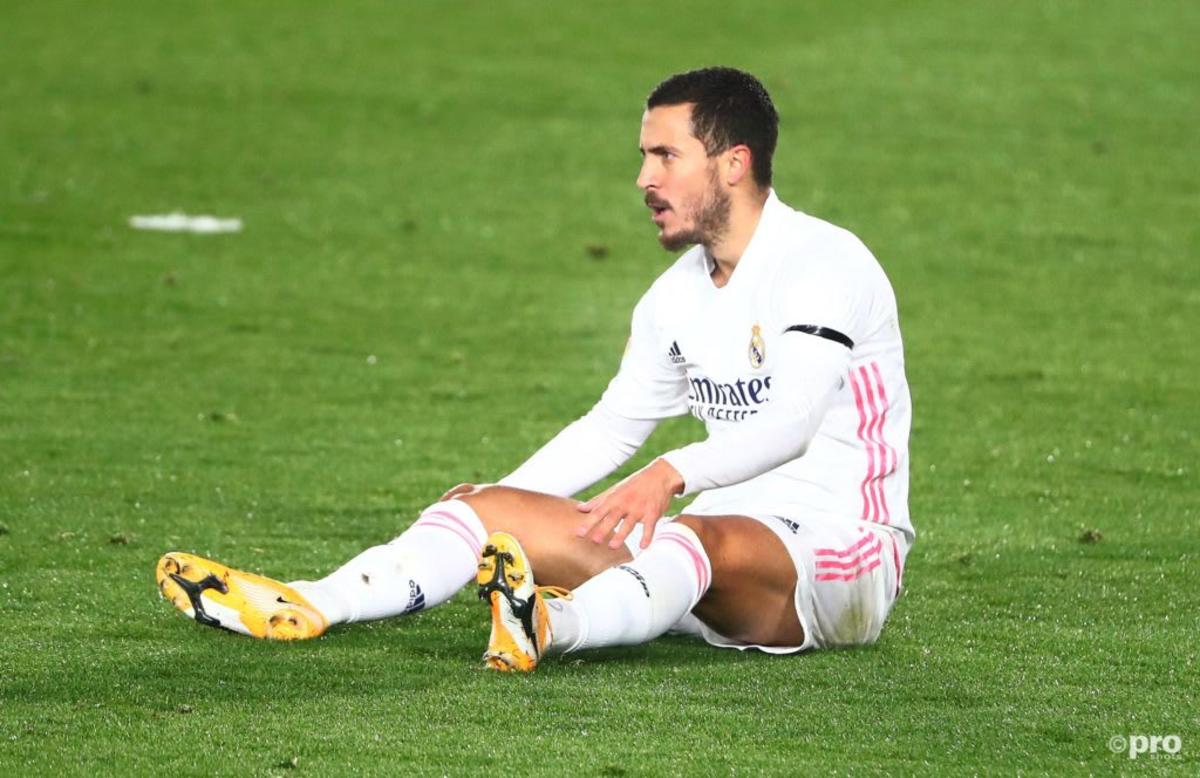 Eden Hazard has admitted he was wrong when he was filmed laughing with Chelsea players just moments after Real Madrid's Champions League exit.
Chelsea eliminated Madrid in the Champions League semi-finals 3-1 on aggregate after an emphatic 2-0 victory at Stamford Bridge in the second leg last month.
READ MORE: How Chelsea could help Martinez-Barca move
What did Hazard do after Chelsea v Real Madrid?'
Hazard was pilloried in the Spanish media after he was filmed laughing and joking with some of his former team-mates just seconds after the final whistle.
The 30-year-old, who has endured a miserable, injury-hit two seasons at the Santiago Bernabeu since his €100 million move from Chelsea, has now confessed that his post-match conduct was not right.
"That was wrong," Hazard told Het Nieuwsblad.
"What [Edouard] Mendy and [Kurt] Zouma said wasn't even funny, but I played with Zouma and I know Mendy. It's always fun to see your friends again.
"I know that I damaged Real Madrid's image. Everyone assumed that I wasn't hurting, but that couldn't be further from the truth. I was very disappointed. If there was any game that I wanted to win then it was against my old club at Stamford Bridge."
"That was wrong. What Mendy and Zouma said wasn't even funny, but I played with Zouma and I know Mendy. It's always fun to see your friends again."
-
Real Madrid teammates fine with Hazard
Great finish @Benzema ⚽️Nice to see some old friends! 😉 pic.twitter.com/iiFNRtxOXv

— Eden Hazard (@hazardeden10) April 27, 2021
Although Hazard was blasted by the Spanish press and former Madrid legends, the Belgian insists that his current team-mates in the capital never really criticised him for his behaviour.
"I got a few calls," Hazard noted.
"But, honestly, it's a very nice group and that's one of the reasons I want to stay. There's a good atmosphere.
"When I first walked into the dressing room at Real Madrid I was impressed. There are stars, but guys like Sergio Ramos and Karim Benzema are just normal people."
Hazard has scored five goals in 43 appearances for Madrid since arriving in 2019.
He is currently at Euro 2020 with the Belgium national team, but didn't start in their 3-0 win over Russia on Saturday.