Revealed: Premier League clubs lose more than £855m as pandemic hits finances hard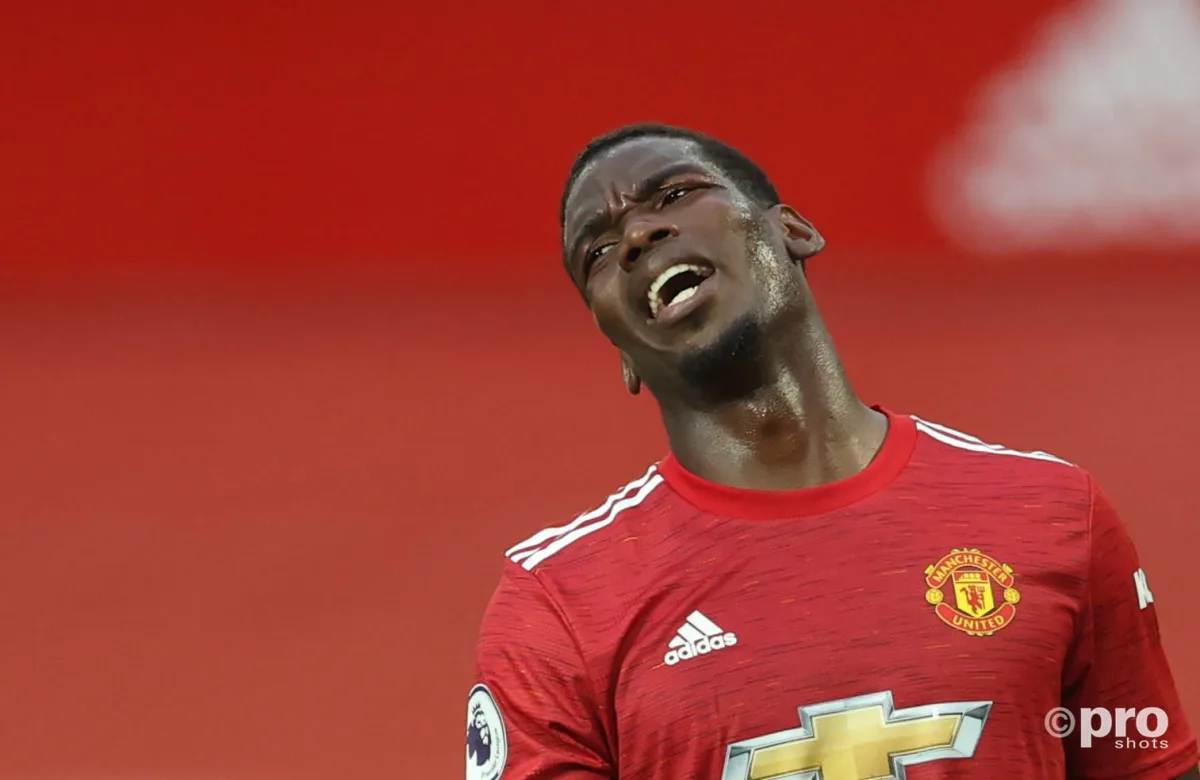 By Huw Lloyd
With accounts season in full flow, Premier League clubs are beginning the reveal the extent of the financial dent the Covid-19 pandemic is having on football.
Out of 20 clubs who competed in the 2019/2020 season, 16 have submitted their audited financial statements to Companies House. Of these, 12 posted a loss; with only Chelsea (£36.1 million, driven primarily by revenues generated via the sale of Eden Hazard and Alvaro Morata), Norwich City (£1.9m), Sheffield United (£17.5m) and Burnley (£0.5m) turning a profit. Of the unreported clubs (namely Liverpool, Newcastle United and Watford), only the Reds can feasibly expect to return a potential profit for Financial Year 2020 (FY20).
READ MORE: Man City post £126m losses as they distance themselves from Haaland
Cumulative losses for the 16 clubs stood at £855.5m, compared to a cumulative top flight loss of £151.9m in FY19 (i.e. season 2018/2019). Cumulative reported revenues stand at £3.7 billion; adjusting for the clubs yet to publish financial statements, the comparable figure FY19 stood at £4.2bn (a 12% decline).
Premier League finances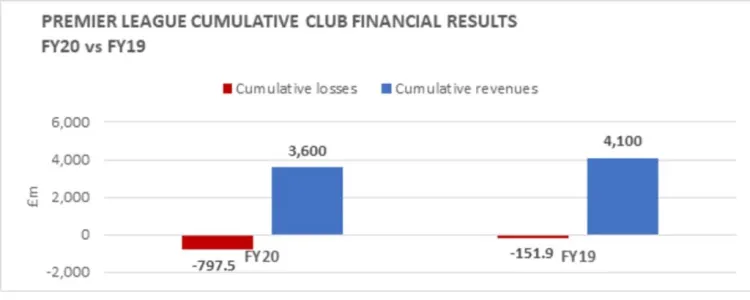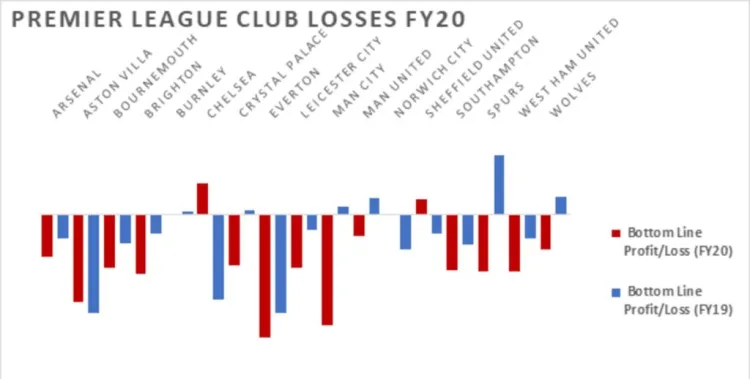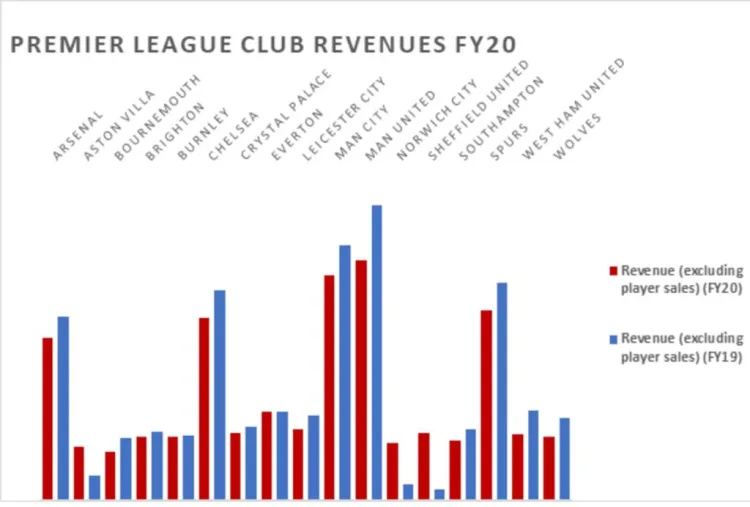 The drivers
The pandemic has necessitated the hosting of football games behind closed doors for over a year, with 36 out of 38 Premier League matchdays during the 2020/2021 guaranteed to be played in front of empty stands, with few exceptions. This has effectively removed clubs' matchday revenue stream, which represents one the three major revenue streams of a football club. In FY19 (covering season 2018/2019), total revenues of the Premier League clubs totalled £5.1bn; of which £683m (13%) was generated via the matchday stream.
Further, the pandemic has also impacted broadcast and commercial revenue streams.
Notably, as reported within Manchester United financial statements, Premier League clubs were collectively required to offer global broadcasters a total rebate in the region of £285m to compensate the delayed delivery of matches in the 2019/2020 season. Of this figure, Sky Sports received around £170m.
The rebate has been allocated in line to the total broadcast amounts clubs were due to receive; with Chelsea (£18m), for Manchester United (£14m), Leicester City (£11.5m), Burnley (£8.5m) and newly promoted Norwich City (£7.1m) all disclosing their share of the rebate. Notably, the rebate is due to be taken as a deduction from the 2021/2022 and 2022/2023 season distributions; hence does not adversely affect clubs' cash positions.
Commercially, clubs have been hit by the extended closure of club stores, reducing income combined with lower demand to engage in sponsorship opportunities.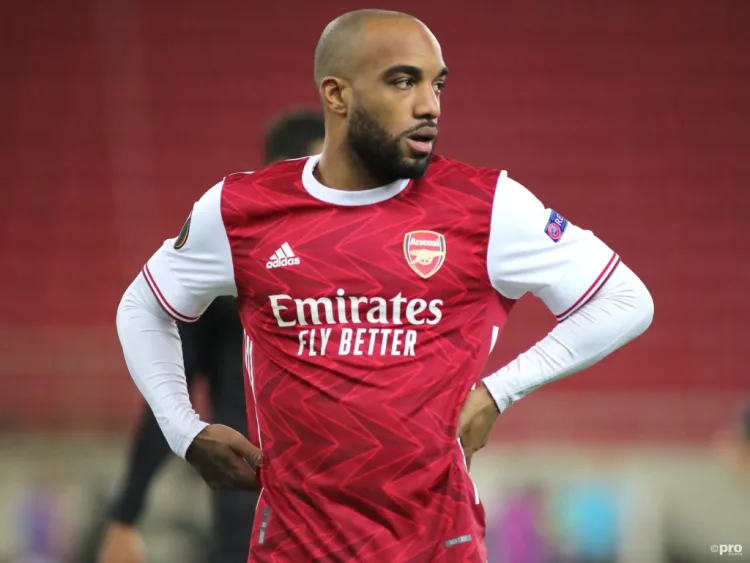 Caveat 1: Deferment of 20-25% of broadcast revenues
As stressed in the majority of Premier League clubs' financial statements, the reported figures are deceptive as to the overall financial impact of Covid.
Critically, for the majority of clubs, the FY20 accounts exclude around 20-25% of the season's broadcast revenues on the basis of the accounting concept of accruals as they relate to the eight, nine or 10 matches the club would have played during Project Restart in order to complete the 2019/2020 season.
Typically, clubs place their financial year-ends at the end of the season in May, June or July; thus enabling each set of accounts to effectively reflect the season just past. However, with Project Restart games played from mid-June, broadcast revenues apportioned to these matches are required to be deferred until the FY21 accounts.
For example, Arsenal recognised a deferment of £34m (22%) in broadcast revenues from FY20 to be recognised in FY21.
Notably, two clubs (Burnley and Sheffield United) who extended their accounting periods to capture broadcast are among the four clubs to profits in FY20.
Caveat 2: Exclusion of the 2020 summer transfer window
Due to the delayed end of the 2019/2020 season, the 2020 summer transfer window did not open until 17 July. Therefore, clubs FY20 accounts only reflect transfer dealings which took place either later in the 2019 summer transfer window, or during the traditionally quieter January transfer window.
From an accounting perspective, playing trading is a highly effective concealer for football clubs; with the net effect skewed to recognise significant profits even with only modest player sales due to the nature of capitalisation and amortisation.
For reference, in FY19 the total accounting profit recorded on the trading of players was £429.6m; over half the total losses recorded by Premier League clubs in FY20. Despite the pandemic, the 2020 summer transfer window was one in which Premier League clubs traded heavily, with many significant intra-league and foreign sales accompanying purchases. Such sales will go a long way to enable clubs to return to at least break-even positions in FY21.
Conclusion
Factoring in these two key caveats, it is unsurprising that the cumulative FY20 Premier League loss is likely to exceed £850m.
However, as Manchester City chairman Khaldoon Al Mubarak stressed within the Cityzens' annual report, to get the full and fair impact of the pandemic on football club finances, FY20 and FY21 financial statements will need to be viewed as one extended accounting period to eliminate arbitrary timing impacts.
Premier League clubs FY21 accounts are likely to be healthier than those posted in FY20, despite the near total absence of matchday revenues due to the effective inclusion of 120-125% of broadcast distributions combined with two transfer window sales.
For each club, the net effect of the pandemic is likely to boil down to the complete loss of matchday revenue streams for over one full season and the club share of the broadcaster rebate, balanced against clubs cost cutting measures (e.g. player wage cuts) and transfer strategies.