How does N'Golo Kante fit into Thomas Tuchel's Chelsea plans?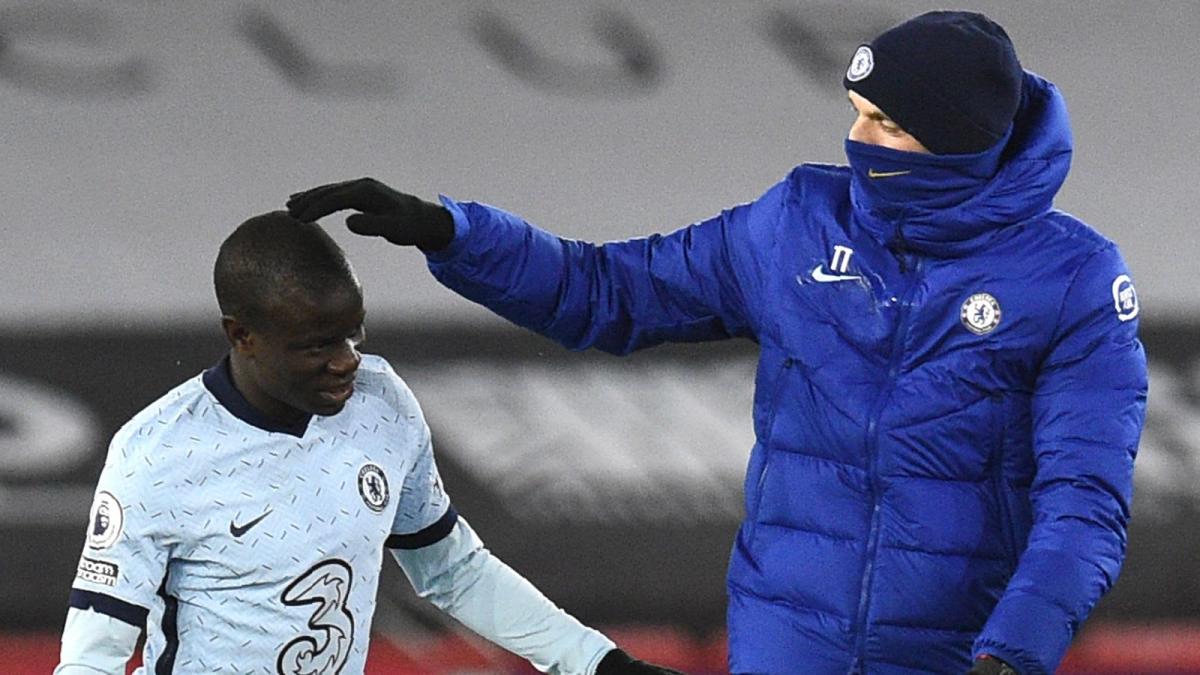 Since his arrival at Chelsea, Thomas Tuchel has taken the side from ninth to fifth, and picked up 10 points from a possible 12; it's been a very positive start.
One man who's barely played a role in that positive start is French midfielder N'Golo Kante, who's managed just 31 minutes of action in Tuchel's four games in charge.
Without context that is very misleading; Kante was injured for almost the entirety of January, and even now is only just up to full fitness.
However, with Tuchel favouring Jorginho and Mateo Kovacic in midfield, it begs the question of where Kante fits in.
Now, at PSG Tuchel utilised Ander Herrera and Idrissa Gueye, two players reminiscent of Kante's defensive industry, with Marco Verratti sat behind them, a role that, from the outside, suits Jorginho to a tee.
Tuchel wanted to sign Jorginho at PSG, and whilst the Italian midfielder fell out of favour under Frank Lampard, he's had a new lease of life under the new head coach at Stamford Bridge.
This directly affects Kante, as it seems unlikely he'll be able to dislodge Jorginho in the starting XI, and Kovacic has arguably been one of the most impressive performers under the new regime.
However, Tuchel has revealed that Kante would be in the plans of "any manager on the planet", and with the Frenchman due to start against Barnsley in the FA Cup, he may be able to work his way back into the Premier League starting XI.
What makes Kante so good?
The 2018 World Cup winner has never dipped below 3.4 tackles and interceptions per 90 in the Premier League, and during his title-winning campaign at Leicester, he was at a mind-blowing 9.9 per 90.
Whilst his defensive requirements have dipped at Chelsea, Kante is still near the top of the Premier League defensive actions charts, and this year he's still making 5.1 tackles and interceptions per 90, despite continued talk of his performance declining.
Kante's ability on the ball has been questioned consistently over recent years, and the style of play Tuchel has imprinted on this Chelsea side has further increased a belief that Kante won't fit in.
However, whilst Kante completes less passes per 90 (62.2) than Jorginho (75.5) and Kovacic (79.0), he loses possession at a very similar rate to both of the possession-based midfielders.
In the Premier League this season, Kante, on average, loses possession 10.8 times per 90, to Jorginho's 10.5 and Kovacic's 10.0; it's unfair to label the Frenchman as simply average in possession but outstanding out of possession.
With 1.0 dribbles and 0.9 key passes per 90, Kante is far from a creative hub, but alongside one of Jorghino or Kovacic, he could excel in a double six in Tuchel's fluid 3-4-2-1 system.
Why were Chelsea were tempted to sell him?
Quite simply, injury issues have caught up with Kante.
His all-action, high-energy style was likely to lead to injuries after a while, and unfortunately for both him and Chelsea, they've come in quick succession.
Last season he missed 22 games through injury, and here's already missed six games this term; in comparison to just 10 games missed during his first four years in England.
Inter were seriously interested in Kante over the summer, but Lampard blocked a move as he saw the midfielder as a crucial part of his team; six months on, Lampard is gone and Kante's place in the side is up in the air.
How does Kante fit into Tuchel's side?
Most Chelsea fans would agree that a Jorginho and Kovacic pivot doesn't work against a high-pressing side, or even one who just like to attack.
It worked against Wolves, Burnley and Tottenham, all of whom sat back, but against Sheffield United, who certainly did not, the pair struggled.
Kante's defensive presence and his ability to eat up ground in a way neither of the other two can, means he is crucial against better sides, and paired with whoever Tuchel chooses, he could be invaluable as part of a 'double six'.