Solskjaer impressed by Van de Beek as Ferdinand questions contract talks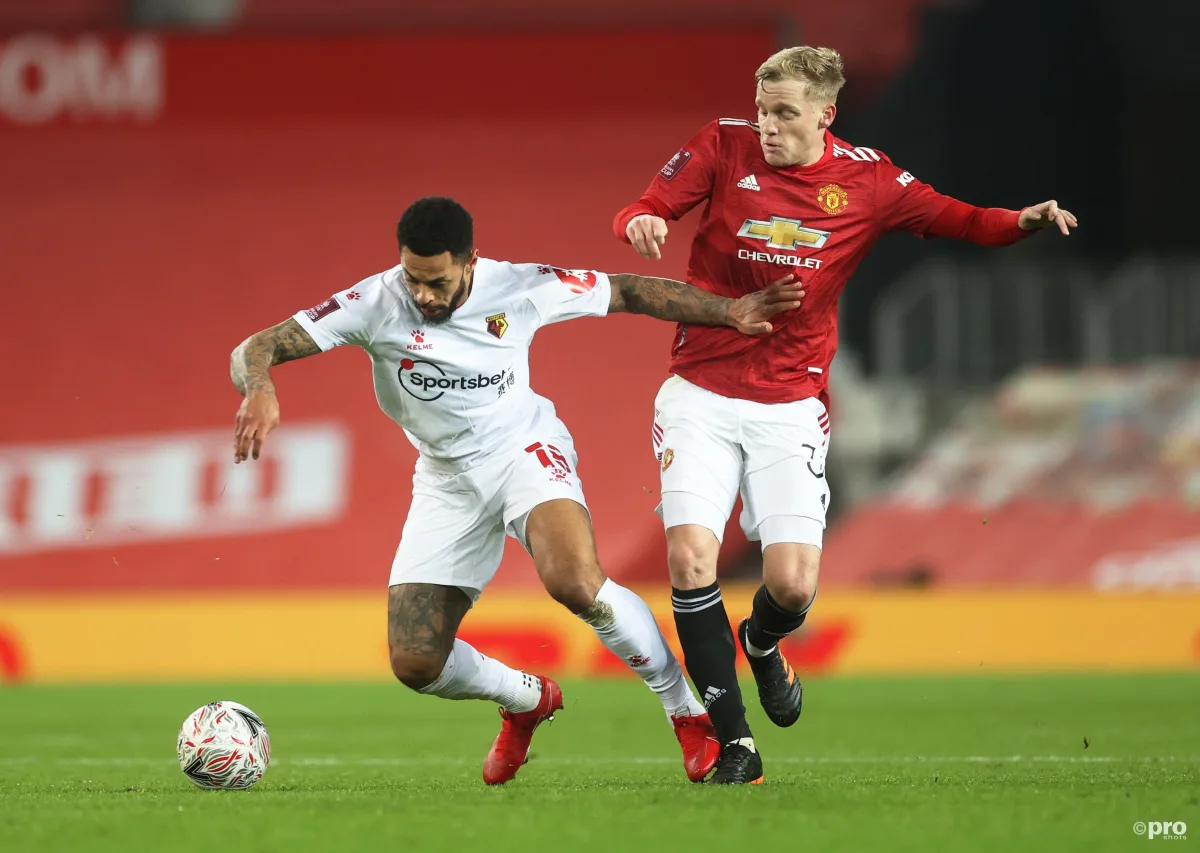 Ole Gunnar Solskjaer has praised Donny van de Beek for his performance against Watford after Rio Ferdinand questioned what had gone on during his contract negotiations with Manchester United.
United boss Solskjaer has grown tired of repeated questions over the status of Van de Beek.

He continues to insist the £40 million summer signing from Ajax is an important part of his plans both now and in the future.
But Van de Beek has only started two Premier League matches since joining United.
READ MORE:
Former United manager Louis van Gaal and ex-Ajax head coach Peter Bosz have questioned his decision to move to Old Trafford.
Van de Beek was handed a rare chance to start in the FA Cup third-round tie against Watford on Saturday.

He produced a good performance in a holding midfield role alongside Scott McTominay, who scored the only goal in a 1-0 win.
Solskjaer liked what he saw from Van de Beek.
"I think Donny showed again his qualities, his pace," Solskjaer said.
"He is very technically clean and had one little flick to play Juan [Mata] through [on goal].
"Donny has got that quality to open up tight games. He will benefit from this game as well."
Rio Ferdinand: Van de Beek expected games
Former United star Rio Ferdinand was on punditry duties for the steady but unspectacular win over Watford.
Ferdinand questioned what Van de Beek was told about his chances of regular first-team football when he joined the club.
With Paul Pogba, Bruno Fernandes, McTominay, Mata, Fred and Nemanja Matic all at the club, Solskjaer was not short of midfield options.
"I'm really surprised he has not played more minutes," Ferdinand said to BT Sport.

"I'm 100% certain that he expected to play more.
"The interesting point with the whole van de Beek situation is, what was the conversation in negotiations coming here?
"When you negotiate a contract to go somewhere, you come into the football club knowing where you are.
"[You come in] knowing if you are going to start, or are they going to have to work their way into the team.
"That's the important part and we don't know the answer yet.
"I'm sure from the soundings that his agent has been given off, he expected to be playing games and be a major part of this team.
"It hasn't materialised so far, and he's got a Euros to worry about if that goes ahead."

United face Burnley and then champions Liverpool in the Premier League next week.