Do Bayern Munich still want to sign Chelsea's Hudson-Odoi?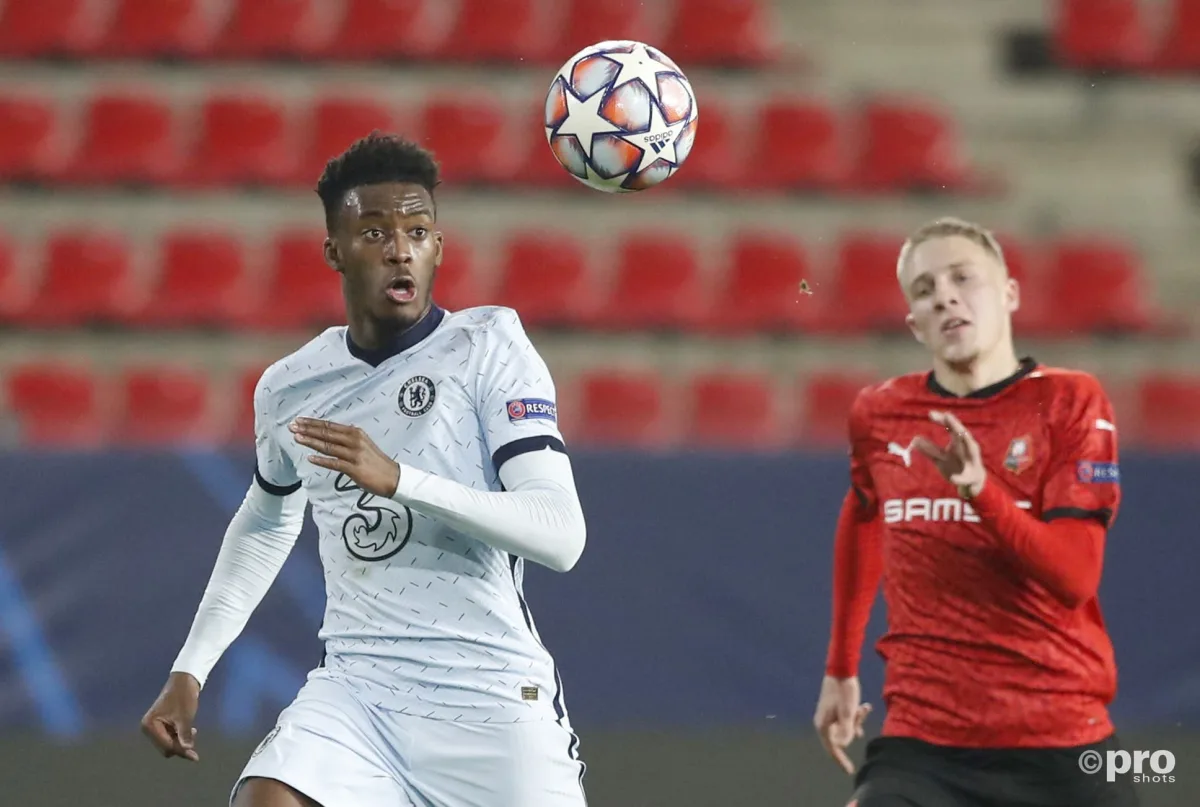 Callum Hudson-Odoi is still a Chelsea player this season but it seems as though interest in the winger's talents is showing no signs of calming down.
Bayern Munich reportedly offered to take the 20-year-old forward on loan last summer, with an option to buy Hudson-Odoi for £70 million.
According to the Daily Mail, the German giants are still intent on signing the young player this summer and may be back in for him at the end of the season.
However, a lot of things have changed in London and Munich since the initial interest in Hudson-Odoi was first touted.
Do Bayern still have the same desire to blow their budget on a young winger and is the Chelsea prospect still rated at £70 million?
READ MORE:
| | |
| --- | --- |
| Competition | Goals and assists |
| Premier League | 2 |
| Champions League | 2 |
| FA Cup | 1 |
| League Cup | 0 |
How much is Hudson-Odoi now worth?
While the numbers reported in transfer stories are rarely as accurate as the real-life amounts of money that ultimately get transferred from one club bank account to another, the proposed £70 million fee for Hudson-Odoi did make sense in the summer of 2020.
Over the course of the 2019/20 season Hudson-Odoi made no less than 22 league appearances for Frank Lampard's side as one of the many young faces that made up a team full of confidence, ambition and promise.
It was this – the ambition and promise – of Hudson-Odoi that fuelled much of the player's value. After all, despite making 22 Premier League appearances that season, the young winger had only actually scored one goal and a further five assists. If Bayern were going to buy the player in 2020, they would be paying for the player Hudson-Odoi could become.
Six months later, that situation has slightly changed. While the English talent has by no means diminished in his own actual ability, the promise of what he could or indeed would offer Chelsea certainly has been altered somewhat by the players the Premier League side signed in the summer. 
Callum Hudson-Odoi's Chelsea stats in 2020/21
Rather than make the step up to become a regular in Lampard's squad, Hudson-Odoi has had to contend with Kai Havertz, Timo Werner and Hakim Ziyech all arriving at the club and being prioritised over him in the wide positions. As such, the young winger has managed just 328 minutes of Premier League football in this season's league campaign.
Last summer Bayern were hoping to snatch a future Chelsea star before the London club even knew what they had on their hands. However, by the time this coming summer rolls around it seems as though Hudson-Odoi will then be regarded as a talented youngster but one that has certainly struggled to prove his worth among a number of expensive signings.
Do Bayern still need him?
Another issue that would impact Hudson-Odoi's proposed value to Bayern is also the fact that the German club may not need the young winger as much as they thought they did last summer.
Despite failing to strike a deal for the Chelsea winger, the German and European champions still brought in Douglas Costa on loan from Juventus and Manchester City winger Leroy Sane for £40 million.
While Costa has struggled to offer a huge amount from the bench, Sane's role in the team continues to grow with every passing game. And when coupled with the excellent and consistent performances of Serge Gnabry and Kingsley Coman, it leaves Bayern with at least three young and impressive wide players to rely upon for the next few seasons.
Another issue with Hudson-Odoi former value is that COVID has and most likely will continue to have a dramatic impact on transfer fees for the remainder of 2021. The idea that Bayern could afford to blow £70 million on a long-term project when they need ready-made central defenders and full-backs right now just seems entirely unlikely.
Bayern may have high hopes of enticing Hudson-Odoi to Munich one day, but it's far more likely that they'll succeed when the player has accepted he can no longer work his way into Chelsea's first team and, as such, for a much lower fee.