Who is Goncalo Ramos? Benfica's gem wanted by Bayern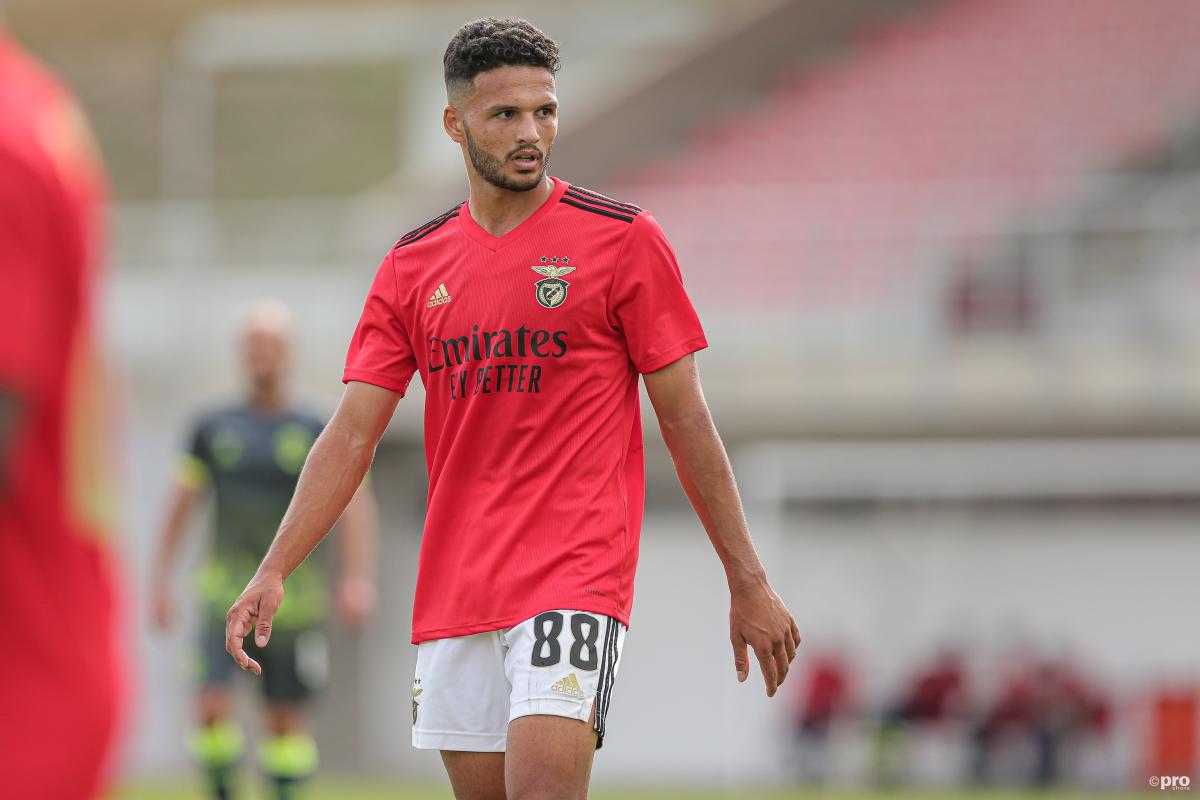 Benfica have made hundreds of millions of pounds from their famed academy over the years, with the most valuable graduate emerging as Joao Felix, who earned the club €126 million following his massive transfer to Atletico Madrid.
The next player who could earn the club a lucrative payday is Goncalo Ramos.
The young forward has been with the club since 2013, now, having initially started playing with local outfit Olhanense.
He is one to watch for the future, and is attracting the attention of some elite clubs around Europe.
FOOTBALLTRANSFERS' MOST VALUABLE PLAYERS IN THE WORLD
What position does Goncalo Ramos play?
Ramos plays as a centre-forward.
How good is Goncalo Ramos?
Ramos has been tipped to be a success for a few years now as he has gone up and down from the senior Benfica side to the reserve side, switching between getting first team experience as well as continuing his development.
He is noted for having one of the best debuts in the club's history.
In July of 2020, he was introduced to the action in a Primeira Liga clash between Benfica and Aves.
He came on in the 85th minute for Pizzi and went on to score a double in his short cameo.
He has been promoted to the first team permanently for 2021/22 and has made five starts in all competitions, though he has failed to score.
Even if Ramos is on a goal drought at the moment, there is not believed to be any concerns within the club about his potential.
19-year-old Gonçalo Ramos won't forget his @SLBenfica debut anytime soon 👀
⠀
'8️⃣5️⃣ Makes his debut 🔛
'8️⃣8️⃣ Scores his first goal ⚽
'9️⃣0️⃣➕4️⃣ Scores his second goal ⚽
⠀
🎥 @ligaportugal pic.twitter.com/xkMbl7iJuS

— 433 (@433) July 23, 2020
He isn't a typical predatory striker, but is naturally fit and can play well in any kind of pressing system which suits his aggression and determination.
Ramos is known for his spacial awareness and when asked about this attribute, he told Daily Advent:
"I believe it's something that was born with me. That I have since I played football, but it does not mean that I can not practice it everyday, to improve that instinct that I have.
"I think that the B team is the best possible way to prepare youth players from the academy for the first team. The league is very competitive, all the matches are difficult and you can learn a lot there."
What clubs are interested in Goncalo Ramos?
As Ramos has only just broken into the first team at Benfica permanently, there isn't a large amount of teams interest.
However, Bayern Munich have apparently scouted him recently and have also held meetings with the player's agent, Jorge Mendes.
When does Goncalo Ramos' contract expire?
Ramos has a contract with Benfica until 2025.
How old is Goncalo Ramos?
Ramos was born on 20 June 2001. He is 20.
What is Goncalo Ramos' height?
Ramos is 185cm, or 6ft.
What is Goncalo Ramos' weight?
Ramos weighs 79 kilograms, or around 12 stone.
What is Goncalo Ramos' Instagram?
Ramos' Instagram has 81k followers as of November 2021.
Who is Goncalo Ramos' girlfriend?
Ramos is not currently dating anyone publicly.