Locatelli: I will decide on Chelsea, City, PSG or Juventus after Euros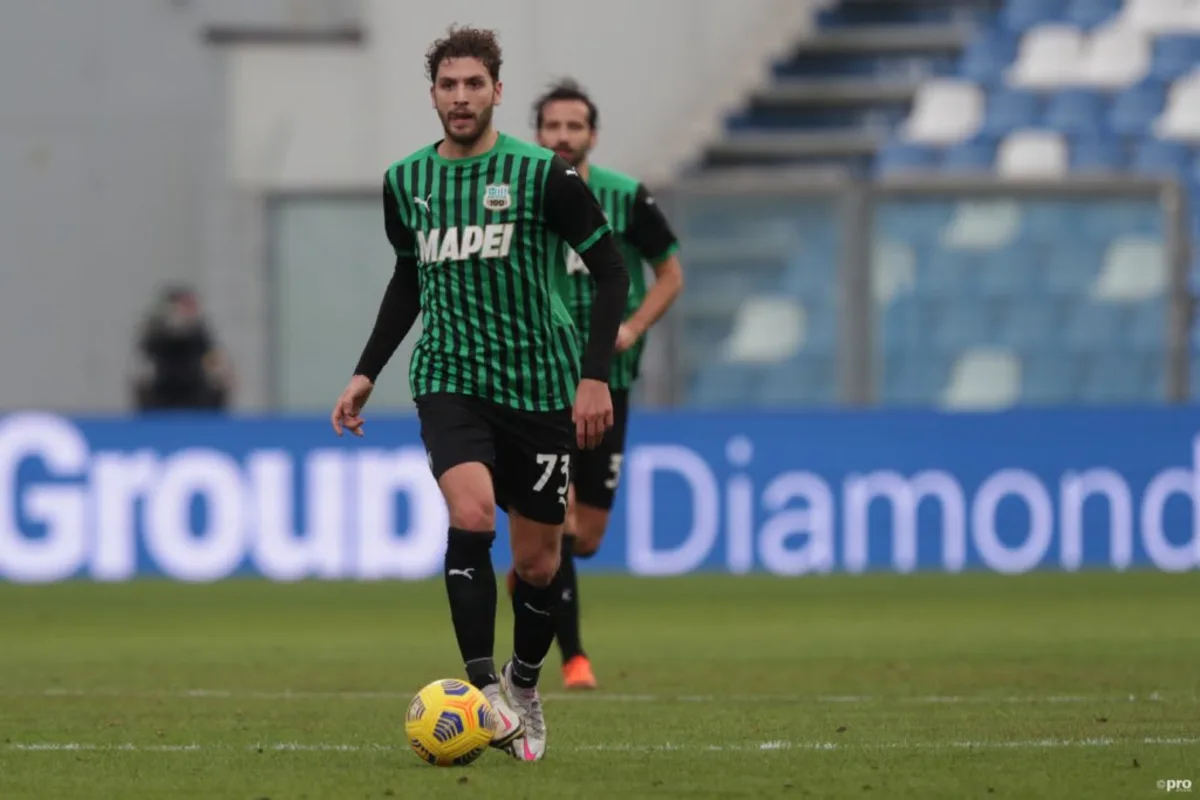 Manuel Locatelli insists that he will not decide on which of Europe's biggest clubs he will join until after Euro 2020.
Locatelli has emerged as one of Europe's most admired midfielders over the last year and seems likely to leave Sassuolo this summer.
Juventus are considered the favourites to buy the 23-year-old, having had an offer for the creative midfielder rejected a year ago.
READ MORE: Who is Sassuolo's Manuel Locatelli? Midfield artist wanted by Juventus and Man City
However, it is widely reported that Paris Saint-Germain, Chelsea and Manchester City have also made bids for the star, while Real Madrid coach Carlo Ancelotti is another big admirer.
Locatelli focused on Euro 2020
"It's just talk. There's such an important competition to play in, and I'm only focused on Euro 2020," Locatelli said at an Italy press conference.
"I rely on what happens on the pitch, the real things, everything else is just gossip, it's useless to talk about it."
"It's normal that there are market rumours, but the maturity I'm talking about is the step where I don't allow myself to be influenced.
"This is so important that it would be a waste to think about the market, even though I know that I will have to make some decisions after the European Championship.
"I talked to [Sassuolo CEO Giovanni] Carnevali, we are aware of the path to take."
Sassuolo confirm Juventus bid
Ci siamo 🇮🇹💪 pic.twitter.com/U7eVd8K0Hs

— Manuel Locatelli (@locamanuel73) June 4, 2021
Carnevali himself admitted a fortnight ago that there is serious interest in Sassuolo's star midfielder.
"It's true that Juventus made their move for Locatelli last summer, but only foreign clubs have shown a concrete interest in him of late," he told Tuttosport.
"We are just at the beginning, but their intentions seem to be serious. We are open to everything, we'll try to make Locatelli happy even if we need to sell nobody. In case, we would prefer not to include any other player in the deal.
"We'll evaluate the right offer with the player, the same is true of Jeremie Boga, it's not true that he wants to leave at all costs."
Locatelli is likely to start for Italy in midfield alongside Jorginho and Nicolo Barella in the opening game of Euro 2020 versus Turkey on Friday.