Who is Sassuolo's Manuel Locatelli? Midfield artist wanted by Juventus and Man City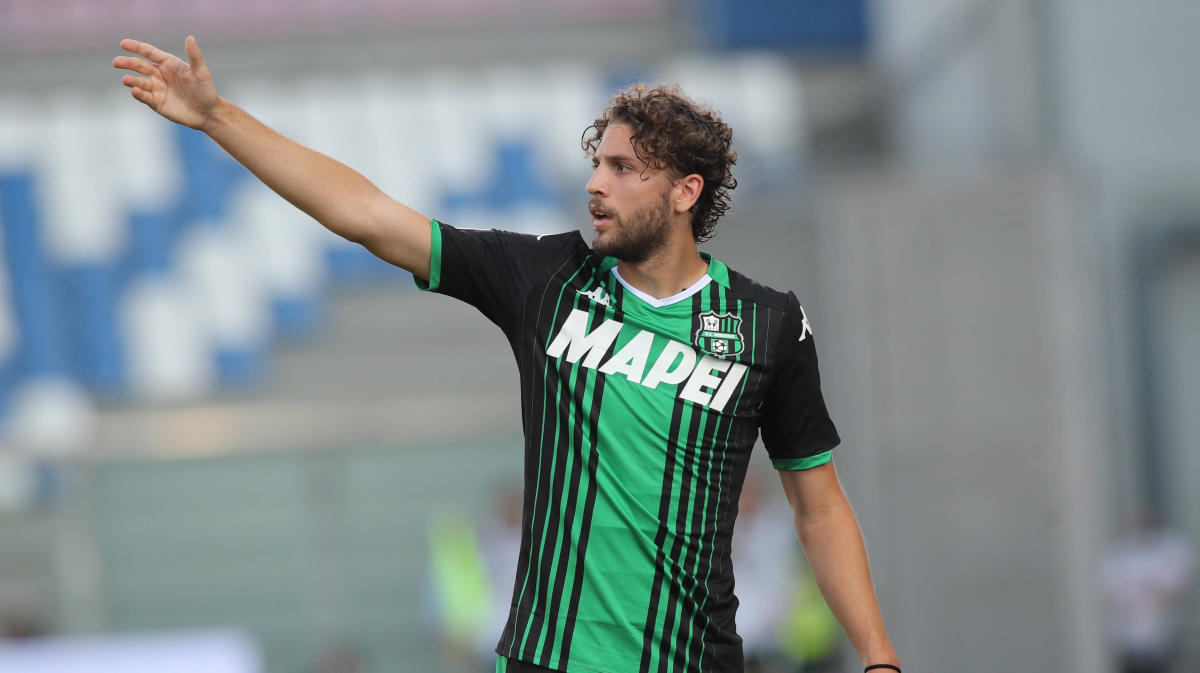 Manuel Locatelli was a product of the Atalanta and Milan youth set-up. The stylish midfielder rose through the ranks of the Rossoneri fairly quickly, making his debut at the age of 18 in the 2015/16 season. He rattled in a memorable goal for Milan against Juventus at the beginning of the 2016/17 campaign, and big things were expected of the youngster.
However, the turmoil behind the scenes at the club and a succession of coaches saw Locatelli sold to Sassuolo in the summer of 2018, as he'd lost his place in the Milan starting XI.
Locatelli, now 23, has emerged as one of Italy's best midfielders during his stint with the side from Emilia-Romagna, and has been continually linked with a move to Juve this coming summer as a result of his form.
What position does Manuel Locatelli play in?
Locatelli operates in central midfield role, usually as a regista. Locatelli initiates all of Sassuolo's play, dictating the rhythm of a match and sets attacks in motion.
Roberto De Zerbi, who is one of the most sought-after coaches in Serie A at present, has established Locatelli as Italy's best deep-lying playmaker since the days of Andrea Pirlo.
Whilst Locatelli still has some way to go before he can equal Pirlo's achievements in the game, he has unquestionably emerged as the best in the position since Pirlo's retirement from the Italian national side in 2015.
Locatelli can also operate on the right-side of a three-man midfield, but he doesn't look particularly comfortable shuttling up and down.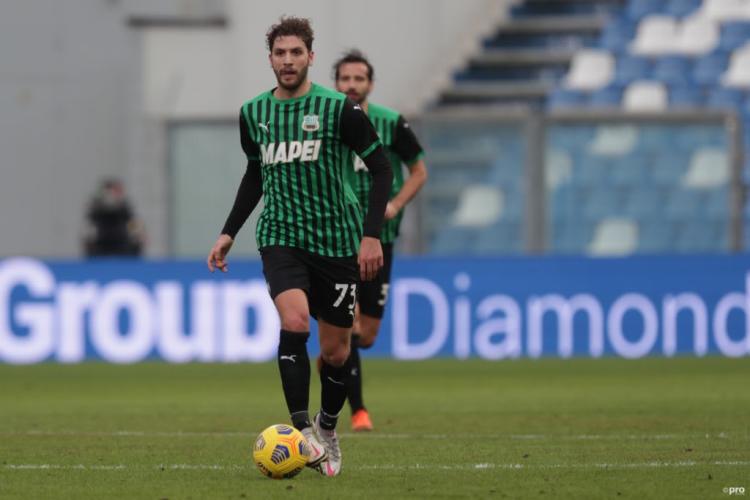 How good is Manuel Locatelli?
Locatelli isn't the quickest of midfielders, but his quickest asset – like all good playmakers – is his brain.
Locatelli's contribution to a team isn't the sort that can be easily measured in goals and assists. For example, he has only garnered two goals and the same amount in assists this term, but he is at the heart of everything good about De Zerbi's side.
Manuel Locatelli 2020/21 Serie A Stats
| | |
| --- | --- |
| Games | 22 |
| Passes P90 | 83.2 |
| Pass Completion Rate | 88% |
| Interceptions P90 | 1.8 |
| Recoveries P90 | 8.2 |
"He's a great talent, one who sees the play before anyone else," De Zerbi said of Locatelli in October 2020. "I don't think people have yet realised just how good Locatelli is and I feel a midfielder like that comes along very rarely in Italy."
What clubs are interested in Manuel Locatelli?
Juventus have been known admirers of Locatelli for over a year now. The Italian giants tried to make a move to sign the player last summer, but weren't in a position to offer the €40m required by Sassuolo.
A year on, and not much has changed. Recent reports in Tuttosport state that Pirlo wants Locatelli at the club for next season, but the issue remains the same: can Juve afford him? Given their perilous financial situation, they will have to offload several big names before they can make a move for the 23-year-old.
In Brazilian midfielder Arthur, Juve already have a player with similar attributes to Locatelli, and with other areas of the pitch in desperate need of a revamp, it remains to be seen whether the Bianconeri will go all the way in securing his signature.
Italian journalist Fabrizio Romano has also stated that Manchester City are interested in bringing Locatelli to England, and are keeping an eye on his progress between now and the end of the season.
When does Manuel Locatelli's contract expire?
Locatelli's contract expires in June 2023.
What is Manuel Locatelli's Instagram?
Locatelli's Instagram account has 368,000 followers.
Who is Manuel Locatelli's girlfriend?
Locatelli's girlfriend is Thessa Lacovich