Buffon criticised on Parma return: You are a mercenary!
Gianluigi Buffon's return to Parma was confirmed on Thursday but the veteran goalkeeper faces a battle to win fans over after signing a two-year deal.
Buffon started his career at the club before leaving for Juventus in 2001 for a fee of €52 million, which was astronomical at the time. With the exception of one season spent at Paris Saint-Germain, he played his whole career in Turin.
His acrobatic saves and bubbly personality led to him becoming an icon of the game, a status sealed as he was the victorious goalkeeper in the 2006 World Cup final penalty shootout between Italy and France.
However, Parma fans have not forgotten the manner he left their club 20 years ago.
Buffon's hostile Parma return
You left as a mercenary, you cannot return as a hero... honour the shirt
-
A section of supporters from the Serie B side hung up a hostile banner outside the club's Stadio Ennio Tardini ground following the announcement.
"You left as a mercenary, you cannot return as a hero... honour the shirt," it reads.
Buffon, who is 43, re-joins Parma 30 years after he initially joined them as a youth player. After four years in the academy, he broke into the first team and played a total of 220 times for the club, including 168 in Serie A.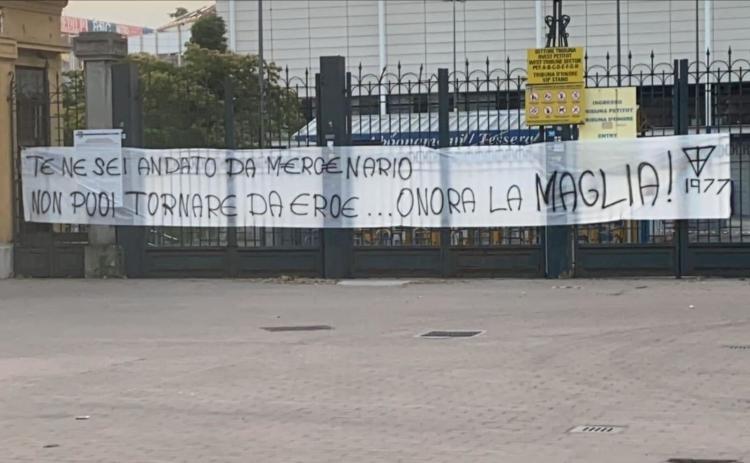 Parma may have fallen on hard times in recent years, but during Buffon's era they were heavyweights of the Italian game, boasting numerous heavyweight stars, such as Lilian Thuram, Fabio Cannavaro and Hernan Crespo in their ranks.
Indeed, during the 1998/99 season, they would win the Coppa Italia and the UEFA Cup, thumping Marseille 3-0 in the final of the latter competition.
Buffon returns to a very different Parma side, facing a big challenge to help the relegated side back into Serie A at the first time of asking.