Barcelona identify three potential Sergio Busquets replacements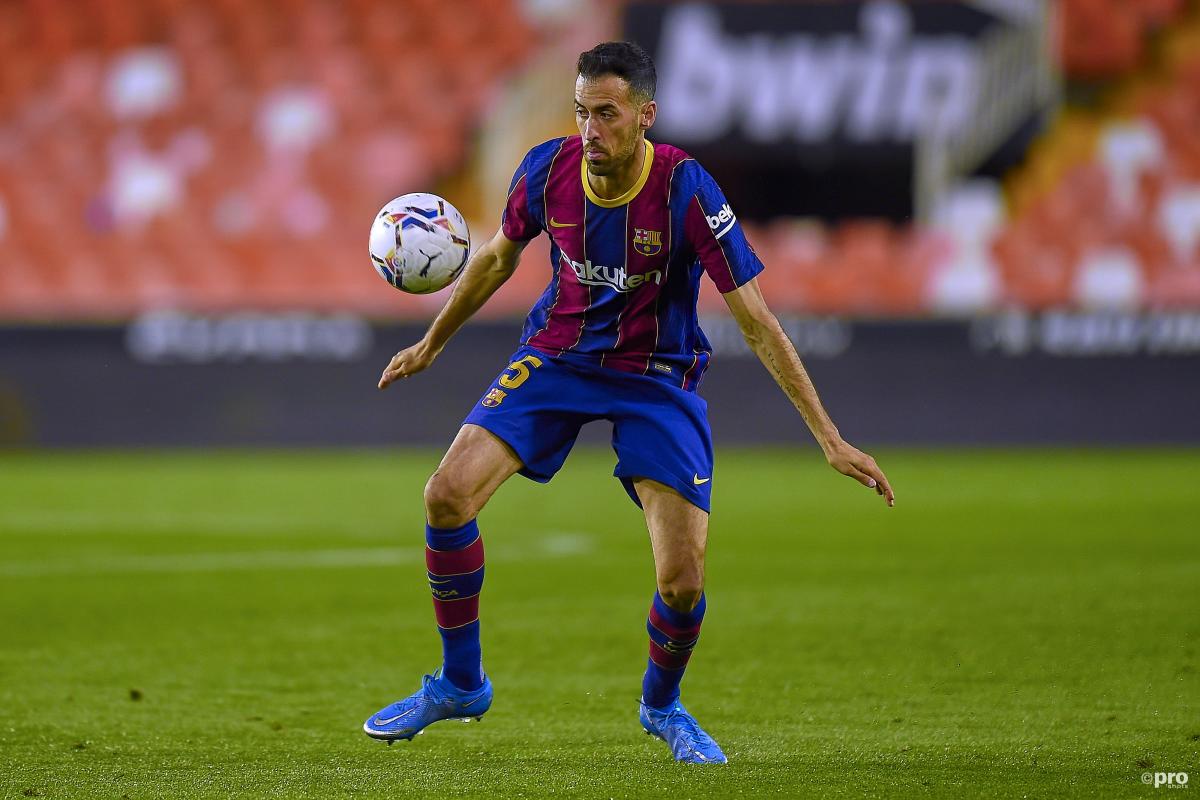 Barcelona have compiled a shortlist of three potential midfielders to sign as a long-term replacement for veteran star Sergio Busquets.
Ever since breaking into the team under Pep Guardiola, Busquets has became part of the furniture at Camp Nou and went on to enjoy huge success, winning eight La Liga titles, three Champions League titles, and seven Copa del Rey titles.
READ MORE: Aguero's former team-mate believes the Man City star will join Barcelona
At 32-years-old, though, he is entering the twilight of his career and has, along with most of the Barcelona team to be fair, looked off the pace over the past 18 months.
According to Mundo Deportivo, the Blaugrana have identified three players to sign as his replacement.
However, it should be noted that Barcelona are in a terrible state financially, so would need to bring in significant cash from player sales or find funding from somewhere else in order to spend significantly this summer.
So, who are they targeting?
Eduardo Camavinga
One of the most sought-after young players at the moment is 18-year-old Rennes midfielder Eduardo Camavinga.
Despite his young age, his performances have been so impressive that he is already attracting attention from Europe's biggest clubs, though Barcelona have their work cut out in trying to sign him as it seems like rivals Real Madrid are leading the race for his signature at the moment.
Camavinga currently has a contract with Rennes until the summer of 2022, so if Rennes want to cash in on their young star they'll need to sell him this summer to gain a significant fee.
There has been talk of a new contract on the table, but nothing has been signed yet.
The player's agent Jonathan Barnett tipped Camavinga to make a record-breaking move this summer, though did not specify the destination.
Manuel Locatelli
For a while it has seemed likely than Sassuolo midfielder Manuel Locatelli would join Juventus this summer, having emerged as one of the best midfielders in Serie A since leaving Milan a few years ago.
| Statistic | Busquets / Locatelli |
| --- | --- |
| Starts | 39 / 28 |
| Goals | 0 / 3 |
| Assists | 4 / 1 |
| Pass Completion | 92% / 88% |
| Final Third Passes | 24.7 / 22.5 |
| Interceptions | 1.6 / 1.5 |
Juve have earned a recent reputation of hoovering up as much young talent as possible from their league rivals, as highlighted by the acquisitions of Dejan Kulusevski and Federico Chiesa.
The Bianconeri have not tied the deal up, though, and have not yet qualified for the Champions League.
This may play into Barcelona's hands, with the Catalan side viewing Locatelli very much in the same mould as Busquets – a sitting midfielder who can impact play from deeper positions in front of the defence.
Mikel Merino
Barcelona are looking closer to home, too, with Real Sociedad's Mikel Merino being an option.
Though not from the Barca academy, he has the style of the Spanish national team engrained in him which would certainly be of benefit for the Blaugrana.
Unfortunately for Barca, Merino represents the most expensive scenario as he currently has a contract with the Basque side until 2025 and a release clause of €60m.
Though Barcelona could attempt to negotiate that fee down, Real Sociedad are unlikely to sell for a significantly lower price due to the length Merino still has on his current deal.