Scotland metronome Billy Gilmour shows he's ready to be EPL star NOW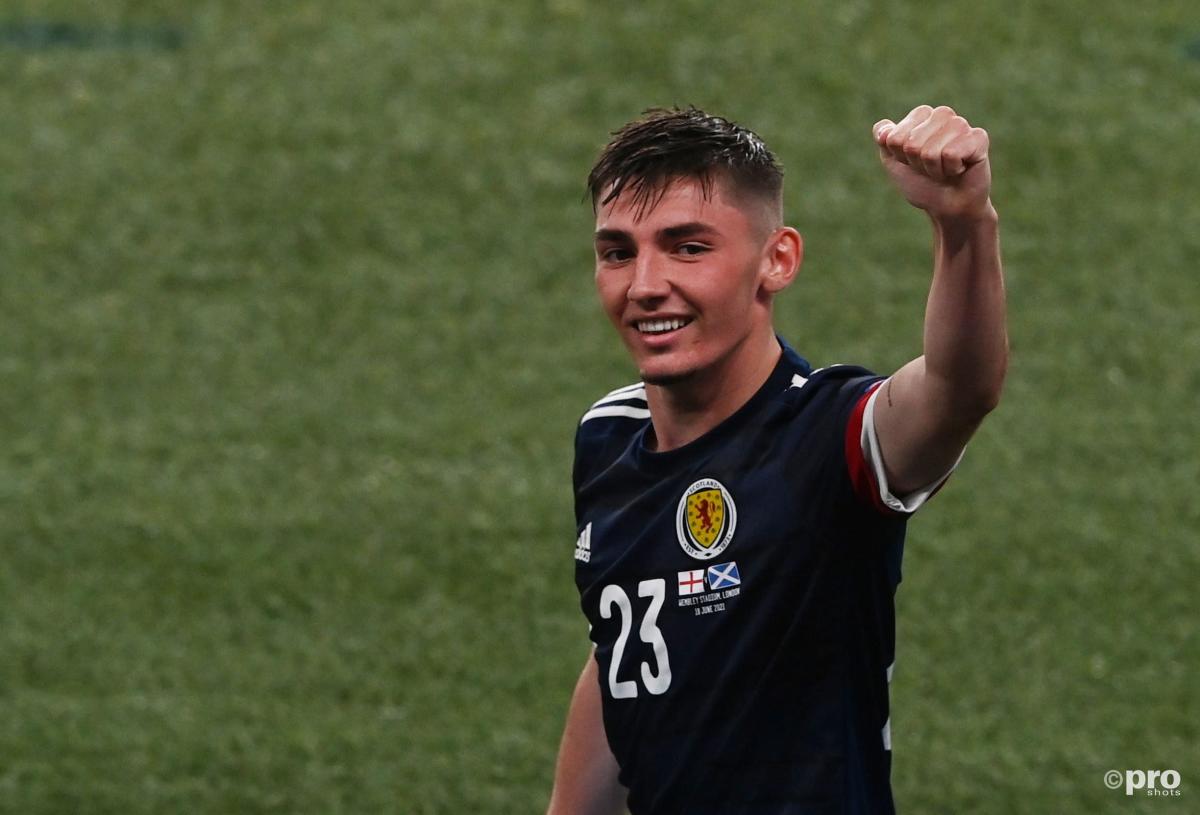 Billy Gilmour not getting game time at a Norwich City side marooned at the bottom of the Premier League table has left Chelsea and Scotland fans across the land baffled.
For the Blues, the 20-year-old playmaker has already shown against the very top sides, such as in performances against Liverpool and Manchester City, exactly what he can do and his man-of-the-match display at Wembley on his first start for his country in the European Championship in the summer, meant Norwich City were probably quite fortuitous to secure the Ayrshire kid on loan.
Football Transfers understands the Canaries fought up stiff competition from primarily Wolves to land Gilmour in the summer and yet the midfielder, following another impressive couple of games in the international break with Scotland, has now clocked up more minutes for country than club this season.
Even more tellingly, in those two most recent games against Moldova and Denmark – which both ended in 2-0 wins for Steve Clarke's improving side – Gilmour came off to be replaced by Kenny McLean, the very man who Daniel Farke was picking ahead of him for Norwich.
Let's goo! See you in March! pic.twitter.com/VJrSVUC5ok

— Billy Gilmour (@billygilmourrr) November 16, 2021
Farke's persistently stubborn selection of McLean ahead of Gilmour and a change of system which neutralised his ability to use many of Stuart Webber's summer recruits may be among the reasons the Canaries' sporting director decided to dispense with the German following the club's first Premier League win of the season at Brentford last time out.
The subsequent appointment of Dean Smith means Gilmour will now have another chance to demonstrate that he is a mercurial talent worthy of a place at Chelsea.
Blues fans have been surprised to see that Conor Gallagher's loan spell at Crystal Palace has been far more successful than Gilmour's at Norwich, especially with the Scot considered to have the more promising future of the two and definitely the likelier to make the grade at Chelsea.
Gilmour's form and track record for country shows he's ready to make Norwich impact
Gilmour has been on the radar of Scottish football fans every since he started training with Rangers' first team aged 15 after coming through the club's academy.
He joined Chelsea in 2017 after failing to agree a professional contract with the Ibrox club. He has previously represented Scotland at under-16, under-17, and under-21 levels.
The most notable achievement at youth level for his country came at the 2018 Toulon Tournament where he won the Revelation of the Tournament award after helping Scotland to a fourth-placed finish, which included a 1–0 win against France.
The next step for Gilmour's Scotland journey was to make an impact at senior international level. Amazingly, he made his full international debut in the friendlies building up to Euro 2020 less than six months ago – with his first cap coming against the Netherlands, when he came off the bench in the 81st minute.
A disappointing defeat against the Czech Republic in the Euros opener at Hampden saw Clarke decide it was time for a vote of confidence in the young star's ability. He started him against England and Gilmour won man of the match at Wembley.
The Chelsea star had truly arrived on the international scene, but then contracted COVID-19 alongside Mason Mount and Ben Chilwell and was ruled out of Scotland's final group game against Croatia.
In Scotland's current World Cup qualification campaign, Gilmour has started all seven matches which have taken place after the Euros, the last six of which have all ended in wins.
Only two players younger than him have ever reached the 10-cap milestone he now stands at quicker (Paul McStay and Willie Henderson) and the Chelsea loanee is now one of the first names on Clarke's teamsheet. Having turned just 20 in the summer, he looks to be Scotland's leading light for a decade and more to come.
Dispelling the flawed arguments against Gilmour's selection
A number of Norwich City fans are still trying to defend Farke's decision not to select Gilmour, perhaps out of loyalty to the German who delivered two Championship title wins for them, or perhaps because they are judging the player by a very small body of work – in a flawed system and under a failing head coach.
To say that he's not impressed yet for Norwich City is to do exactly that and any suggestions that he lacks experience, although true in terms of the fact that Gilmour was only added to the Chelsea first-team squad on a permanent basis in February 2020 and has less than 30 senior club appearances to his name, forgets that in those matches he's played against some excellent teams and that many of those outings have come in the Premier League and Champions League, two of the toughest competitions in world football.
It easy to forget how Gilmour was widely praised for his performance in a 2–0 win against Liverpool in an FA Cup tie at the start of March last year – the first time he really sprung to prominence to a wider Chelsea audience – and that he followed that up by earning Man of the Match honours in a 4-0 against Everton, on his first Premier League start a week later.
Claims that he is a luxury player are belied by his tenacity when you watch him. Anyone who saw him casually dust himself off after being slammed to the ground by Andreas Cornelius – a man of considerably greater heft and bulk than he – against Denmark on Monday night, will know that that is pure folly.
And any claims that he won't work in a struggling team obviously hasn't watched Scotland up against some of the bigger nations. The most recent international break showed demonstrable proof that Gilmour can perform, whether in a game his team is expected to win, or against a better team.
In two totally different environments, he showed exactly how important he has become to his country.
Against Moldova in Chisinau, the kind of place which is traditionally a banana skin for Scotland teams, Gilmour was the chess-master architect of the all-important opening goal.
With the Scots toiling to find the breakthrough, Gilmour had a word in his former Rangers youth team buddy Nathan Patterson's ear, directing him to make a run inside towards the penalty spot. Gilmour then zipped a pass, at pace, into John McGinn, who flicked it onto Patterson who took a nice touch before finishing well.
No credit for goal or assist, but no doubt that goal was all down to Gilmour's ability to unlock a defence and, as a creative force, to get the best out of the players around him. That could be massively important to Norwich City this season.
Then, against a superior Denmark team, he was the metronome on the right-hand side of midfield, ensuring that the technically-limited Stephen O'Donnell always had an out-ball and that the Scots held onto possession under pressure as a team. Then, as is his want, he dictated the tempo when the team was enjoying a spell of possession of their own.
Gilmour did all of that as well as making timely interceptions and showing great positional awareness against the ball, up against a Danish side which had not lost in their prior 26 qualifying matches, and had won nine out of nine in the group, conceding just once.
Gilmour is ready to be a Premier League star
Gilmour's contribution proved pivotal as Scotland secured one of its best results since the turn of the millennium, which occurred some 18 months before he was born.
He is a player ideally-built for modern football, and Smith coming in as Norwich boss should give him the platform to go and show that to the Carrow Road fanbase.
Gilmour is ready to be a star in the Premier League now and, once he's shown that for the Canaries in what remains of this season, it should put the young midfield star in an even better place to show he's worthy of a starting slot for Chelsea when his loan comes to an end.