FIFA 23 player ratings: Top 30 midfielders on the game
Kevin de Bruyne is the highest rated midfielder in FIFA 23, with the Manchester City and Belgium star rated 91 in FIFA Ultimate Team for the latest edition of EA Sports' popular video game.
Not only is De Bruyne the highest rated midfielder in the game, but he is also the joint-highest rated player in FIFA 23 overall, tied with Karim Benzema, Robert Lewandowski, Lionel Messi and Kylian Mbappe for that accolade.
FIFA 23 was released on 30 September on what is one of the biggest days of the year for gamers. It is the last time that EA Sports will release a FIFA title, having lost the licencing agreement from 2023 going ahead. The game will be known as EA Sports FC from next year going forward.
Players can be rated up to 99, with midfielders receiving an overall rating as well as ratings in categories such as passing and defending.
Man City's De Bruyne stands as comfortably the best midfielder in the game. No other player in his position tops 90, with Bayern Munich's Sadio Mane coming second in the FIFA 23 ratings with 89. The former Liverpool man is one of four midfielders to have this base rating along with Joshua Kimmich, Casemiro and N'Golo Kante.
Real Madrid pair Toni Kroos and Luka Modric are both given 88 ratings for FIFA 23. Remarkably, Modric has received an upgrade of one point this year, despite now being in his mid-30s. It is testimony to the quality that he continues to show in for Los Blancos.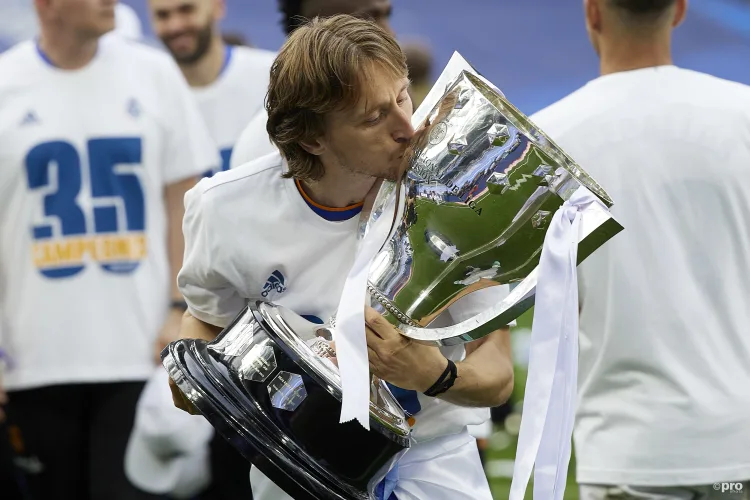 Meanwhile, the third midfielder to have an 88 rating is Bernardo Silva, who could have been playing in Spain this season had Barcelona been successful in their attempts to lure him from Manchester City. Meanwhile, his City team-mate Rodri is on 87 along with Fabinho, Thomas Muller, Frenkie de Jong, Marco Verratti and Leon Goretzka.
Thiago Alcantara and his former Bayern Munich team-mate Kingsley Coman are both rated 86, along with Nicolo Barella and Sergej Milinkovic-Savic among others. Coman has once again been positioned as a left midfielder in FIFA 23. Bruno Fernandes has been downgraded two ratings and also has an 86 rated card.
Paul Pogba, Jorginho and Sergio Busquets are three of nine midfielders handed an 85-rated card in FIFA 23 Ultimate Team.
The 30 highest rated midfielders in FIFA 23
| Player | Team | FIFA 23 Rating |
| --- | --- | --- |
| Kevin de Bruyne | Manchester City | 91 |
| Sadio Mane | Bayern Munich | 89 |
| Joshua Kimmich | Bayern Munich | 89 |
| Casemiro | Manchester United | 89 |
| N'Golo Kante | Chelsea | 89 |
| Toni Kroos | Real Madrid | 88 |
| Luka Modric | Real Madrid | 88 |
| Bernardo Silva | Manchester City | 88 |
| Fabinho | Liverpool | 87 |
| Thomas Muller | Bayern Munich | 87 |
| Rodri | Manchester City | 87 |
| Frenkie de Jong | Barcelona | 87 |
| Marco Verratti | Paris Saint-Germain | 87 |
| Leon Goretzka | Bayern Munich | 87 |
| Thiago | Liverpool | 86 |
| Kingsley Coman | Bayern Munich | 86 |
| Sergej Milinkovic-Savic | Lazio | 86 |
| Nicolo Barella | Inter Milan | 86 |
| Bruno Fernandes | Manchester United | 86 |
| Marcelo Brozovic | Inter Milan | 86 |
| Parejo | Villarreal | 86 |
| Ilkay Gundogan | Manchester City | 85 |
| Paul Pogba | Manchester United | 85 |
| Jorginho | Chelsea | 85 |
| Marco Reus | Borussia Dortmund | 85 |
| Filip Kostic | Juventus | 85 |
| Pedri | Barcelona | 85 |
| Serge Gnabry | Bayern Munich | 85 |
| Nabil Fekir | Real Betis | 85 |
| Sergio Busquets | Barcelona | 85 |