How many trophies has Pep Guardiola won as manager at Man City, Barcelona & Bayern?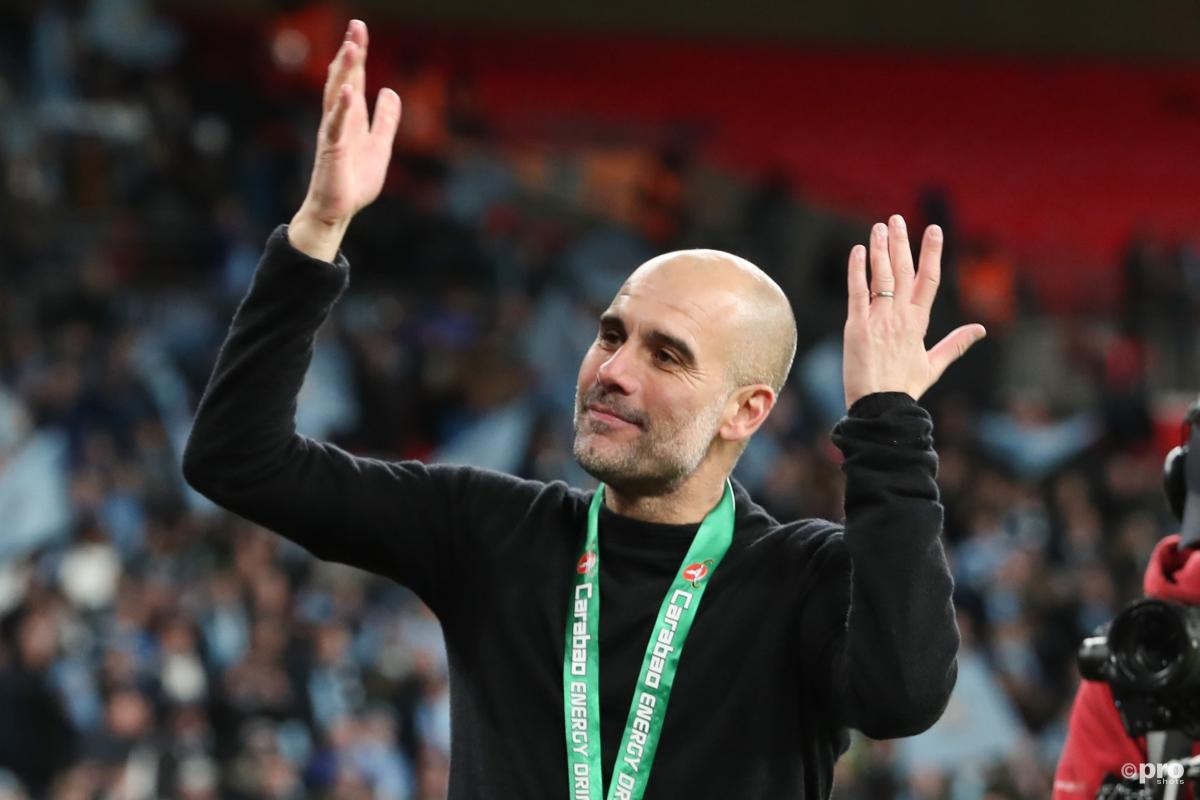 Manchester City have won yet another Premier League trophy after a thrilling 3-2 comeback win over Aston Villa on the final day of the 2021-22 season.
Pep Guardiola has cemented himself as arguably the greatest manager of the century and continues his incredible record of bringing success to every club he's managed.
But just how many trophies has Guardiola won in his 14-year career? FootballTransfers takes a look back at the career of the legendary coach.
What trophies did Guardiola win as Barcelona manager
Having won 15 trophies in 11 years as a player with the club as well as leading the 'B' team to the league title in his one season in charge, Guardiola was appointed as Barcelona manager in 2008.
Barcelona won the treble in his first season – the first Spanish side to achieve the feat – while Guardiola became the youngest manager to win the Champions League at age 37.
Barca went on to win a further two league titles under Guardiola as well as another Copa Del Rey and Champions League in a dominant four-year spell.
The club also won two Club World Cups, two European Super Cups and three Spanish Super Cups during Guardiola's tenure, totalling 14 titles altogether.
What trophies did Guardiola win as Bayern Munich manager?
Guardiola left Barcelona in 2012 and took a year-long sabbatical before joining German side Bayern Munich the following summer.
Guardiola's first season at the Allianz Arena saw his side go on a record 28-match winning run and securing the league title in March, the earliest in Bundesliga history.
Bayern also won the DFB-Pokal to secure a domestic double as well as the European Super Cup and the Club World Cup, marking the third time Guardiola had won it – a competition record.
After winning the league the following season, Guardiola's third and final campaign saw Bayern record yet another domestic double, earning him seven trophies during his time in Germany.
What trophies did Guardiola win as Manchester City manager?
Guardiola joined Man City in 2016 after leaving Bayern but his debut campaign saw the Spaniard finish without a trophy for the first time in his managerial career.
However, the following season, City won the league as 'Centurions', earning a record 100 points and establishing themselves as one of the best ever sides in Premier League history.
Guardiola also began a run of four-straight League Cup wins as they retained the Premier League title in the following season, also winning the FA Cup and two Community Shields.
Guardiola has now won a fourth league trophy in six seasons at the Etihad Stadium, taking his City total to ten.
It means Guardiola has won a total of 33 titles in 14 years as a manager, more than two a season, making him one of the most decorated managers in history.