Christian Eriksen 'stable and conscious' after collapsing during Finland clash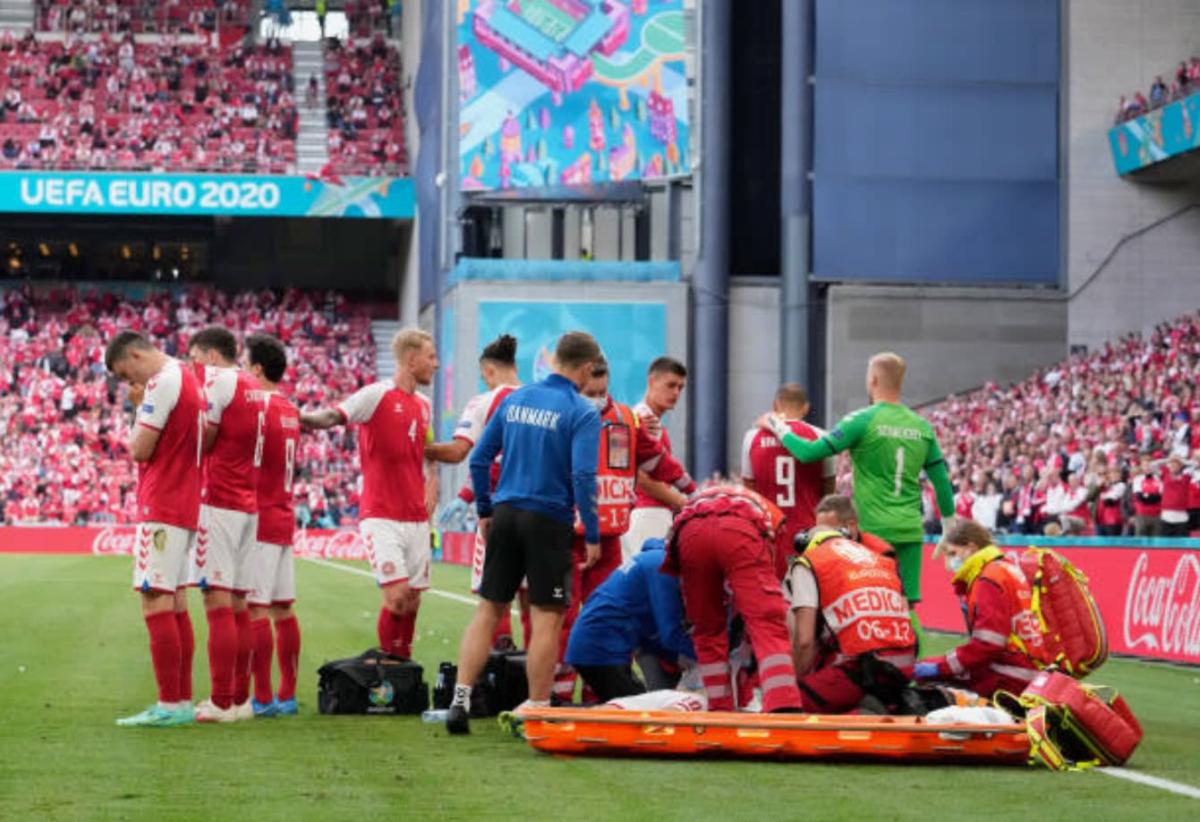 Denmark midfielder Christian Eriksen is in a 'stable' condition after collapsing during his country's European Championship group stage game with Finland.
The former Tottenham Hotspur midfielder collapsed onto the floor in the closing stages of the first-half in Copenhagen, with English referee Anthony Taylor urgently calling Denmark's medical staff onto the pitch.
The medical staff performed CPR procedures on Eriksen, whilst his team-mates were visibly distraught as they formed a barrier to cover Eriksen's body from the public view.
The incident occurred off the ball, and the match was quickly abandoned by referee Taylor.
Following a long delay pictures emerged via Getty that showed Eriksen conscious on a stretcher leaving the field, while UEFA further confirmed that the playmaker had been transferred to hospital and has been stabilised.
Following the medical emergency involving Denmark's player Christian Eriksen, a crisis meeting has taken place with both teams and match officials and further information will be communicated at 19:45 CET.

The player has been transferred to the hospital and has been stabilised.

— UEFA (@UEFA) June 12, 2021
England's planned media activities ahead of their Croatia match tomorrow but Saturday night's Belgium v Russia clash will go ahead.
The frightening incident imbued memories of Fabrice Muamba, the Bolton Wanderers player who collapsed during a match with Tottenham in 2012 and was revived en route to hospital.
Soon after the Danish FA confirmed that Eriksen was indeed conscious and was being transferred to a medical facility for further testing.
Christian Eriksen er vågen og er til yderligere undersøgelser på Rigshospitalet.

Kampen er midlertidigt udsat. Ny melding kommer kl. 19.45.

— DBU - En Del Af Noget Større (@DBUfodbold) June 12, 2021
UPDATE 1935 GMT:
Eriksen is conscious and communicating with doctors, the Danish FA have confirmed.
UEFA consulted with the players and it was agreed that the remainder of the Denmark v Finland match would take place this evening.
Further reports (via AFP) state that Eriksen sent a message to the players urging them to finish the match.