Buffon, Ramos and the 10 worst PSG transfers of all time
Paris Saint-Germain quickly became one of the richest clubs in European football when the club was bought over by QSI in 2012.
However, as many clubs across the continent can atest to, money is no guarantee of success and while PSG have made some big signings through the years - Neymar and Kylian Mbappe being to shining examples - they've also made a number of mistakes too.
The Parisian club have often had to entice players to the French league by paying over the odds and that has often meant PSG have been left with some pretty expensive flops in recent years.
There is an argument to be made that the massive deal to bring Lionel Messi to the club has been a failure, but the Argentine has contributed enough to avoid our list.
Here are the 10 worst deals of the last 25 years.
---
Hatem Ben Arfa – free from Nice, 2016
Hatem Ben Arfa's career seemed fully resuscitated when he moved on a free transfer from Nice to PSG after a dazzling season on the south coast. Instead, he would spend much of the duration of his two seasons are PSG frozen out of the team.
He was not well suited mentally to the role of back-up option that he was asked to play and that resulted in a complete breakdown of his relationship with the club. Indeed, he even threatened to take them to court after they put him in the reserve team. Instead, he trained alone for the duration of the 2017/18 season, not making a single appearance before leaving when his deal was up.
Gianluigi Buffon – free from Juventus, 2018
One of the greatest goalkeepers of all time and arguably the best of the 21st century spent an unhappy 2018/19 season at PSG that will go down as a forgettable footnote on an otherwise formidable career.
Despite his formidable reputation, Buffon struggled to look like the world-class performer that he undoubtedly is. Indeed, his fumble of a Marcus Rashford shot sparked Manchester United's unlikely Champions League last-16 comeback.
It is worth noting that he was hampered by head coach Thomas Tuchel, who insisted on rotating him regularly with Alphonse Areola. It was a ploy that led to neither performing well.
Julian Draxler – €42m from Wolfsburg, 2017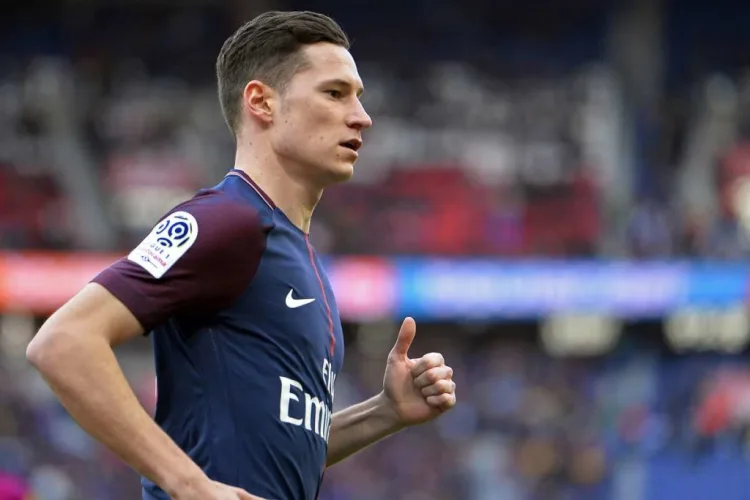 PSG hoped they might be able to resusrect Julian Draxler's career when they spent lavishly to sign him from Wolfsburg in 2017.
Draxler had shown prodigious talent with Schalke only to go off the rails somewhat at their Bundesliga rivals.
It was for his potential that PSG would ultimately pay around €42 million for the attacking midfielder. After a bright start – he would score 10 goals in his first 25 games – Draxler has failed to hold down a regular place in the squad and has more often than not been a substitute or a player drafted in because of injuries.
He has since joined Benfica on loan after making just five league starts in the 2021/22 season.
Goncalo Guedes – €30m from Benfica, 2017
PSG believed they were signing one of the best prospects in the world game when they moved for Goncalo Guedes in January 2017, but like so many deals done in the winter period, they overpaid for a player who failed to deliver.
Having arrived for €30 million, he was out of the door by September on a loan move for Valencia. In Spain, at least, he managed to impress to such a degree he was linked to Barcelona. That PSG ultimately received €40m for him softened the blow of his failure to perform at Parc des Princes.
Jese – €25m from Real Madrid, 2016
This is a contender for one of the worst transfer deals of all time.
Although Jese had shown promise in his early years with Real Madrid, his career had been seriously hampered by two long-term injury problems and he had rarely shown anything like his best form when PSG decided to pick him up for €25 million.
It looked like bad business on PSG's part but proved spectacularly bad business as Jese played just nine Ligue 1 games in his first full season at the club and returned a single goal, a penalty.
The rest of his PSG stay was spent on a series of loan deals and he is now playing in Turkey after a stint with Segunda Division side Las Palmas.
Thilo Kehrer – €28m from Schalke, 2018
When Thilo Kehrer signed for PSG in the summer of 2018 from Schalke, he was considered to be one of the next big things in German football. Three years on, it's amply clear that he isn't.
Kehrer failed to establish himself either at centre- or right-back and was a player that PSG fans feared to see in their line up.
Despite being brought back into the German national team set up by Hansi Flick, for €37 million, he still represents a colossal waste of money and he eventually joined West Ham in 2022 for just €12m.
Sergio Ramos - FREE from Real Madrid, 2021
In the summer of 2021, PSG had one of the most high-profile transfer windows in history, signing Messi, Georginio Wijnaldum, Gianluigi Donnarumma and Sergio Ramos for free.
Though Wijnaldum has disappointed, at least he has played a decent amount of games and has now joined Roma on loan.
Ramos, on the other hand, has been a complete disaster.
Injury issues have meant that the Spaniard has made just eight league starts in his debut season and when you consider that he is on a reported €12m a year, his contributions have been very, very expensive.
Ramos has, however, featured in all of PSG's league games so far in the 2022/23 season, meaning he could end up redeeming himself should he stay fit.
Grzegorz Krychowiak – €27.5m from Sevilla, 2016
The 2016/17 season really was a dreadful transfer campaign for PSG. Not only did they sign Draxler and Guedes lavishly in the winter and Jese in the summer, they also added Grzegorz Krychowiak to that list.
In theory, his addition should not have been the catastrophe that it was. The Poland international has spent much of his career in France before a successful stint at Sevilla, where he had worked under PSG boss Unai Emery.
He was hindered by injury problems, but ultimately the sheer competition for places was too much for him and he was named 'Flop of the Season' by Le Figaro amidst some pretty stiff competition.
Andre Luiz – €7.5m from Tenerife, 2002
While PSG have wasted a good deal of money in the years since QSI bought the club, the deal to sign Andre Luiz for €7.5m – a fee big enough to make him one of the most expensive players in the world that summer – from Tenerife proved catastrophic.
Having impressed on loan at Marseille, it was thought he could shine on the left alongside compatriot Ronaldinho but instead he was woeful. According to the club's official history: "The balance sheet was catastrophic: he was slow and looked lost on the park."
After only three months, he was being jeered by the PSG fans and barely a year after arriving he was sent on loan to Corinthians never to return again.
David Luiz – €50m from Chelsea, 2014
While David Luiz might not (always) be the calamity figure that he is portrayed as, the deal that brought the Brazilian defender to Chelsea in the summer of 2014 was an expensive one from PSG's perspective as they spent €50m on him.
It was a world record deal for the defender when it was made, and the amount by which they had overpaid was highlighted two years later as he returned to Chelsea for almost half as much.