Zidane is being held back by Madrid's reluctance to invest in new players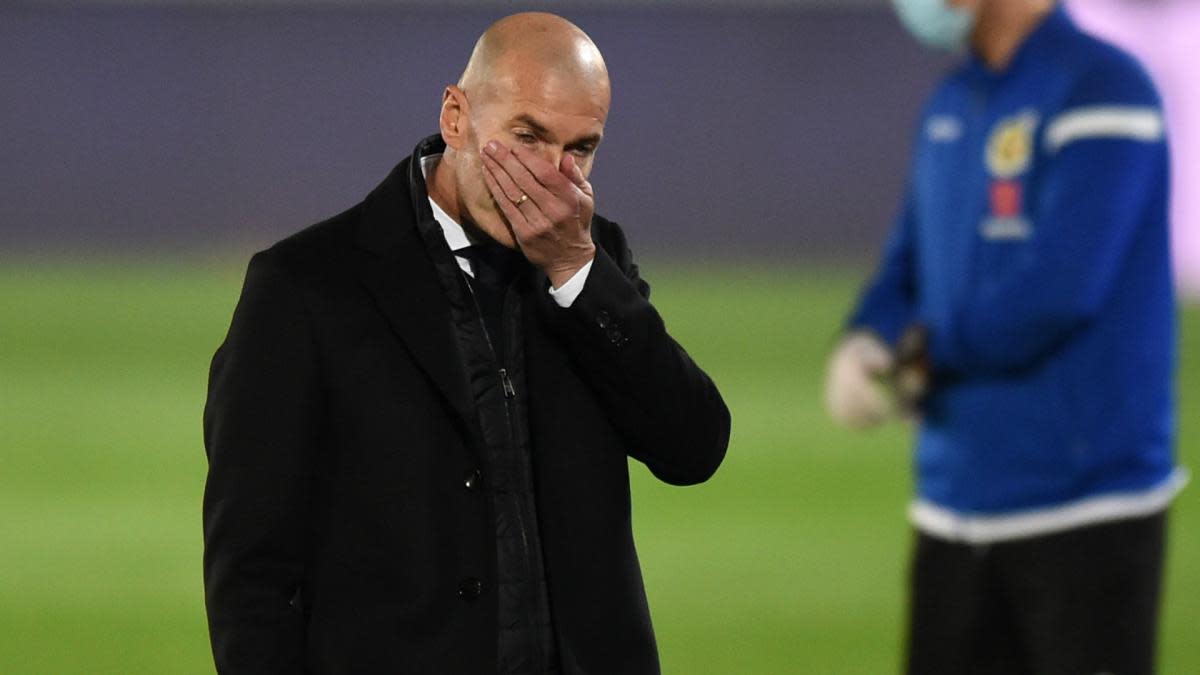 Zinedine Zidane looked like a relieved man when the final whistle finally blew at the Estadio El Alcoraz on Saturday afternoon. His Real Madrid side had just come from behind to beat Huesca 2-1 in just the latest test of the head coach's capacity to keep his team within reach of this season's La Liga title.
"It was important to win today, very important," admitted Zidane after the full-time whistle. "The players knew we would have to suffer, but they believed until the end and deserved the win. We had to win today, after the problems we have lately, to recover our idea, our football."
Following on from a rather bare admission that his side are in desperate need of performances and results, Zidane then quickly turned to the main factor behind his team's struggles across the season: a number of high-profile injuries.
Ahead of Saturday's domestic clash, the Madrid head coach was without at least eight first team players, with the likes of Lucas Vazquez, Rodrygo, Eden Hazard, Isco, Federico Valverde, Daniel Carvajal and club captain Sergio Ramos all currently out with injuries.
"That is what we are up against at the moment," muttered the under-pressure coach. "We are missing seven or eight important players for us, and now without our captain today. It is not an excuse, but it is what it is. All we can do is keep fighting with what we have."
Holes needing filled in Zidane's squad
It's rare that the head coach of a club like Madrid can garner genuine sympathy from other coaches or fans, but it's abundantly clear that the Spanish giants have struggled for much of this season with a genuine lack of depth.
And while such issues can happen to even the best teams – we need only look at Liverpool's current title campaign in England for a relevant example – Madrid's current problems all come about from the club's refusal to make any new signings before the start of the season.
While the current pandemic would have dampened any summer spending spree, reports throughout the season have instead suggested that Madrid actively chose not to add to their squad in an attempt to squirrel away their reserves to spend in the summer of 2021.
That may look like a smart move when Kylian Mbappe or Erling Haaland is wearing the bright white of Madrid come the start of next season, but at the moment it has effectively limited the capacity of Zidane's side and may lead to an entirely trophyless campaign.
Where Madrid could have clearly invested in new players during the pre-season becomes apparent when we look through this squad's problems. Zidane would have undoubtedly preferred a better back-up left-back than 32-year-old Marcelo, along with another central defender to offer more than Eder Militao or Nacho Fernandez have in Sergio Ramos' absence.
In midfield, Zidane's entire team has been held together by the fortitude of 35-year-old Luka Modric, 31-year-old Toni Kroos and the impressive consistency of Casemiro. Injuries to Federico Valverde means Zidane has very few options if any of the aforementioned trio were to pick up serious injuries or a dip in form.
And up front Zidane has had to turn to sub-par attackers like Lucas Vazquez or Vinicius Junior to try and make up for injuries to Eden Hazard and Rodrygo. The Madrid coach is also entirely dependent on 33-year-old Karim Benzema staying fit, having already scored about 27% of Madrid's league goals to date.
Madrid may yet spur themselves on to a late title challenge or make an unexpected push in the Champions League, but right now this looks like a squad in desperate need of new blood and fresh investment. And the club's reluctance to do that at the start of the season looks set to cost Zidane and his team dearly.