Paul Pogba: Injury could add another twist to Man Utd transfer debate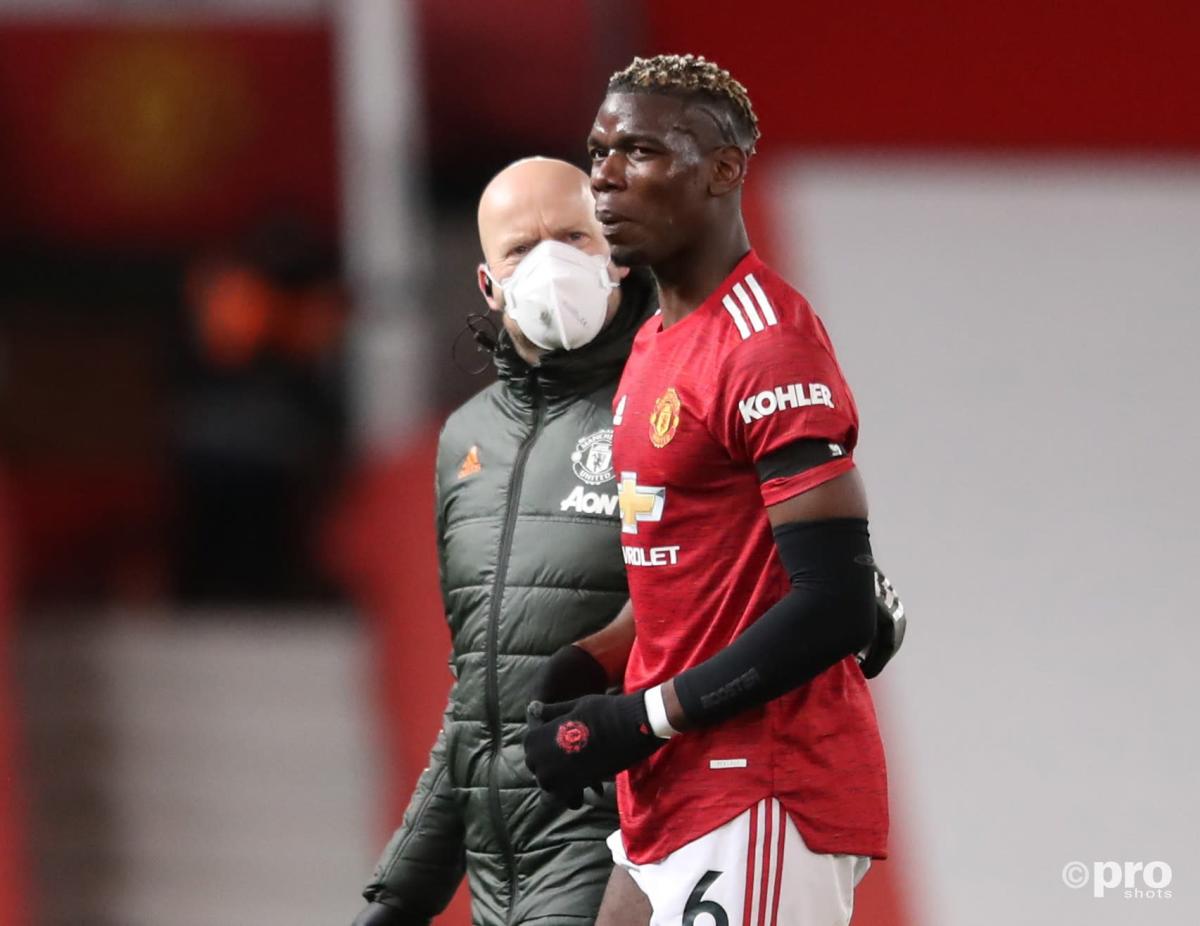 Paul Pogba saw his return to the Man Utd team come to a swift end on Saturday.
The midfielder was back in the starting XI against Everton after being named on the bench for the record 9-0 win over Southampton on Tuesday.
However, Pogba was forced off just 39 minutes in after suffering a thigh injury.
Pogba appeared to sustain the problem while playing a routine pass and fell to the turf, quickly indicating he could not continue.
He was able to walk off the pitch as he had to be replaced by Fred.
Pogba then had to watch on as Man Utd twice lost leads and were forced to settle for a dramatic 3-3 draw at Old Trafford.
The midfielder had recently found some impressive form and fitness, helping United into Premier League title contention.
That was a welcome turn of events after agent Mino Raiola declared his time at the club was over towards the end of last year.
Raiola later backtracked somewhat to say he would not pursue a January move, instead targeting a summer switch.
Former club Juventus, Paris Saint-Germain and Real Madrid are all credited with an interest.
Whenever he is asked about his future, Pogba has been keen to stress his commitment to United without giving a firm answer on whether he wants to stay for the long term.
What impact could the injury have?
Any injury that requires a spell out of the team would come as a blow to United's hopes of silverware, just as their form is taking a turn for the worse.
It also potentially complicates a crucial few months for Pogba before the end of the season.
While he is contracted until 2022, the summer of 2021 is seen as decisive.
United would almost certainly have to sell Pogba if he does not commit to fresh terms to avoid losing him for nothing.
Whether Pogba does want to leave or signs a new deal to stay, the final months of the season are a pivotal period in terms of his relationship with United and his transfer value after a turbulent period on and off the pitch.
Indeed, even if Pogba is ruled out for a few weeks, United will be wary that he has often taken time to recover his peak form after suffering injuries and time out of the side, openly discussing how difficult he finds that.
He only started 15 Premier League games last season and made a slow start to this season due to his recovery from long-term injury issues and after contracting coronavirus.
Therefore, anything other than a minor short-term injury is likely to have a notable impact during a decisive period that could help to determine Pogba's future.
Solskjaer: Pogba could not play on
United manager Ole Gunnar Solskjaer was unable to give much information about Pogba's injury immediately after the Everton defeat.
He could only say Pogba was definitely unable to play on with the problem and that he would undergo a scan on Sunday.
"It seemed like a muscle injury, his thigh," said Solskjaer.
"We will check him tomorrow, give him treatment and a scan, see how bad it is. We hope it's not too bad.
"He couldn't carry on, we had to take him off."
Solskjaer: He's Man Utd through and through
In the hours before the game, Solskjaer had again spoken of his hope that Pogba would sign a new deal.
He insisted there was regular contact between the player and club, adding the World Cup winner cares strongly for United.
United and Pogba are not expected to begin more detailed talks until the end of the season.
"We've got a good open dialogue with Paul so what we talk about and how we see that situation remains between us," Solskjaer said.
"I'm just happy he's focused and playing really well.
"He's happy within himself and that's important: you can see Pogba enjoying football himself with a red shirt on.
"Our conversations remain private, of course. But for example, Paul is a Manchester United player through and through.
"He's been here in two spells. He came as a kid, he's learnt about the history of the club, the passion of the club.
"He wants to do the best for United when he's here.
"I think we've seen that – that he really cares for his team and he's trying to be as successful as everyone else."
All eyes will be on Man Utd's next update about Pogba.