Power Rankings: The 20 best EPL summer signings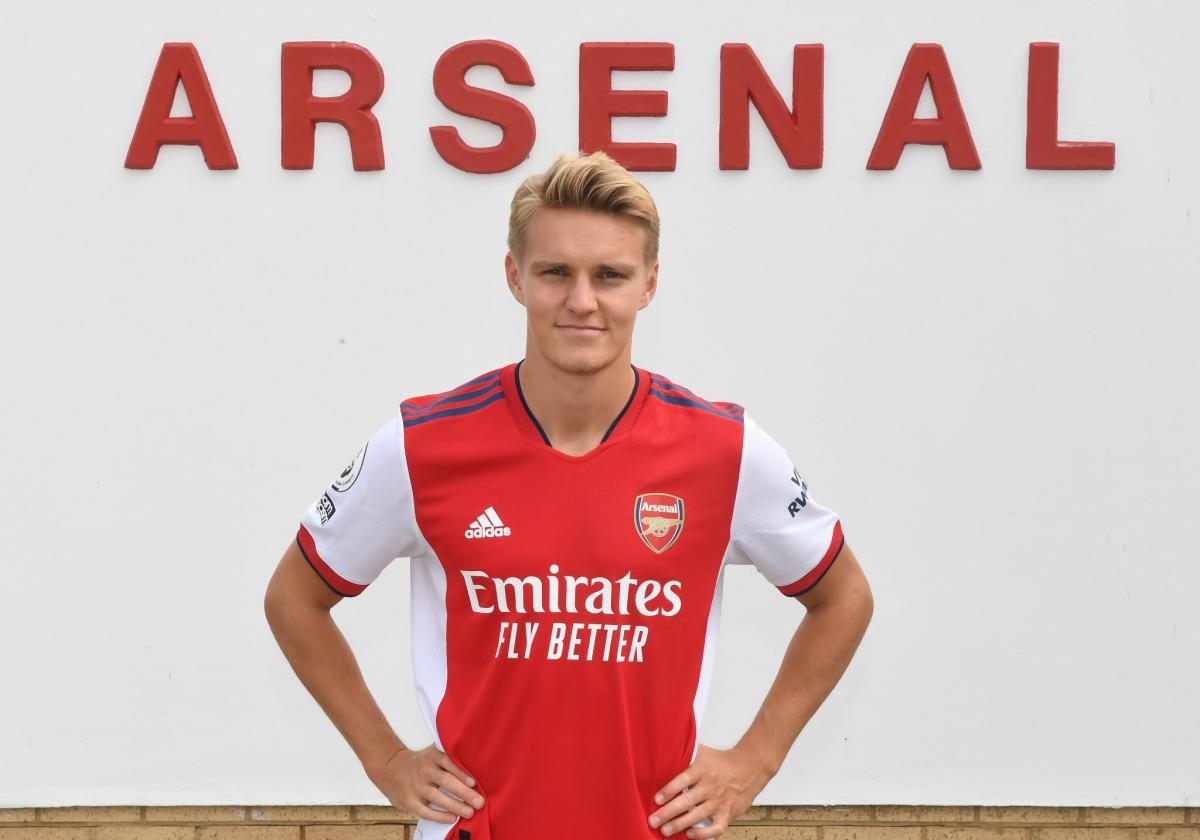 The Premier League has certainly lived up to its reputation this summer, as England's giants have splashed the cash like it's going out of fashion.
Arsenal, Manchester City, Chelsea and Manchester United have all spent huge amounts of money.
But as it stands now, what have been the best transfers in the Premier League?
Our team of experts have put their heads together to judge the top moves, based on four key factors.
These are:
• Necessity: Does the player fill an important role?
• Value: Does the player represent value for money?
• Quality: How good is this player in relation to the club he signed for?
• Profitability: Does the player have the potential to turning a profit for his club in the future?
Premier League summer transfer window power ranking
1. Romelu Lukaku: £103.5m - Inter to Chelsea
Few things were as apparent as the start of this transfer window than Chelsea's need for a new striker and as such the club have blown most of their budget on making sure they got the right man for the job.
In Romelu Lukaku the London club are not only signing one of the best No.9s in the sport right now, but also a player that knows Chelsea inside out and exactly what's required of him to succeed in the Premier League.
2. Raphael Varane: £40m - Real Madrid to Manchester United
Manchester United went for the old-fashioned reveal when it came to Raphael Varane, as they opted to simply march the player down the Old Trafford tunnel and parade him in front of fans.
However, there's nothing old-fashioned about the former Real Madrid star and with pace, technique and an incredible amount of experience, he could prove to be the perfect partner in defence alongside Harry Maguire. Man Utd may have just made a serious upgrade in defence.
3. Jadon Sancho: £73m - Dortmund to Man Utd
Manchester United have finally signed their man. Long heralded as the answer to all of their problems, the Old Trafford side finally agreed a deal to buy Jadon Sancho from Borussia Dortmund this summer.
The winger makes the move to Manchester with all the talent to transform Ole Gunnar Solskjaer's team and potentially turn them into proper contenders for this season's Premier League title.
4. Boubakary Soumare: £17m – Lille to Leicester
Leicester City narrowly missed out on Champions League football last season and so the club have worked hard on investing in solid, proven talent over the course of the summer.
There's little doubt that Boubakary Soumare is exactly that. Fresh off guarding Lille's defence on the way to a Ligue 1 title, the 22-year-old talent is expected to dominate midfielders in the Premier League this season.
5. Martin Odegaard: £30m - Real Madrid to Arsenal
To say that Arsenal need a bit of good news would be an understatement. After thoroughly depressing defeats to Brentford and then Chelsea, Mikel Arteta and sporting director Edu need something positive to latch on to.
Fortunately for the London club, that could come in the form of new signing Martin Odegaard. While the former Real Madrid youngster didn't exactly turn the club's season around when he joined on loan in January, he has all the talent to become a key member of the squad.
And he may just have what it takes to offer Arsenal and Arteta some inspiration and turn their poor start to the season around.
6. Bryan Gil: £22m + Erik Lamela – Sevilla to Spurs
Tottenham Hotspur fans haven't had a lot to cheer in this transfer window but the signing of Bryan Gil from Sevilla is undoubtedly a win for the club.
In his first full season in La Liga, Gil bagged four goals and four assists and was already a fan favourite at the club before Spurs pounced on his talents. It won't be long before he's dancing up and down the wing for the London club.
7. Patson Daka: £23m – Salzburg to Leicester
Jamie Vardy is a Leicester legend but he won't be able to lead the line for Brendan Rodgers' side forever. As such, the club swooped for RB Salzburg striker Patson Daka in the summer and it'll likely work out to be an outstanding signing.
Daka bagged no less than 68 goals and 27 assists in 125 games for the Austrian side and even if his strike rate halves in England he should still prove to be extremely useful for the Foxes.
8. Cristian Romero: £47m – Atalanta to Spurs
After Jan Vertonghen left last season and Toby Alderweireld set to depart this time around, it was clear that Spurs needed a new central defender to build their defence around.
The London club have seemingly found that in the form of Atalanta star Cristian Romero, who is also known as the "Ronaldo of defending" due to his performances in Serie A.
9. Ibrahima Konate: £36m – Leipzig to Liverpool
Following a disastrous campaign that saw the club struggle to put out a fully-fit defence for much of the season, Jurgen Klopp and his backroom staff identified young RB Leipzig defnder Ibrahima Konate early in the window and snatched him up.
Young, quick and strong in the air, Konate should prove extremely useful to the Anfield back line as long as he can avoid more niggling injuries that sidelined his time in Germany.
10. Emi Buendia: £33m – Norwich to Aston Villa
Although he was signed long before Jack Grealish departed, Emi Buendia will likely be tasked with making up much of the goals and assists the new Manchester City star bagged at Aston Villa last season.
Fortunately for Villa fans, 15 goals and 17 assists in the Championship last season suggest the winger could be capable of doing exactly that.
11. Junior Firpo: £13m – Barcelona to Leeds
Leeds United have undoubtedly bagged themselves a bargain in the form of left-back Junior Firpo, who joins the Premier League side for little more than £13 million.
Whether at left-back or tasked with playing further up the wing, Firpo should be an excellent addition to Marcelo Bielsa's fast-paced side.
12. Leon Bailey: £30m – Leverkusen to Aston Villa
Like Buendia, Leon Bailey will have the shadow of Grealish hanging over him for much of this coming season but there's no doubt that the Jamaica international has all the talent to succeed at Villa.
13. Jannick Vestergaard: £17.5m - Southampton to Leicester City
Leicester City are famed for their ability to find young, exciting players on the continent and turn them into Premier League stars but on their hunt for a new central defender the club have gone for a different approach.
Jannick Vestergaard has quietly but confidently been one of the most consistent central defenders in the Premier League for some time and joins the Foxes as a ready-made force to be reckoned with at the heart of their defence.
14. Enock Mwepu: £20m – Salzburg to Brighton
Brighton were often lambasted for enjoying plenty of possession in games without having the necessary end product and while Enock Mwepu is by no means a striker, his 10 goals and seven assists for RB Salzburg last season suggest he could offer some much needed bite to his new team's midfield or right wing.
15. Marc Guehi: £20m – Chelsea to Crystal Palace
After conceding 66 goals in just 38 Premier League games last season, there was no doubt that Crystal Palace needed to fix the holes in their defence.
While Marc Guehi may not be the most proven signing, he does join the London club with bags of potential and could possibly be the answer to all their problems.
16. Danny Ings: £30m – Southampton to Aston Villa
Villa made full use of their Grealish money by signing two wingers and then a proven Premier League goalscorer in the form of Danny Ings.
Last season the England striker bagged 13 goals and four assists in a disheartened campaign for Southampton and will undoubtedly be intent on improving upon that record at Villa Park.
17. Joe Willock: £25m - Arsenal to Newcastle United
Newcastle United don't spend money quite like they used to in the early years of Mike Ashley's reign, but the significant fee they'd spent on bringing Joe Willock to the club suggests they may be serious about moving up the league table this season.
Willock was outstanding at St James Park last season and quickly proved that when given the opportunity to shine he's a young star ready for the Premier League. The midfielder can score and create goals with ease and Arsenal may come to regret letting him leave so early in his development.
18. Ben White: £50m – Brighton to Arsenal
While many will scoff at the money spent on bringing Ben White to Arsenal, in truth the club will undoubtedly get their money's worth out of the player if he can perform for the London club.
At 23 years of age, White has already shown more than enough in the Premier League to suggest he's talented enough to lead Mikel Arteta's defence next season.
19. Jack Grealish: £100m – Aston Villa to Man Utd
Billed as an inevitability for much of 2021, Man City finally got their cheque book out and signed Grealish this summer for a remarkable fee of £100m.
The former Villa star should add a goalscoring and playmaking threat to Pep Guardiola's side that is often lacking if Kevin de Bruyne is injured,
20. Adam Armstrong: £17.5m - Blackburn to Southampton
After Ings' departure to Aston Villa, Southampton desperately needed a striker and so they spent a serious amount of money on Blackburn Rovers goal scorer Adam Armstrong.
The 24-year-old talent may not be the sexiest signing of the summer but with 28 goals in 40 Championship games last season, he'll surely fancy his chances to bang them in for the Saints in the top flight. And, as he showed on his league debut against Everton, he can finish as well as the best players in the league.