Chelsea sack coach after £21m mistake
Chelsea have secretly let Bruno Saltor leave the club and have paid up the remainder of his contract, despite his departure not being made public.
Bruno, 42, joined Chelsea's backroom staff when Graham Potter was appointed as the club's new first-team manager in September 2022, with the Blues spending £21 million to acquire Potter's services from Brighton & Hove Albion.
Article continues under the video
The Spaniard then became Chelsea's interim manager in April, following Potter's departure, and oversaw their 0-0 draw with Liverpool.
READ MORE: The loan problem Pochettino is set to face at Chelsea
Bruno took a backseat as Frank Lampard was handed the reins for the remainder of the 2022-23 season before being named as one of Mauricio Pochettino's backroom staff for this season.
Pochettino brought his own set of coaches with him to Stamford Bridge, but Bruno was also included as a member of the coaching staff.
However, The Telegraph have reported that Bruno has now secretly left Chelsea, with the club deciding against releasing a public statement despite paying off the rest of his contract in west London.
READ MORE: Andrey Santos deal cost Chelsea 'wonderful' €45m signing - Romano
The former Brighton defender lasted just four months as one of Pochettino's backroom coaches. He had spent three years in the coaching set-up at Brighton before leaving for Chelsea.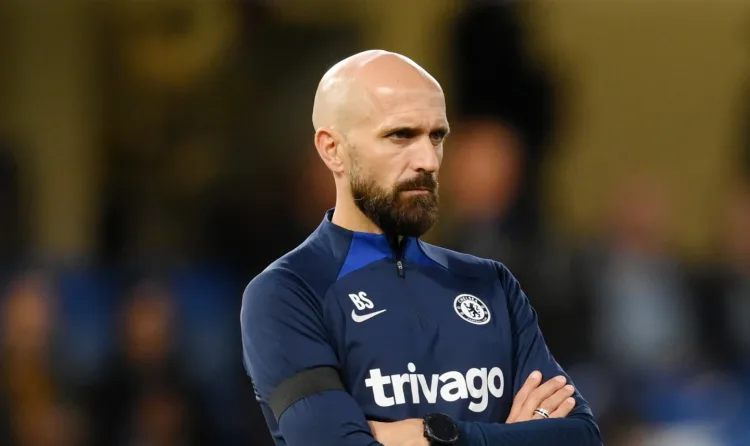 Chelsea's Brighton revolution over?
Bruno's departure means that only two members of Potter's staff who joined Chelsea from Brighton in 2022 still remain at the club - Ben Roberts (head of goalkeeping) and Kyle Macaulay (data analyst).
The £21m spent to bring in Potter last year was a world record fee for a manager, but Chelsea have now been forced to pay off the Englishman, as well as Billy Reid, Bjorn Hamberg and now Bruno.
The Blues will face Brighton in the Carabao Cup on Wednesday, having picked up just two wins so far this season (vs Luton Town and AFC Wimbledon). Pochettino's side are currently 14th in the Premier League table, with only five points from their opening six fixtures.