Weghorst will be an UPGRADE on Ronaldo at Man Utd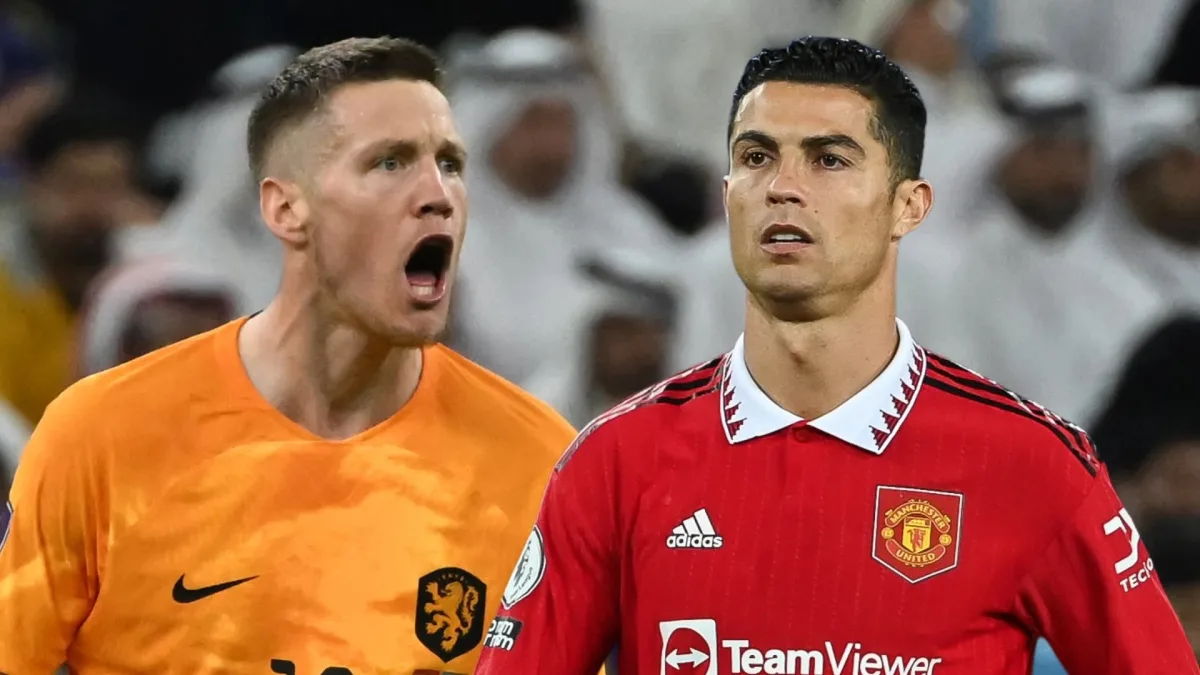 Wout Weghorst has joined Manchester United on loan, ostensibly as a replacement for Cristiano Ronaldo. Ronaldo may be a (tarnished) club legend, but the Dutchman is a significant upgrade in the here and now.
Ronaldo established himself as a world-class player at Man Utd, winning the Champions League in 2008 before leaving in a then world record €94 million transfer to Real Madrid in 2009.
He returned the summer before last, reportedly spurning Manchester City in the process, and top scored with 18 Premier League goals. Things soon went south for him under Erik ten Hag, though.
READ: Cristiano Ronaldo: 'I had other offers' apart from Al Nassr
Ronaldo scored his 700th career club goal - and 145th for Man Utd - as the Red Devils beat Everton 2-1 in October. It was also likely his last in European football.
Ronaldo ruction
By now a bit-part player, Ronaldo gave an unsanctioned interview to Piers Morgan in which he slammed Ten Hag, the club's Glazer family ownership and others, and left "by mutual consent" on the eve of the World Cup.
🤬 Angry Ronaldo snubs Ten Hagpic.twitter.com/wFI3tck1ci

— Football Transfers (@Transfersdotcom) August 13, 2022
Now Weghorst has been signed to replace Ronaldo, or at least to play full-time in the position he was meant to occupy with Marcus Rashford having led the line, with aplomb, for much of this season.
READ: How Man Utd will line up with Wout Weghorst
This is the same Weghorst who scored just two Premier League goals in 20 games for Burnley as they were relegated last season, the Dutchman underwhelming after his €17.5m arrival from Wolfsburg. Can he really be an upgrade?
What have you done for me lately?
Well, potentially, yes. Weghorst should be no more judged for a blip at Burnley than Ronaldo should this season's wobble at Man Utd, but their recent careers around those runs point to Weghorst being the better solution under Ten Hag.
Weghorst had 20 goals and nine assists from 34 games in his final full Bundesliga season with Wolfsburg, and added eight and four in each column from 16 outings on loan with Besiktas in the first half of the current campaign.
Ronaldo scored the aforementioned 18 with three assists from 30 games in his last full campaign with United, and mustered three and two of each in 16 outings this term.
Observers might rightly point out that English football is rated two places above German and 11 above Turkish in the latest UEFA coefficients, and that Ronaldo's minutes were restricted this season, but the World Cup provided more data points.
Ronaldo scored once for Portugal in Qatar - a group stage penalty against Ghana - while Weghorst struck twice as the Netherlands were edged by eventual champions Argentina in the quarter-finals.
Wout Weghorst has history 😎 pic.twitter.com/0iKfLWw71k

— Football Transfers (@Transfersdotcom) December 9, 2022
And even if his goal-record or big-game credentials don't convince you, it is worth remembering that finding the target isn't all Ten Hag wants from his new centre-forward.
Weghorst more complete today
His Ajax team was a pressing machine. Ronaldo has needed more than five games to average a single block over the last year, Weghorst has averaged one per game. For every one tackle Ronaldo makes, Weghorst has made three. The 6'6" Dutchman outdoes Ronaldo 6 to 1 for interceptions.
Weghorst's career ceiling may not be nearly as high as Ronaldo's, but his overall contribution today leaves the former United idol's standing, quite literally.
There is also the fact that Weghorst and Ten hag want to work with each other. Weghorst remains quite the character, and previously cost himself a move to West Ham because of his anti-vaccination stance at the height of the COVID-19 pandemic.
But that will pale in comparison to Ronaldo's Morgan bombshell for United's top brass.
On and off the field, Weghorst should prove an upgrade for Ten Hag's Man Utd. Almost every other signing has worked out so far, and there's little reason not to back the manager this time.