Cristiano Ronaldo: 'I had other offers' apart from Al Nassr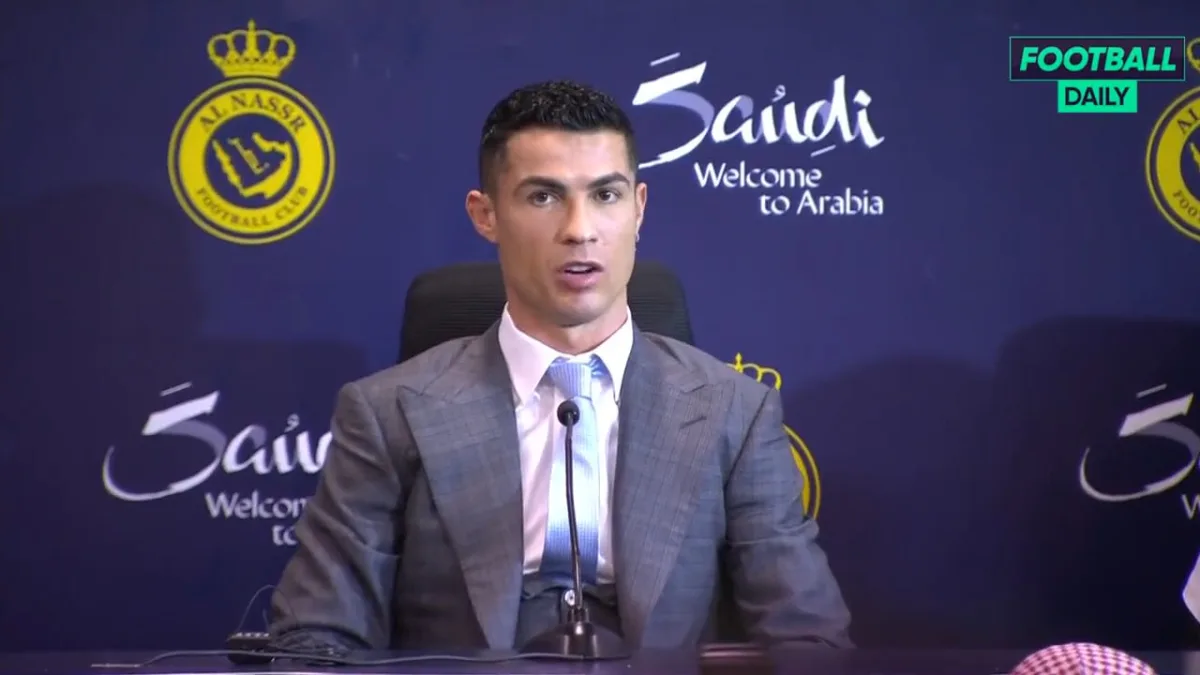 Cristiano Ronaldo has given his first press conference as an Al Nassr player, in which he explained his move to Saudi Arabia and revealed that he could have continued his career in Europe.
Ronaldo has joined Al Nassr on a bumper contract, one that will see him earn €200 million a season until 2024, at which point he will move towards his ambassadorial role for Saudi Arabi's 2030 FIFA World Cup bid.
Ronaldo, Real Madrid's record goalscorer, a Champions League winner with them and Manchester United, and a European champion with Portugal, was released by Manchester United on the eve of the World Cup.
READ: When will Ronaldo make his Al-Nassr debut?
The 37-year-old had given an unsanctioned interview to Piers Morgan in which he slammed the club, it's Glazer family ownership, and manager Erik ten Hag, and he was just as effusive here, although the tone was altogether more positive.
Ronaldo's arrival in Riyadh 🛬pic.twitter.com/IxKklKVOdj

— Football Transfers (@Transfersdotcom) January 3, 2023
Cristiano Ronaldo's press conference in full…
Ronaldo on…
…moving to Saudi Arabia
…"Well so far feeling very good. I'm so proud to make this big decision in my life, in football. As you mentioned before, in Europe, my work is done. I won everything. I played for the most important clubs in Europe, and for me now is a new challenge, as you mentioned in Asia. I'm glad for that. Al -Nassr gives me the opportunity to show and develop, not only for the football, but also for the young generation, the women's generation as well, for the young boys, and for me it's a challenge but in the same way I feel very happy and very proud."
…what his family think of the move
"They are happy as well, you know I when I take my decisions my family always support me, especially my kids (laughs), and my wife as well, but it's good. They are very happy. The welcome yesterday was amazing. We feel good here. There are people who are lovely with me and with my family so I'm really proud."
READ: How Al Nassr will line up with Cristiano Ronaldo
…his ambitions on and off the field
"This is a great opportunity not only in football, but to change the mentality of the new generation. As nobody knows, but I can say now that I had many opportunities in Europe, many clubs in Brazil, in Australia, US, even in Portugal many clubs tried to sign me but I gave my word to this club, for the opportunity to develop not only the football but the other parts of this amazing country. And for me it's a good challenge. I know what I want, and I know of course what I don't want as well. For me it's a good chance to change, to help, with my knowledge and experience, to help, to grow many, many important points, also for women's, many people probably didn't know but I signed for women's football as well, and I want to give a different vision of the country, of the football, the perspective of everybody, so this is why I had, and I took, this opportunity."
…on his naysayers
"Many people speak and give opinions but really they don't know anything about football. As you know, football now, probably over the last 10 or 15 years, is different. All the teams are more prepared. All the teams are ready. If you see and you give the example of the World Cup, the only team who beat the champions were Saudi Arabia, don't forget that, and you have many surprises, South Korea for example, the African teams, Costa Rica for example, they did a good job. It's not easy to win any games today because teams are prepared, Football is different. The evolution of football is different, so for me it's not the end of my career to come [to Saudi Arabia]. To be honest I really don't worry what people say. I took my decision and I have responsibility to change that, but for me I'm really. Really happy to be here. I know the league is very competitive. People might not know that as well, but I know that because I saw many games. What I want and what I'm looking forward to is to play and I hope to play after tomorrow if the coach thinks there's a good chance, but you know I'm enjoy it, still play football, and enjoy the people."
…on his bumper contract
"I'm a unique player. It's good to come here. I beat all the records there [in Europe] so I want to beat a few records here as well. There's a good chance. As you say this contract's unique cos I'm a unique player as well so for me it's normal."
…on what he plans to achieve
"It's simple: I'm coming here to win, to play, to enjoy, to be part of the success of the country, and the culture of the country, and I'm here, altogether with Al-Nassr, with my coach, with the president and all the people from Al-Nassr and I what I want is to enjoy, to smile and play football."