'FFP doesn't exist for Chelsea' - Twitter reacts to Mudryk transfer news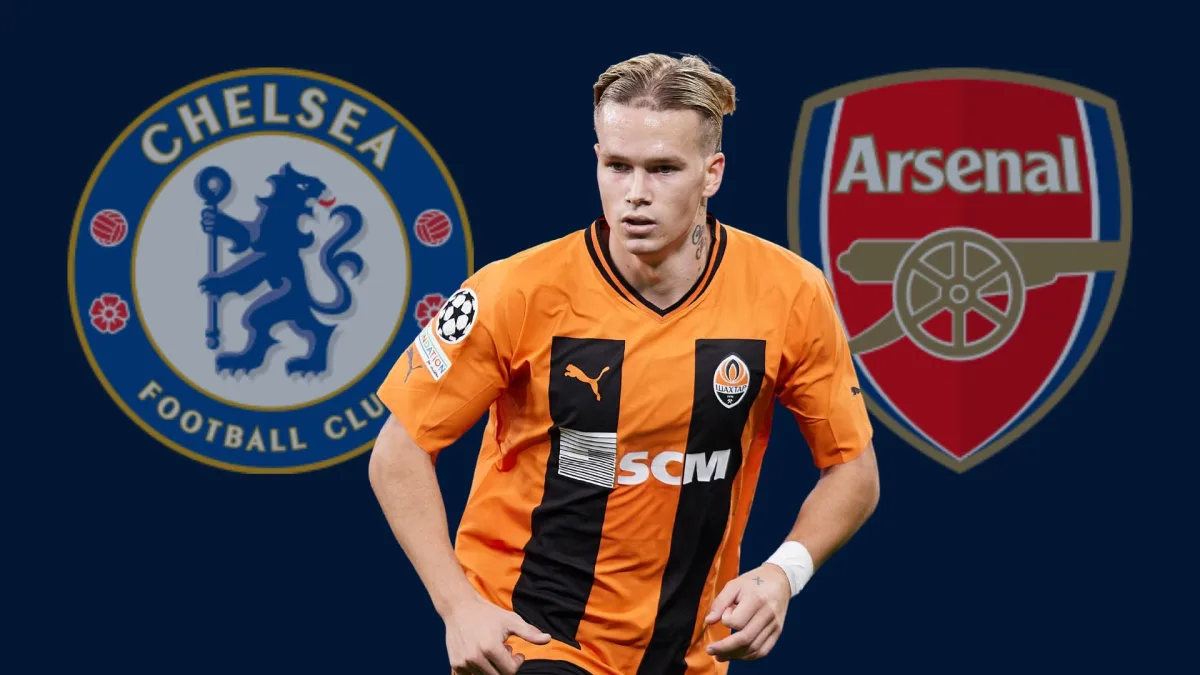 Chelsea are close to signing Arsenal transfer target Mykhailo Mudryk for €100 million.
The Shakhtar Donetsk winger looked destined for the Emirates Stadium, but it now seems he will be playing for their London rivals instead.
Fabrizio Romano first broke the news that Chelsea were talking to the Ukrainian side on Saturday, with the Blues hoping to hijack Arsenal's move.
MORE: Toxic Ronaldo has talked himself out of Chelsea move
Barely an hour later, the Italian journalist reported that a deal had been agreed between the two clubs.
In contrast, the Gunners have failed to agree terms with Shakhtar, despite an agreement with the player.
Fellow transfers expert David Ornstein reports that Chelsea have offered €60-70m up front, with €30-40m in add-ons.
Mudryk is travelling to London to hold contract talks over the weekend, with Chelsea ready to offer the player a seven-and-a-half-year contract that would tie him down until 2030.
Twitter reacts to Mudryk transfer news
Many Chelsea fans can see the funny side in beating London rivals Arsenal to one of their long-term targets.
Having already signed Gunners target Joao Felix on loan, this news becomes even more amusing to them.
Arsenal spent months negotiating for Mudryk only for Chelsea to agree a deal in 30 minutes. Todd Boehly is on smoke. We won't be down for long. Our pull power is crazy even in 10th place.

— CfcSheikh (@CfcSheikh) January 14, 2023
Last two defeat got us Felix, Fulham defeat is about to get us Mudryk. Next one might get us Enzo 😂

— Brendan🇩🇪✨ (@TacticalChels_) January 14, 2023
But a number of Chelsea fans are disappointed with the club's 'scattergun' approach to the transfer window.
The Blues are in desperate need of a midfielder and a right-back, not another wide forward.
Can't explain how pissed off I am honestly, Enzo wanted the move, he was ready to come here, €120m. But no, we'll go for a €100m winger that twerks for Arsenal as a part time job.

— Mod (@CFCMod_) January 14, 2023
A lot of things about Mudryk excite me. But spending €100m on a LW with 27 senior appearances in the Ukranian league, when we have two fit senior CMs (one of them fragile) & a gaping hole at RB is like putting a band-aid on third degree burns.

— CFC Central (@CFCCentral3) January 14, 2023
As for Gunners fans, many had already begun welcoming Mudryk to the club as the deal seemed only a matter of time. But that is all in vein now as he closes in on a move to Stamford Bridge.
They will be left questioning the ambition of their board, as they push for a first Premier League title in 20 years.
So FFP doesn't exist when it comes to Chelsea?

— Harry (@haz_afc) January 14, 2023
Mood... #Mudryk pic.twitter.com/Mv5X85cuZz

— AFTV (@AFTVMedia) January 14, 2023
It's not all bad news for Arsenal, though, as a win in tomorrow's north London derby would take their advantage at the top of the table to eight points.