Mykhailo Mudryk: Why the 'Ukrainian Neymar' is so deadly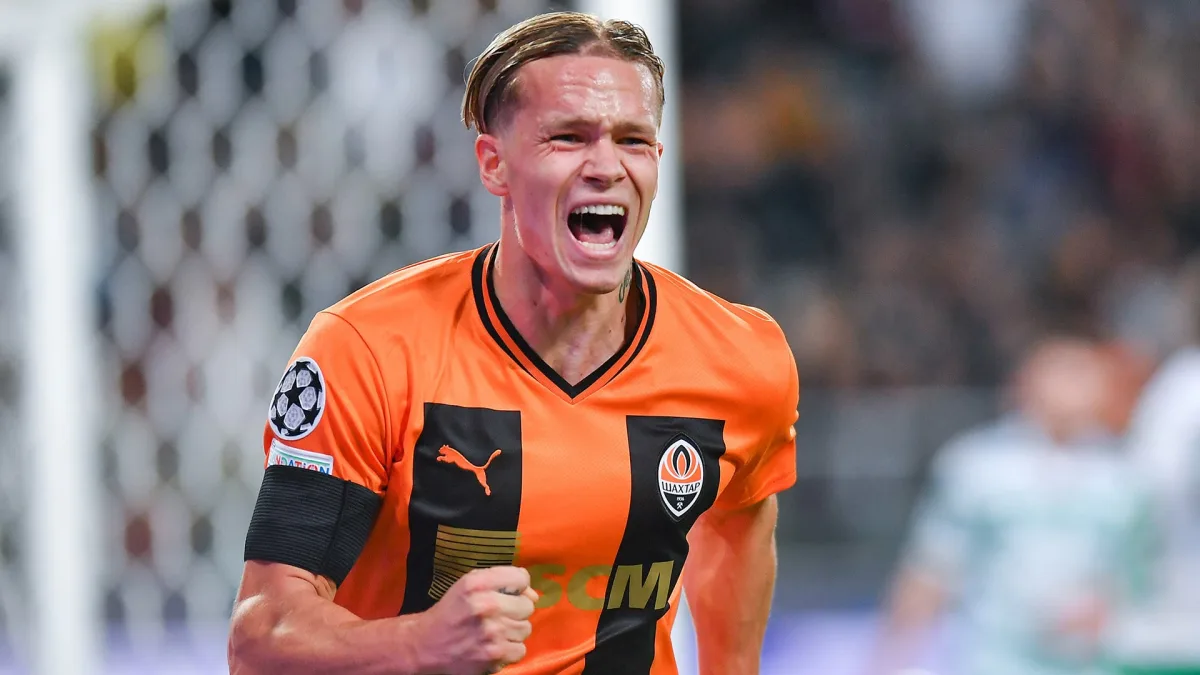 In a dark time for Ukrainian football, Mykhailo Mudryk has been a shining light and he has now made his way to the Premier League with Chelsea in a €100 million deal.
Like all things in the country, football has been greatly affected by the Russian invasion. In spite of that, the Premier League, as well as Women's Premier League and some lower divisions, have been in action for the 2022/23 season, with empty stadiums and occasional air raid siren interruptions.
One of the major issues most clubs are facing is financial, which is unsurprising given how many of their major revenue streams have been blocked or severely cut down. In such tough times, many feel they have not been helped by FIFA, who allowed foreign players to temporarily suspend their contracts and leave the country at the start of the invasion.
This led to many players, especially those from the bigger Ukrainian clubs, leaving for very cheap transfer fees as their teams were pressured to sell with the risk of losing them for free when their contracts expired. Shakhtar Donetsk suffered the biggest losses as a result of this, and are now taking FIFA to CAS on this matter.
The silver lining for Shakhtar is the fact that they have had to field line-ups made up almost exclusively of Ukrainian players, many of whom are young academy graduates. Among them was 21-year-old left winger Mudryk, who captured all of Europe's attention with his dazzling performances in the Champions League.
MORE: The five best Premier League transfers for the season so far
He has now transferred to Chelsea in a €100m deal.
So, let us take a closer look at the player being nicknamed the 'Ukrainian Neymar'.
Mudryk role and return this season
This season, Mudryk has mostly been used as a left winger in a 4-2-3-1 or 4-3-3 formation. He has a good deal of positional freedom. He tends to stay wide and close to the touchline when his team has the ball, but does drift infield at times and move into the halfspaces, especially with the ball at his feet. His heatmap from the last five games shows this.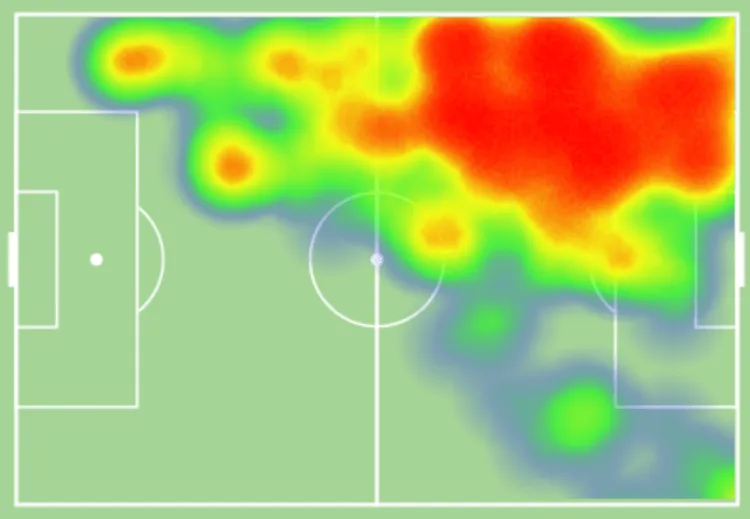 It is safe to say that he has been the best winger in the Ukrainian Premier League by some margin, as the model from data analytics experts SciSports' suggests:
Unsurprisingly, his statistics look impressive when compared to fellow wingers in the league. Whether you're looking for goalscoring, chance creation or dribbling, Mudryk excels at it all.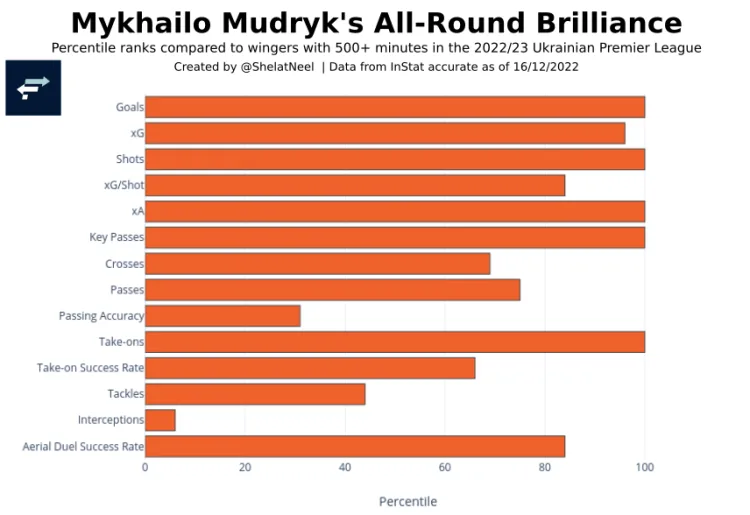 A return of seven goals and six assists in 11 league matches is impressive, but it is important to remember that the Ukrainian Premier League is a markedly lower level than the English equivalent. Mudryk did also play in a much tougher competition in his side's 6 Champions League group games, and came away with 3 goals and 2 assists, leading the way in his team in terms of goal involvements.
Of course, the sample size is small, but nonetheless, it is worth taking a look at some of the numbers Mudryk put up in Europe. He averaged a decent 1.57 shots per 90, a fairly high xA per 90 tally of 0.19, and crucially, 5.16 take-ons per 90. His success rate did drop to just over 30%, but it is heartening to see that he was not shy of trying to get past better defenders.
Dribbling and direct threat
The least you would expect from someone who is likened to Neymar is exciting dribbling ability, and Mudryk certainly has that in abundance. The stats paint a picture of how he likes to try and get past opponents very frequently, but they cannot show you how he does that.
⚡️ Try to catch him 😉

Incredible dribbling and speed by Mudryk!#Shakhtar #Mudryk pic.twitter.com/vhd6bX49N7

— FC SHAKHTAR ENGLISH (@FCShakhtar_eng) October 20, 2022
That clip sums up Mudryk's dribbling – he has silky ball control in close spaces and can wriggle out of them, but he really gets going when he has open grass to run into with some rapid ball carrying.
Even at such breakneck speeds, Mudryk remains well in control of the ball and get trick his way past any defenders standing in his path. Stepovers are one of his favourite skills, and he deploys them often in the final third. What makes them extra effective is the fact that the Ukraine international can go both ways. He is predominantly right-footed, but it would not be right to call his left foot 'weak' in any way.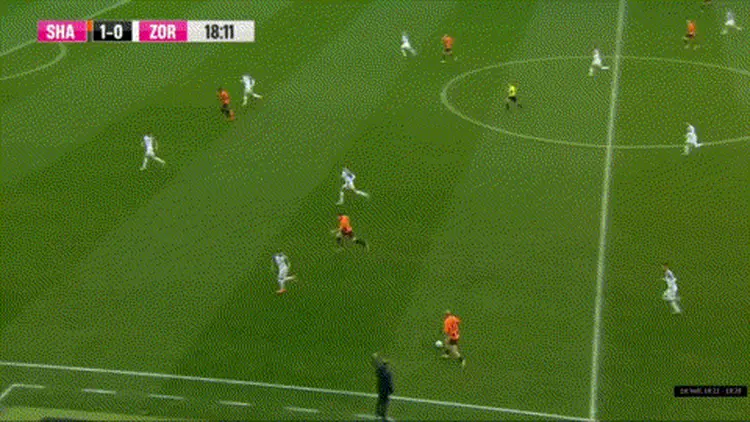 As aforementioned, Mudryk likes to hug the touchline so he regularly receives the ball in such areas of the pitch. Here, he likes to use his close control to poke the ball past the defender and chase after it, often after inviting a challenge.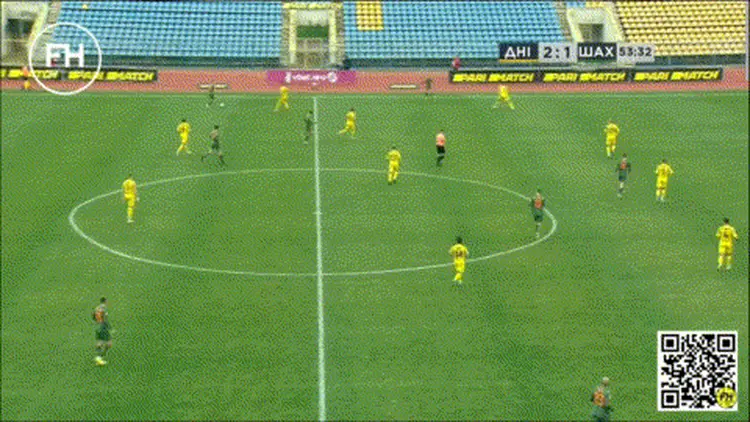 Clearly, the 21-year-old winger is a real danger to opposition defences with the ball at his feet, but they cannot afford to rest when he does not have it either. We previously referenced his lightning-quick pace, which, in combination with his racecar-like acceleration, make him a real threat in behind.
⚡️ Mudryk's speed and Sikan's finishing ⚽️

What an attack by Shakhtar in the match vs Dynamo 😍#ShakhtarDynamo (3-1) #Shakhtar pic.twitter.com/sddopQ2LPX

— FC SHAKHTAR ENGLISH (@FCShakhtar_eng) October 17, 2022
In fact, Mudryk recorded the highest speed in the Champions League this season at 36.6 km/h. That is quicker than anyone has managed in the Premier League.
His pace is a cheat code for his dribbling ability. As we previously saw, he likes to dazzle defenders with tricks like stepovers and get past them, but his speed is such that even if a defender manages to follow him, he still cannot be stopped.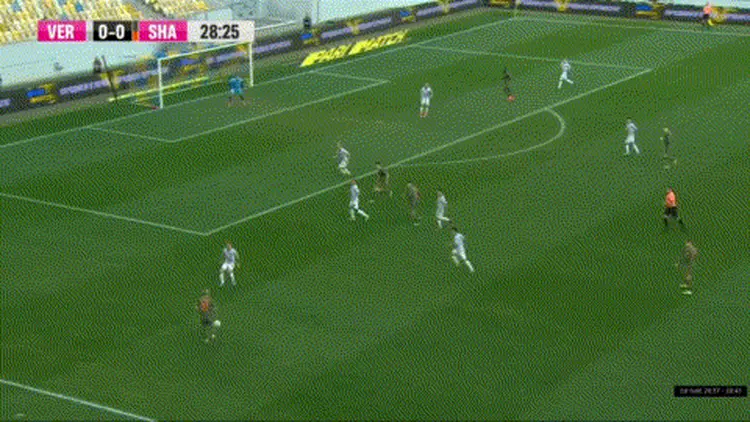 Being quick is one thing, but being able to fully use your speed to your advantage is another. That requires good off-ball movement, which is another one of Mudryk's strengths. His top speed means that he does not need to always play on the shoulder of the defender, so he has only been caught offside once every five games on average in the Ukrainian league this season. Instead, he starts a little deeper and uses his acceleration to burst past his man.
There are two types of runs he predominantly makes. The first is more of a straight run in the halfspace that asks his team-mate to play the ball in behind through the defensive line, usually when he is on the far side of the pitch.
🔥 The 9th goal this season by Traore ⚽️⚽️⚽️⚽️⚽️⚽️⚽️⚽️⚽️

👊🏻 The teamwork! 🧡 Marlos ➡ Mudryk ➡ Traore and that's a GOOOAAAL! ⚽#Shakhtar #ShakhtarVeres pic.twitter.com/HBrQxcP5Ke

— FC SHAKHTAR ENGLISH (@FCShakhtar_eng) September 26, 2021
When attacking the space in behind on the near side, he usually makes an out-to-in run around the defender to get on the end of the through pass, which is delivered to a similar region.
🤩 Mykhailo Mudryk continues to amaze in the @ChampionsLeague! ⭐️#ShakhtarCeltic #Shakhtar #UCL pic.twitter.com/O4znp3eGyT

— FC SHAKHTAR ENGLISH (@FCShakhtar_eng) September 16, 2022
As the last couple of clips showed, Mudryk is composed in the final third as far as his decision-making is concerned. This, coupled with his unpredictability (since he can strike with both feet), make him a deadly goal threat and incredibly tough to defend against.
Being a right-footed left winger, he can of course cut inside and get shots away. His ball-striking ability with his right foot is very good, so opponents would not want him doing that.
🤩 WHAT A GOAL! 🔥 Mykhailo Mudryk and there is nothing to add 🧡#CelticShakhtar #Shakhtar #UCL pic.twitter.com/QrYFD5HpIA

— FC SHAKHTAR ENGLISH (@FCShakhtar_eng) October 28, 2022
Coming from the left wing, when he chooses to go outside, Mudryk naturally makes the angle tighter for himself. However, his finishing on his left foot is fairly clinical too. Here is a video showing that, featuring some slick dribbling and very fast ball carrying.
🌪 MYKHAILO MUDRYK! 🤩 WHAT A GOAL! ⚽️#Shakhtar #AjaxShakhtar pic.twitter.com/1LsfjEzGsw

— FC SHAKHTAR ENGLISH (@FCShakhtar_eng) July 26, 2022
His shotmap sums all of this up, showing a good number of shots taken from range, a fair few going in from central areas just outside the box, and another cluster on the left of the penalty area.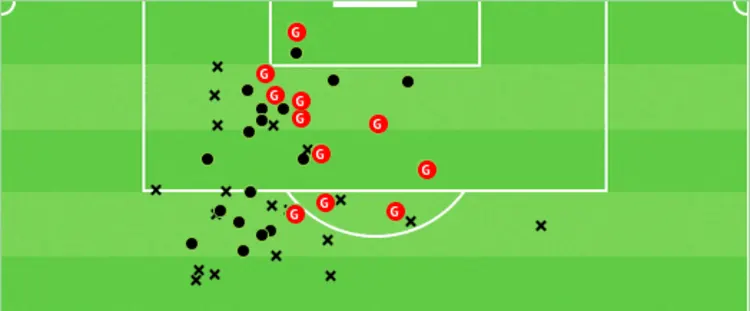 The big question mark is whether Mudryk can transfer his form from Ukraine to England.
Currently, Ukraine is ranked 12th in Europe based on UEFA's country coefficients, which take into account five years. As we discussed at the start, Ukraine's league lost a number of key players last summer, so its level certainly has dropped by some extent this season.
Therefore, it is tough to estimate how big a step up Mudryk will have to make in order to star in the Premier League, but there can be no doubts about the fact that he has the potential to do so.