Antony, watch out - don't become Memphis Depay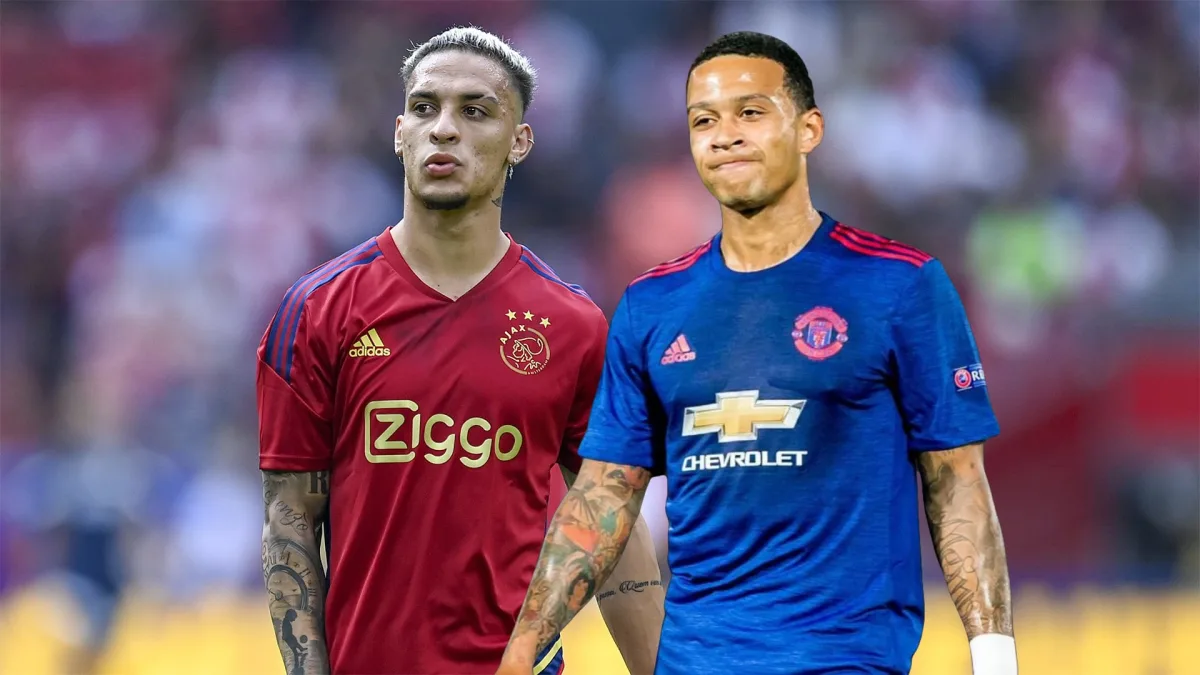 Memphis Depay is somewhat of a myth.
He's always been linked with big clubs, and, on two occasions, ultimately made the move to them. Manchester United firstly, and Barcelona latterly, took the chance on getting the best out of a mercurial talent.
But what if he's just not that good?
At United in particular, the conditions were set up perfectly for him to succeed. A marquee signing, playing under a Dutch coach in Louis van Gaal who could see the potential in him and gave him the platform.
And yet 18 months and two Premier League goals later, he was shipped off to Lyon for half the money that United had paid for him.
He then enjoyed somewhat of a renaissance. In 2017-18, his form was simply stellar, contributing 19 goals (17 non-penalty goals) and 13 assists in an exciting side. He followed that up with 10 goals and 10 assists the next season.
But then the regression started, and penalties began propping up his numbers. Across the next three seasons, including Barcelona last year, 30% of his 41 goals were from the spot which renders them, from a scouting perspective, pretty meaningless.
This is a warning to Antony; maybe Depay just found his level and couldn't make the step up.
- FootballTransfers
In the past year he ranks in the bottom 25% in Europe for non-penalty goals, non-penalty xG, and expected assists. From a defensive and pressing standpoint, well, he just doesn't do much of that either. For pressures in particular, he is in the bottom 10%.
Maybe Depay just found his level. In the Eredivisie and in Ligue 1, he was able to dictate proceedings at a more modest level where he was made the centre of attention. But any time he's stepped up, it hasn't worked. Even at international level, where his goal record is somewhat decent but again is totally propped up by penalties.
So all of this is a warning to Antony. He, too, is making a massive step up in quality at virtually the same age that Depay did it. Depay's record the season before joining Manchester United was also infinitely better than Antony's for Ajax last year; Depay scored 22 goals and provided five assists, in comparison to Antony's eight goals and four assists.
And it's not as if there isn't competition in the wide areas, with Jadon Sancho, Marcus Rashford, Anthony Elanga and Anthony Martial all capable of playing on either side, so he will be required to produce and perform from the outset - which proved to be the ultimate downfall of Depay (that, and his lifestyle, which proved to be a real problem for Van Gaal).
He too, will be given a platform under a Dutch coach to go and prove himself to be of the highest quality. And who knows, maybe he will, even at the insane €100m fee - four times what Depay cost seven years ago.
But Antony should be aware of the Depay precedent. He's following in the footsteps of a player that was supposed to be generational and yet, when asked to replicate Eredivisie form in the most competitive league in the world, he simply couldn't get close to doing it.
Antony, beware. The Eredivisie is not the Premier League. And you can't waste any time finding out.