'He's just entering his prime' – Arsenal fans react to Gabriel Jesus transfer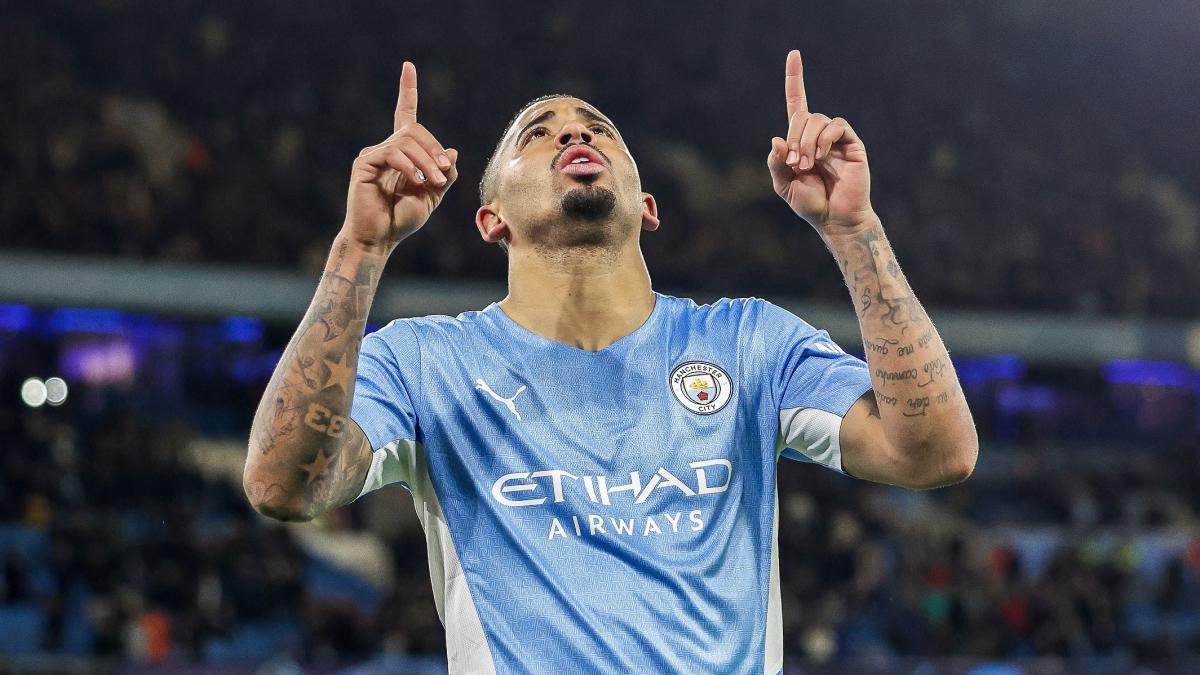 Arsenal have completed the signing of Gabriel Jesus from Premier League rivals Manchester City, and there is a real buzz around the signing from the Gunners' faithful.
Mikel Arteta's side have been looking to bring in a forward to their ranks following the departures of Pierre-Emerick Aubameyang and Alexandre Lacazette over the course of the year, and identified Jesus as a top target.
The two clubs were in negotiations for weeks over the transfer, and agreed a £45m fee, with the Brazilian moving on a five-year deal.
Jesus has played in England since 2017, with Pep Guardiola's side agreeing a deal for the player in the summer of 2016 for his move from Palmeiras.
The 25-year-old had an impressive record for City, scoring 95 goals in 236 appearances for the club – including 58 goals in 159 in the Premier League – but was never able to establish himself as the team's primary forward.
He was expected to become the club's leading man following the phasing out of Sergio Aguero, but Guardiola's rotation and tactical systems allowed him to use the likes of Raheem Sterling and Kevin De Bruyne as forwards.
Arsenal fans excited over Gabriel Jesus move
Now, though, he will get the chance to be Arsenal's leading man, and will work with Arteta once again, as they were together at City when the Spanish boss was Guardiola's assistant between 2016 and 2019.
The Arsenal faithful are excited over their new forward, as they've managed to strike a deal for a player they knew they needed in the summer transfer window.
Stat of the day: Gabriel Jesus has won the same amount of major trophies (9) in England in six seasons as Spurs (9) have in the last 50 years.

— TheAFCnewsroom (@TheAFCnewsroom) June 27, 2022
Arsenal are going to have a big phone bill next season. pic.twitter.com/JpqylYOQhJ

— Andrew Allen (@AAllenSport) June 25, 2022
Gabriel Jesus - 2022ᴴᴰ https://t.co/hwsRYlMFDe

When the ball goes into his feet my emotion is things are just starting.

He is just full of possibilities to create phases of attack.

Notice how he attracts people to him.

Such an interesting modern mobile pressing forward

— Clive (@clivepafc) June 24, 2022
Pep really relied on him down the stretch this season. I don't believe for a moment that he's some cast off. And he is just entering his prime still with plenty to prove. I think it's an exciting acquisition

— YankeeGunner (@YankeeGunner) June 25, 2022
Arsenal line-up for first game of the season.

Gabriel, Gabriel, Gabriel, Gabriel, Gabriel, Gabriel, Gabriel, Gabriel, Gabriel, Gabriel, Gabriel.

Subs: Gabriel, Gabriel, Gabriel, Gabriel, Gabriel, Gabriel, Gabriel, Gabriel, Gabriel, Gabriel,

— arseblog (@arseblog) June 24, 2022
"I want a striker and everything else is the cherry on the cake!" 🍒🍰#AFC #Arsenal #Jesus #ManCity pic.twitter.com/722FuTQaUS

— AFTV (@AFTVMedia) June 25, 2022
Most Premier League goals scored exclusively from inside the box:

◉ 58 - Gabriel Jesus
◎ 56 - Tim Cahill
◎ 53 - Chicharito

The Brazilian fox in the box. 🦊 pic.twitter.com/xDvlcvycye

— Squawka (@Squawka) June 26, 2022
The best bits of @gabrieljesus9's 2021/22 🇧🇷🤙#ManCity pic.twitter.com/oczJxSUvXl

— Manchester City (@ManCity) June 26, 2022
Arsenal have had a busy transfer window so far this summer, having already completed the signing of Fabio Vieira from FC Porto, and there may still be more to come.
The Gunners are working on deals for Leeds United's Raphinha, Leicester City's Youri Tielemans and Ajax's Lisandro Martinez to bolster their squad ahead of next season.
The club are eager to make their return to the Champions League, having narrowly missed out on qualification last season, losing the final spot to Tottenham on the last day of the season.
Should they secure their targets, their expenditure this summer could well go close to £200m – a figure that will require results from Arteta's side.