Who is Etienne Green? The England U21 goalkeeper starring in France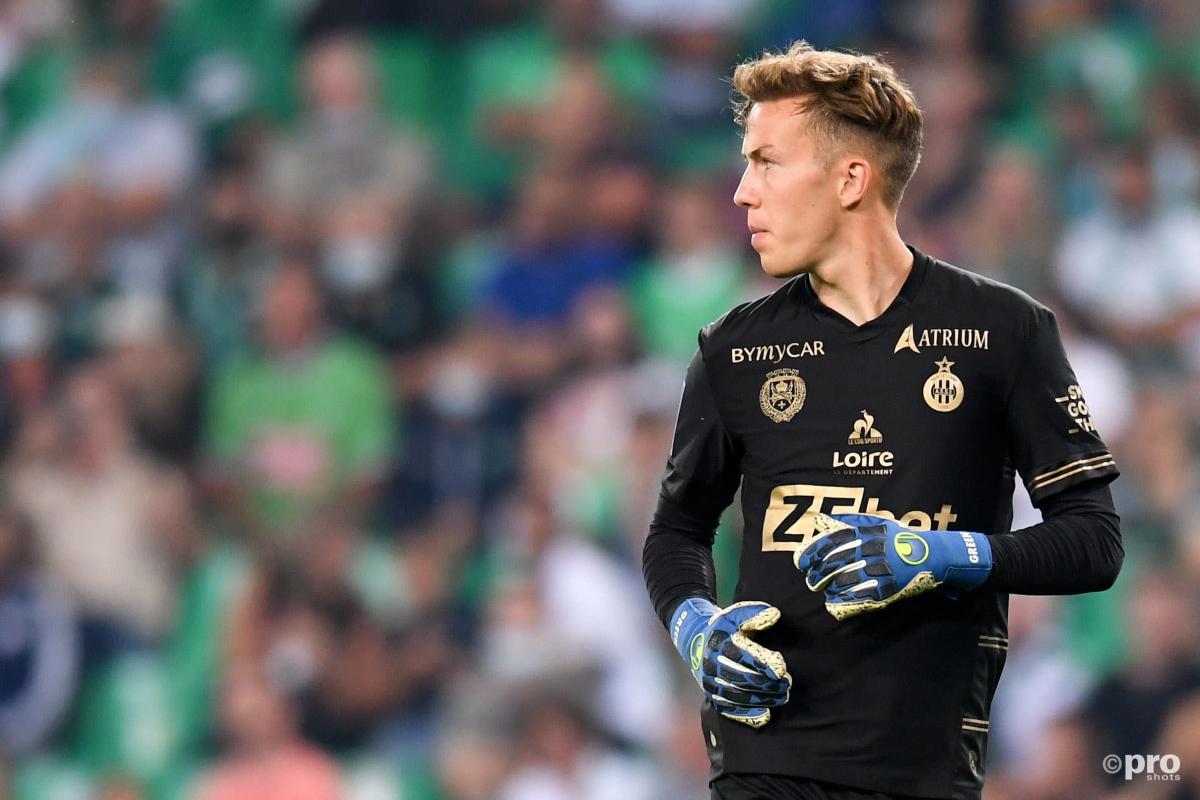 Etienne Green might not be a name known to many Premier League fans, but the Saint-Etienne goalkeeper is actually one of the rising stars of the English game.
Born in Colchester to an English father and a French mother, he moved to France at a young age and has spent more than a decade honing his skills at the Ligue 1 side.
An injury crisis at Saint-Etienne thrust him into the first-team picture in 2021 and Green took his chances, establishing himself as the No.1 pick for the 2021/22 season.
He has since worked his way into the England Under-21 squad, in which he finds himself playing with names such as Marc Guehi, Max Aarons, Noni Madueke and Conor Gallagher.
What position does Etienne Green play?
Etienne Green is a goalkeeper. In terms of his style, he is primarily a sweeper keeper but has some attributes of a ball-playing goalkeeper, too.
How good is Etienne Green?
Green is Ligue 1's youngest regular goalkeeper during the 2021/22 season, highlighting how impressive he has been to breakthrough in such a trying position at such a young age.
Furthermore, he was so impressive during the first month of the campaign, he won Saint-Etienne's Player of the Month award for August by a landslide margin.
I thought he was amazing so I tried to replicate his game a bit. His saves on the line were amazing and so were his reflexes.
- Etienne Green on Stephane Ruffier
One of his major idols is emblematic Saint-Etienne goalkeeper Stephane Ruffier.
"I watched a lot of what he was doing," he told the Ligue 1 Show. "When I was about 17, I had the luck to come and train with him several times and I was like 'wow'.
"I thought he was amazing so I tried to replicate his game a bit. His saves on the line were amazing and so were his reflexes.
"He was a great leader of the team and someone I admired."
Green's call to the England Under-21 set up, meanwhile, is justification of the work he has been doing and the level of his play.
What clubs are interested in Etienne Green?
A relative newcomer to the first-team scene, Green is still establishing himself at Saint-Etienne and has not yet been linked with any other sides.
However, he has revealed an ambition to play in the Premier League.
"I watch the Premier League. I don't really have a favourite team but my uncle supports West Ham, so I'll say them!" he admitted.
"From what I've seen, the Premier League is played with a great intensity, but today we have great players in Ligue 1. For the moment, I'm thinking about my club, but I'd like to play in the Premier League one day."
When does Etienne Green's contract expire?
Green has a deal with Saint-Etienne until 2015. He signed a new deal in August.
How old is Etienne Green?
Green was born on 19 July, 2000. He is 21 years old.
What is Etienne Green's height?
Green is 6ft 4in (192cm) tall.
What football boots does Etienne Green wear?
Nunez wears Nike Phantom GT2 soccer cleats.
What is Etienne Green's Instagram?
Green's Instagram has 19.1k followers as of October 2021.
Who is Etienne Green's girlfriend?
Green is not publicly dating anyone.