Who is Levi Colwill? Chelsea's next big thing wanted by Leicester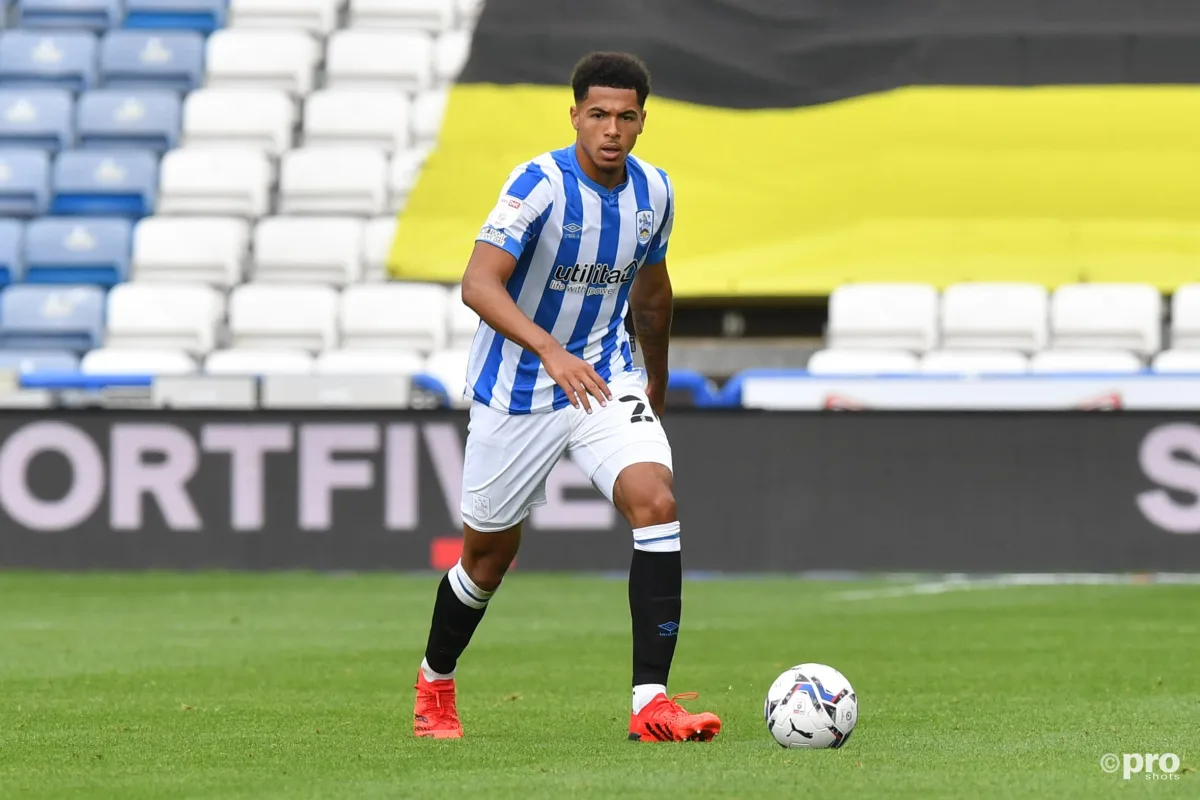 The summer of 2021 saw a mass exodus of Chelsea academy graduates from the club.
Valentino Livramento, Lewis Bate, Dynel Simeu and Myles Peart-Harris all left the club on permanent deals, as did Marc Guehi, Fikayo Tomori and Tammy Abraham, while the likes of Faustino Anjorin and Armando Broja departed on loan moves.
Another player who went out on loan this season is Levi Colwill. The 19-year-old joined Huddersfield Town on loan for the 2021/22 season, in a move similar to the one the aforementioned Tomori made to Derby County in 2018/19. He is rated extremely highly amongst the Chelsea set-up, but who is he?
What position does Levi Colwill play play?
Colwill is a central defender by trade. He is capable of playing in a back four or a back three, and features on the left-hand side due to his favoured left peg.
He can also fill in at left-back if needed.
How good is Levi Colwill?
Both Tomori and Marc Guehi left the club permanently this summer, with Chelsea happy to let the pair leave, in part thanks to the emergence of Colwill.
Xavier Mbuyamba is also a young defender in the academy, signed from Barcelona, and has begun training with the first-team which is a sign of how highly the Blues rate him. However, Colwill is arguably the player Chelsea hold in highest regard in the academy.
Called up to the England U21 squad earlier this season, Colwill has also captained the nation's U19 side this campaign.
He;s extremely comfortable on the ball, but not only that, he's been assured when defending, and has certainly deserved the recognition from the England set-up.
Colwill is simply outstanding. Watching even a highlight reel shows the talent he has, and the fact he stands out playing senior football at 19 testifies to this.
A left-footed centre-back, Colwill's body positioning is excellent on the ball, and by playing on the left of a centre-back pairing, he opens the pitch up. Many teams use two, or even three, right-footed centre-backs, and this sometimes limits the passing lanes and possibilities for playing out the back.
Colwill's strong left-foot negates that issue, and it allows Huddersfield to build through the thirds easily on the left-hand side of the pitch. His vision is truly exceptional for a defender, and he frequently breaks the lines with his passes. Of course, these risky passes don't always come off, but his immense technical prowess means he rarely gives the ball away.
His drives forward from the backline attracts attention to Colwill, and he often has the presence of mind to wait until the last moment, after sucking two or three players towards him, before releasing a pass which creates a pocket of space for his teammates.
This is something he regularly did for Chelsea's youth teams, and it's something he's continued with almost effortless ease in the Championship.
Colwill is a fairly front-footed defender, meaning he quite often opts to make a challenge rather than stall his opponent. This works most of the time, but as mentioned earlier, his defensive nous will only get better with age, and the few times he gets caught out of position will soon be rectified.
Speaking to Goal in 2021, Colwill revealed how close friend Jamal Musiala, and the success he has had, pushes him to achieve his goals. He said: "We played for the same Sunday team [City Central FC], and we went up together for our Chelsea trial. We have just done everything together.
"We keep in touch still now and he is a good mate. It is amazing to see what he has achieved so far. It gives me goosebumps every time because I have been through everything he has been through, all that grind.
"To see what he has done now is inspiring and it shows me what is possible. If I keep working hard, I know I can achieve what he's done."
Colwill follows a fairly long line of Chelsea loanees to end up at Huddersfield, including Trevoh Chalobah, but he might well be the best of the lot. His central defensive partner Naby Sarr revealed in a press conference earlier this season that "Colwill looks like he's been playing professionally for 10 years already, and he's only 18 [now 19].
"He has everything to play for, he'll be a big player."
To fit seamlessly into a competitive senior team is no mean feat, but Colwill is proving week-in, week-out, why he is viewed as the next big thing to come out of Cobham, and why Chelsea were happy to let both Tomori and Guehi go.
He's still raw, of course, but the early signs are that Colwill is a special, special talent.
Still just 19, Colwill won't be trusted in the Chelsea first-team just yet, but Thomas Tuchel certainly holds him in high regard. With Jules Kounde on Chelsea's radar, added to the talent already available at centre-back, it may be a few years before Colwill is handed a starting berth at the club.
But, exciting times lie ahead for an emerging talent who'll become a household name before too long.
What clubs are interested in Levi Colwill?
Well, Huddersfield are aware they don't have a realistic chance of keeping hold of the defender, especially given Chelsea's desire to keep him.
The Blues rate Colwill extremely highly, and with the contracts of Cesar Azpilicueta, Andreas Christensen, and Antonio Rudiger expiring this summer, Colwill has a shot at making the Premier League squad for the 2022/23 season.
However, there is another option for him - Leicester City. The Foxes reportedly had a January bid for the centre-back rejected by Chelsea, but according to the Mirror, they are preparing to go back in for the Englishman this summer.
They are said to be willing to offer Colwill regular first-team football, which isn't likely at Stamford Bridge, and may turn his head. But, a concrete offer hasn't yet been received by Chelsea.
How old is Levi Colwill?
Colwill was born on 26 February 2003, making him 19 years old.
What is Levi Colwill's height?
Colwill is 1.87m tall, or around 6ft 1in.
What is Levi Colwill's weight?
Colwill weights 75 kilograms, or around 12 stone.
When does Levi Colwill's contract expire?
Colwill's contract with Chelsea runs until July 2025.
What is Levi Colwill's Instagram?
Colwill's Instagram account has 20.1k followers as of February 2022.