When will Ronaldo make his second Man Utd debut?
Now that Cristiano Ronaldo has more or less been confirmed as a Manchester United player once again, many fans of the Old Trafford side will be wondering when they will see the Portuguese superstar make his second debut for the club.
Ronaldo signed from Sporting CP in 2003 for his first spell with Man Utd and would go on to make his debut in a 4-0 victory against Bolton in the Premier League.
For his second debut, it looks like he will feature for the Red Devils on 11 September at home versus Newcastle.
The weekend after his signing was confirmed will see Man Utd take on Wolves at Molineux, but that fixture will come far too early as, currently, he hasn't even completed a medical.
Following that match, teams from around the world will go on an international break which means it will be an extended wait for the Old Trafford faithful to see their hero return.
It remains to be seen whether Ole Gunnar Solskjaer will throw Ronaldo straight into the starting XI for the fixture against Steve Bruce's side, but the club aren't paying him £480,000 per week to sit on the bench.
Even if he doesn't start, he will feature, if injuries are avoided.
Man Utd starting XI with Ronaldo
Fortunately for the Old Trafford club, Ronaldo has developed into a more traditional No.9 in his later years, having scored 29 goals in 33 leagues games lasrt season, and as such should be able to play the role of a normal striker when called upon by Solskjaer.
That will likely mean less game time for Mason Greenwood and Edinson Cavani, but shouldn't require a huge change to the club's current tactics to fit the former Real Madrid star into the starting XI.
As such, Ronaldo should be able to play at the front of Man Utd's 4-2-3-1 formation, with Marcus Rashford on the left wing and Jadon Sancho on the right, once everyone is back and at full fitness.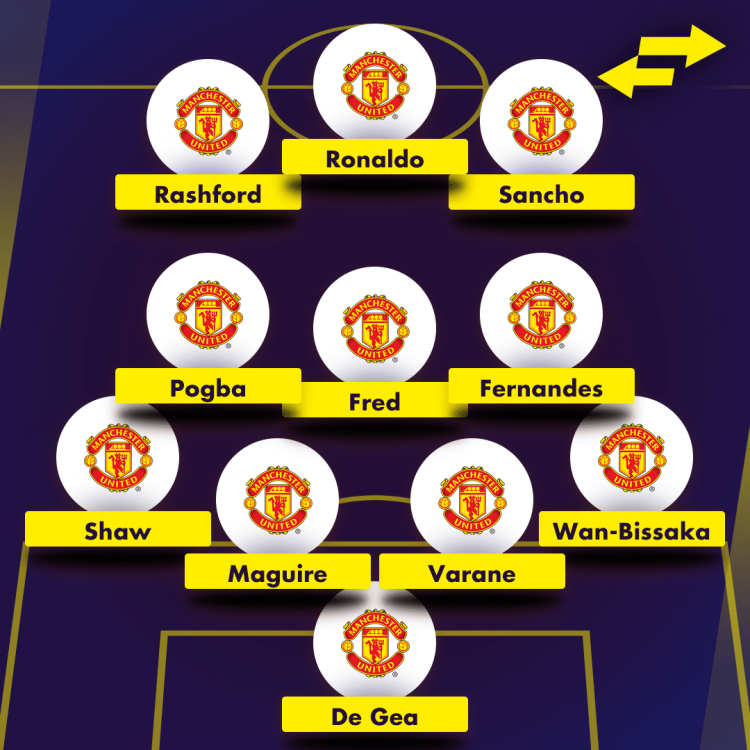 Excitingly enough, the Portugal international should enjoy plenty of support from compatriot Bruno Fernandes, who will likely keep his role as No.10 and talisman in Solskjaer's system.
One notable issue with the introduction of Ronaldo is that it now cements the player in the No.9 position, which in turn means Rashford and/or Anthony Martial will be moved back to the left wing role.
That is where Paul Pogba has tended to play in the first few games of this season.
As such, Ronaldo's return to Old Trafford may lead to Pogba's return to a central midfield position.
Where he is often tasked with more responsibilities and rarely plays with the same flair and imagination.