Messi, Dybala and the great footballers who cried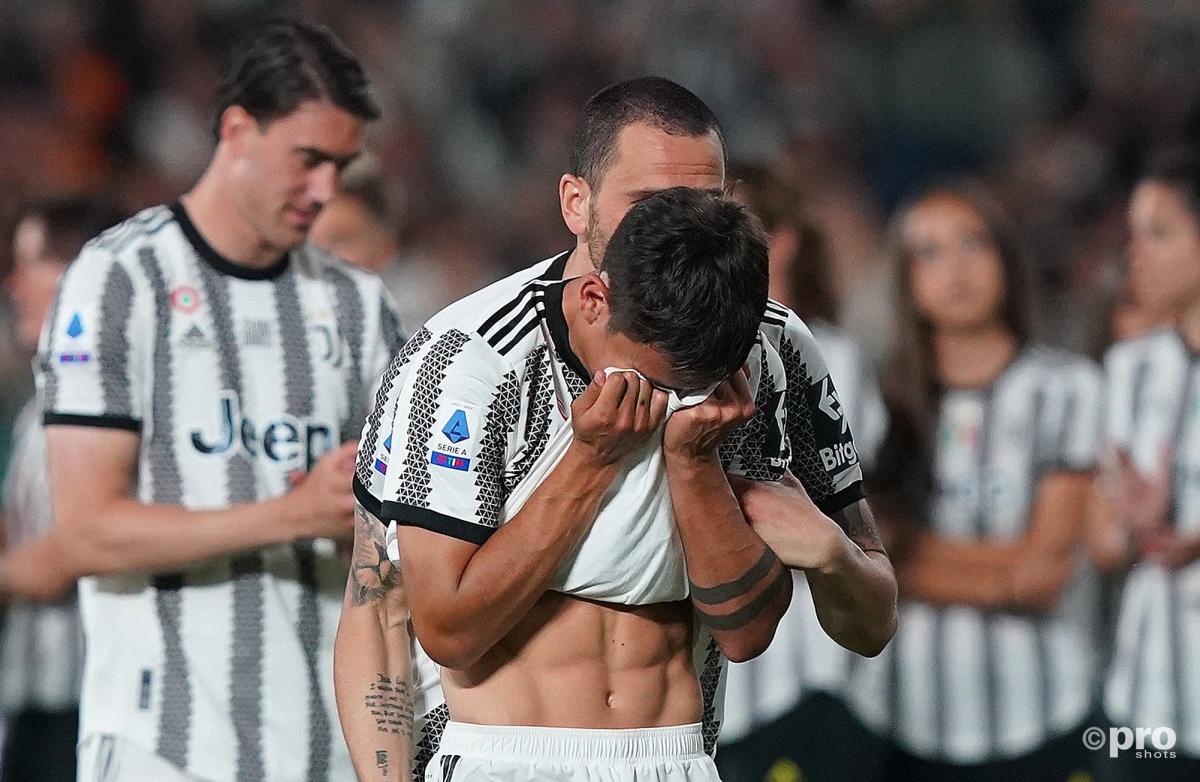 Paulo Dybala burst into tears on Monday evening during his farewell appearance for Juventus against Lazio in Turin.
Dybala will leave Juventus at the end of the season after seven years at the club as the Bianconeri decided not to renew his deal.
So what other footballers have famously cried over the years?
Pele (1958)
🇮🇹 1934: Stadio Nazionale
🇸🇪 1958: Rasunda Stadium ✔️
🇪🇸 1982: Santiago Bernabeu
🇮🇹 1990: Stadio Olimpico
🇺🇸 1994: Rose Bowl

🇧🇷 Garrincha, @Pele & Co were so brilliant in the 1958 #WorldCup Final that the Swedish fans, including their king, began cheering their skills & goals 🤩 https://t.co/K1gFeGgh3r pic.twitter.com/XUHQIX0Oof

— FIFA World Cup (@FIFAWorldCup) April 11, 2021
Maybe the first famous example of a top footballer crying on camera was the great Pele during the 1958 World Cup in Sweden.
At the age of just 17, Pele took the tournament by storm and scored two brilliant goals in the 5-2 final win over the hosts.
Pele was then lifted onto the shoulders of his teammates and paraded around the pitch at full-time. It was all too much for the young king to take.
Paul Gascoigne (1990)
Here is Bobby Robson consoling Paul Gascoigne in 1990, to start your day off right (an emotional wreck). pic.twitter.com/KqaivTrry9

— MUNDIAL (@MundialMag) July 7, 2021
England midfielder Paul Gascoigne burst into tears during the World Cup 1990 semi-final against West Germany in Turin.
With England's match locked at 1-1 in extra time, 'Gazza' lunged into a late tackle on Thomas Berthold and was promptly booked.
This yellow card meant that he would be suspended for the World Cup final if England made it. Gazza was heartbroken, although his team didn't make it anyway as West Germany won penalties.
Diego Maradona (1990)
Diego Maradona crying after losing in the 1990 World Cup Final against Germany. pic.twitter.com/nTu33qhTsy

— • Ross • #FreeGaza (@ImCTID) July 14, 2014
Argentina legend Diego Maradona had an eventful 1990 World Cup, to say the least.
His blatant handball against the Soviet Union prevented Argentina from being eliminated in the group stages, he produced a moment of brilliance to assist Claudio Caniggia into knocking out Brazil, while he infamously played the villain in breaking Italian hearts in his beloved city of Naples in the semis.
But the most abiding memory was Maradona crying his eyes out during the awards ceremony after Argentina were controversially defeated 1-0 in the final in Rome by West Germany.
Samuel Kuffour (1999)
Samuel Kuffour: I still can't watch 1999 Champions League final http://t.co/NB3yLOUeAX (Photo: Action Images) pic.twitter.com/ttNIrRN5vE

— Guardian sport (@guardian_sport) April 1, 2014
Manchester United's 1999 Champions League final victory was the most dramatic ending to an elite football match the sport has perhaps ever seen.
Bayern Munich had dominated the game in Barcelona and led 1-0 going into injury time. But, Man Utd then scored twice in added-on time off corners through Teddy Sheringham and Ole Gunnar Solskjaer to steal the trophy.
It was all too much for Ghana defender Samuel Kuffour to take as he beat his hand onto the ground in anger and cried in disbelief.
Pavel Nedved (2003)
⚪️⚫️ When Pavel Nedvěd inspired Juventus to 2003 final with an all-action display against Real Madrid 🔝#UCL | @juventusfcen pic.twitter.com/4F9Qaj2Jdk

— UEFA Champions League (@ChampionsLeague) January 25, 2021
Pavel Nedved was the star of one of Juventus' greatest European nights in 2003 as he scored the decisive goal to eliminate the Galacticos of Real Madrid in the Champions League semi-final.
Nedved thundered home a stunning volley to take the game away from the holders and set up a final meeting with AC Milan.
However, just minutes later Nedved was booked for a foul on Steve McManaman – a yellow which meant he would miss the Old Trafford showpiece. He wiped away the tears as he was substituted.
The Czech was sorely missed in the final as Juventus lost on penalties.
Cristiano Ronaldo (2004)
I've been following since the euro finals in 2004 where I saw Ronaldo crying on the pitch after losing to footballing giants Greece, ever since that day I vowed to become a fan of the greatest player. pic.twitter.com/40WDhbXuVo

— Aris (@5OKRATIS) July 30, 2020
A teenage Cristiano Ronaldo burst onto the scene in the 2003-04 season for Manchester United and then took that form into the European Championship.
Ronaldo was the best young player in the tournament and his exploits helped take his country into the final on home soil.
Portugal were expected to beat minnows Greece in the final but fell to a shock 1-0 defeat. Ronaldo was left crestfallen, but he gained his revenge to take the trophy 12 years later.
David Luiz (2014)
Brazil's David Luiz cries after his team lost to Germany in their 2014 World Cup semi-finals. pic.twitter.com/wTDNELuUJk

— The Kathmandu Post (@kathmandupost) July 8, 2014
The most traumatic game in Brazil national team history – after the 1950 World Cup final loss to Uruguay – came in 2014.
It was the World Cup semi-final and Brazil were hosting Germany, but completely collapsed and were thrashed 7-1.
David Luiz was particularly at fault as he produced a nightmare performance, prompting him to break down after the game.
Lionel Messi (2021)
Lionel Messi heartbreakingly broke down during his Barcelona farewell press conference in the summer of 2021.
The Argentine legend cried and wiped away the tears on several occasions as he sat alongside president Joan Laporta to announce that he was leaving on a free transfer to join PSG.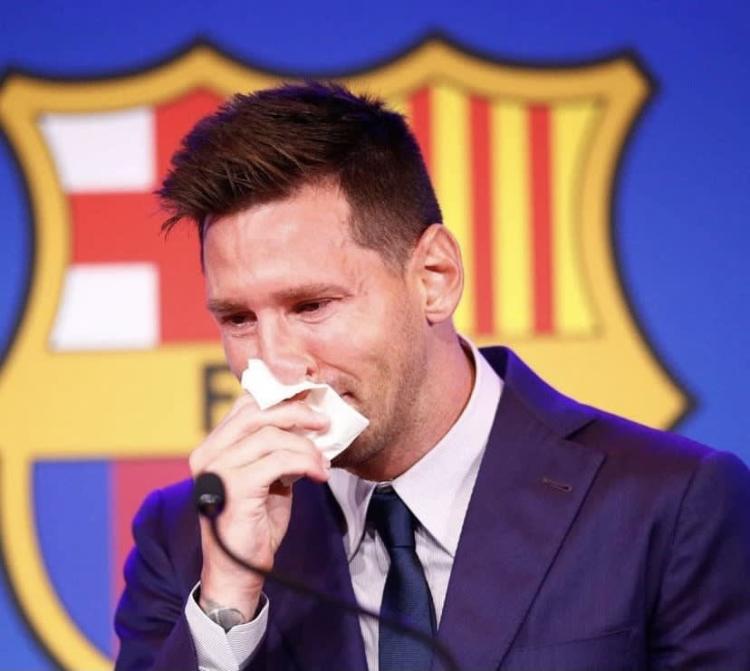 Messi broke virtually every record during over 20 years at Camp Nou, scoring an incredible 672 goals in 778 games.
He had wanted to stay at Barca but the club were unable to afford to keep him.
Paulo Dybala (2022)
Just like Messi, Dybala was forced to leave Juventus against his will in the summer of 2022.
He joined Juventus in 2015 and became a symbolic player for the club over the next seven years.
Dybala was in tears after playing his final home game for Juventus 😢 pic.twitter.com/uaU2liMRrK

— ESPN FC (@ESPNFC) May 16, 2022
However, the Bianconeri opted against giving him a new contract, allowing him to leave on a free transfer at the end of the 2021-22 season.
It was all too much for Dybala who broke down in tears as he saluted the crowd at the end of his final game for the club against Lazio.