Premier League Team of the Season, starring Bruno Fernandes and De Bruyne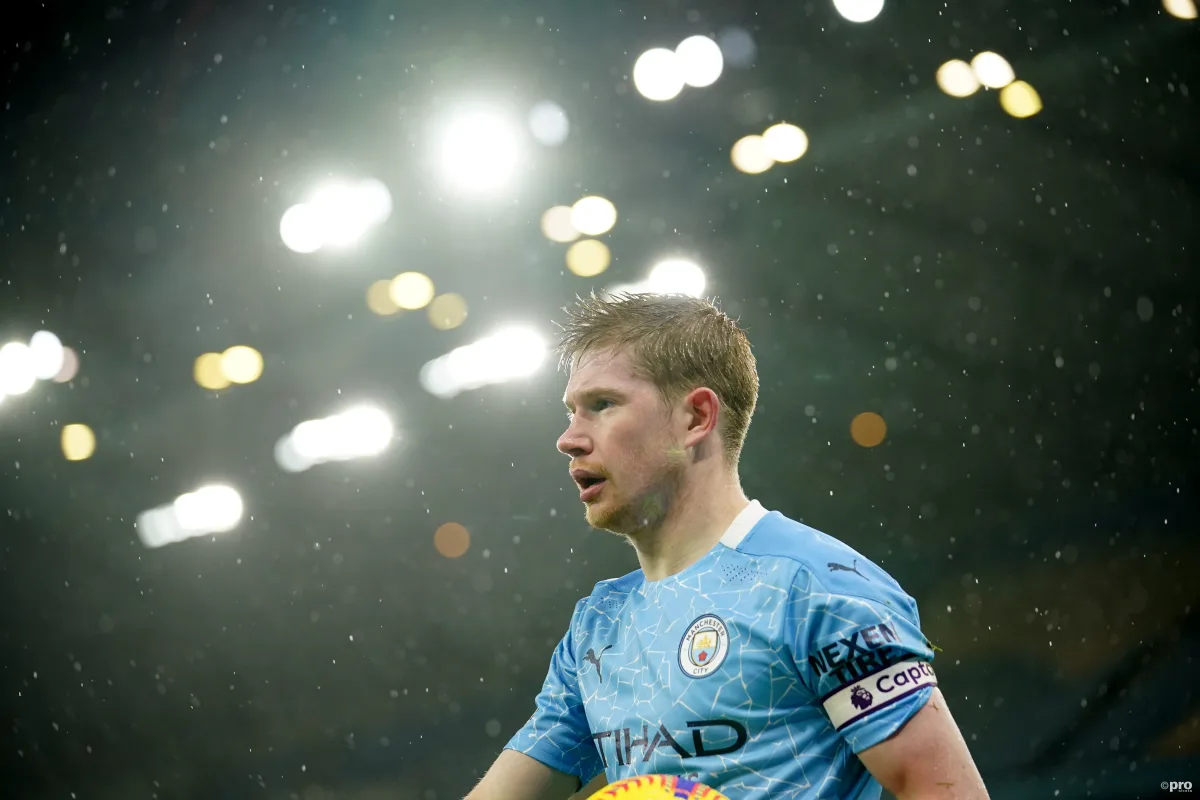 The 2020/21 Premier League season will live long in the memory – and not necessarily fondly – as we not only had to contend with a full year without fans in stadiums but also the failed launch of the European Super League.
In England, Manchester City eventually won the league, while Fulham, West Brom and Sheffield United were all relegated.
READ MORE: The 10 highest scorers in the Premier League in 2020/21
On the final day, Liverpool and Chelsea confirmed qualification to the Champions League, with Manchester United having already done so a few fixtures previous.
Despite no fans in the stadiums throughout the country, some players still performed to impeccably high standards.
Goalkeeper: Emiliano Martinez – Aston Villa
Emiliano Martinez will go down as one of the best signings of the entire season as he has helped transform Aston Villa from a team struggling against relegation to a team to be feared.
Only two goalkeepers in Ederson and Edouard Mendy have a better clean sheet record this season (15 in 38 games) but Martinez is also called into action much more frequently, as he made 3.7 saves per game compared to that pair's 1.8 and 1.9 respectively.
Right-back: Vladimir Coufal – West Ham
Another new signing from the summer is Vladimir Coufal who, at just £5.4 million, will go down as one of the best bargain acquisitions of recent memory.
The Czech right-back has taken to the Premier League with ease and his consistency is a major contributing factor to West Ham's return to European football.
Centre-back: Ruben Dias – Man City
Signed for £62m from Benfica, Ruben Dias has emerged as the best defender in the league (with Virgil van Dijk injured), and was named Football Writers' Association's Player of the Year for 2020/21.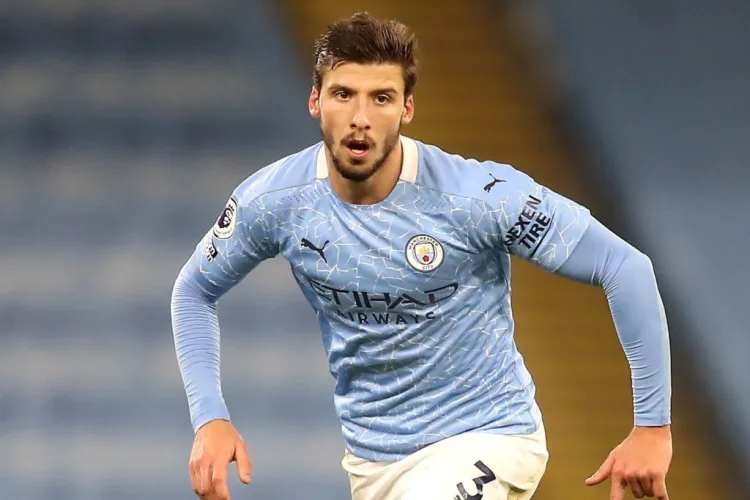 Man City have always been outstanding going forward under Pep Guardiola, but this season he has put together one of the best defences in Europe, mostly due to the presence of Dias.
He made 32 appearances in the Premier League, and helped City to 17 clean sheets.
Dias has had a miraculous impact on the Man City team, so much so that they have eventually won back the Premier League from Liverpool after no real competitors matched their results after Christmas.
Centre-back: John Stones – Man City
When Dias was purchased for big money in the summer of 2020, the general feeling was that the Portuguese defender would go on to form a formidable partnership at the Etihad with Aymeric Laporte.
However, it hasn't worked out that way, as injuries to Laporte at the beginning of the season allowed John Stones to not only step in, but step up.
The former Everton defender has flourished in the stability given beside him by Dias and played probably the best football of his career in 2020/21.
His resurgence has seen him earn back his place with England, too.
Left-back: Joao Cancelo – Man City
Joao Cancelo could easily have been a victim of his own versatility here as he has played most of the season shifting from right-back to left back.
But, the Portugal international has been outstanding for City this campaign and deserves his place. His performances became so effective, particularly at left-back, that he was regularly selected in that role over proper left-footed players.
He and Guardiola almost formed a new inverted full-back role for him that saw him gallop down the left wing only to cut back inside for a cross into the area with his right foot.
Luke Shaw unlucky to miss out in this position.
Centre-midfield: Ilkay Gundogan – Man City
Man City may eventually have proved all-conquering in the Premier League this season but they had some wobbles along the way, having to rely on individual brilliance to get them through games.
There was a period between January and February when the legs became tired in the squad, but that allowed Ilkay Gundogan to take the bull by the horns and pull his team-mates up to his level.
From January 17 to February 13 he scored eight goals and recorded two assists in 10 games from midfield as City saw their lead at the top of the table grow.
Overall, he would go on to score 13 goals in 23 games despite being deployed in central midfield.
Centre-midfield: Kevin De Bruyne – Man City
If every player in the Premier League performed at the peak of their powers Kevin De Bruyne would emerge as the best in the country.
Though he has his fair share of injury problems in 2020/21, starting just 23 out of the 38 league games, he was again imperious when on the pitch.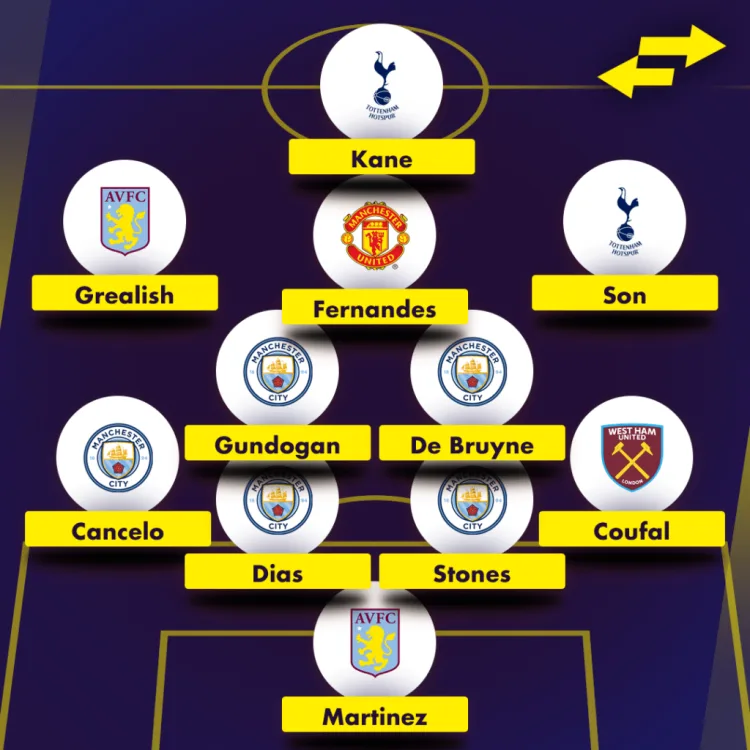 The Belgian scored six goals and recorded 12 assists and once again displayed some creativity in his passing that only he could pull off.
Without him, City remain a good team, but with him, they really could beat anyone on their day.
Attacking midfield: Bruno Fernandes – Man Utd
Yes, Bruno Fernandes' goalscoring exploits are supplemented heavily by his contributions from the penalty spot.
The Portuguese has scored 18 league goals in 2020/21 with nine of those coming from the penalty spot, but you also need to look at his intangible contributions to this Man Utd team, too.
He may drive opponents crazy with his moaning, but it is this desire to win and be a winner which has seen him already become the club's most important player and already a leader on and off the pitch.
Fernandes' ability to create something out of nothing is what the club have been missing, while only Harry Kane has recorded more assists than him this season too.
Left wing: Jack Grealish – Aston Villa
Unfortunately for Jack Grealish, he missed 12 league games this campaign which halted his ascendency to becoming undisputedly one of the best performers of the campaign.
In the first half of the season before he got injured he was at his maverick best, showing the likes of Man Utd and Liverpool why he was worth his reported £80m+ price tag.
Despite missing 12 games, he scored six goals and laid out 10 assists in 24 starts for his hometown club.
There is quite simply nobody like Grealish in the entire league, and the fact he is not a certainty for the England squad is a joke.
Right wing: Heung-min Son – Tottenham
Heung-min Son excelled again for Tottenham this season despite the underwhelming tenure of Jose Mourinho.
Don't forget, there was a point in the campaign when Spurs were riding high at the top of the table, and a major reason for this was the performances of Son.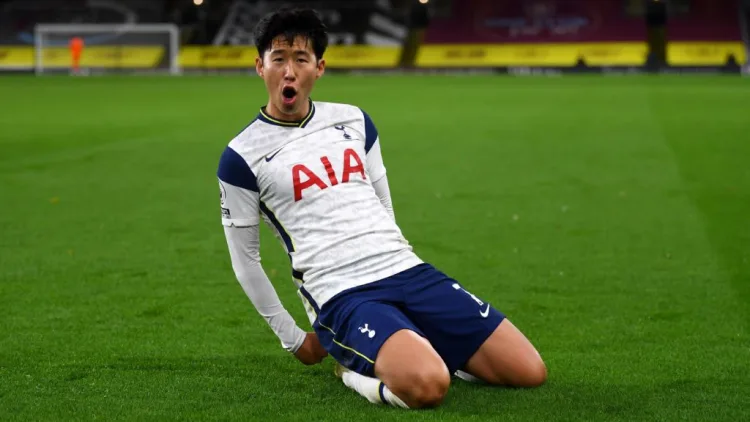 He formed a deadly partnership with Harry Kane and would go on to score 17 goals and record 10 assists in 36 starts, solidifying his status as one of the most devastating forwards in the country on his day.
His performances deserved more than the paltry seventh-placed finish from the club.
Centre-forward: Harry Kane – Tottenham
Harry Kane scored more goals than anyone in the league this season (23) and recorded more assists (14).
In a better team this outlay would undoubtedly have resulted in some silverware, but again the England international will have to look at his empty trophy cabinet, having gone through yet another campaign without a major trophy to show for it.
He continued to excel in a poor Spurs team, along with Son, and has now reached the end of his tether as he has requested a transfer away from the club.
Kane remains one of the best number nines in the world and deserves more than what Spurs can currently provide.