Pogba after MOTM display: That is why I came back to Man Utd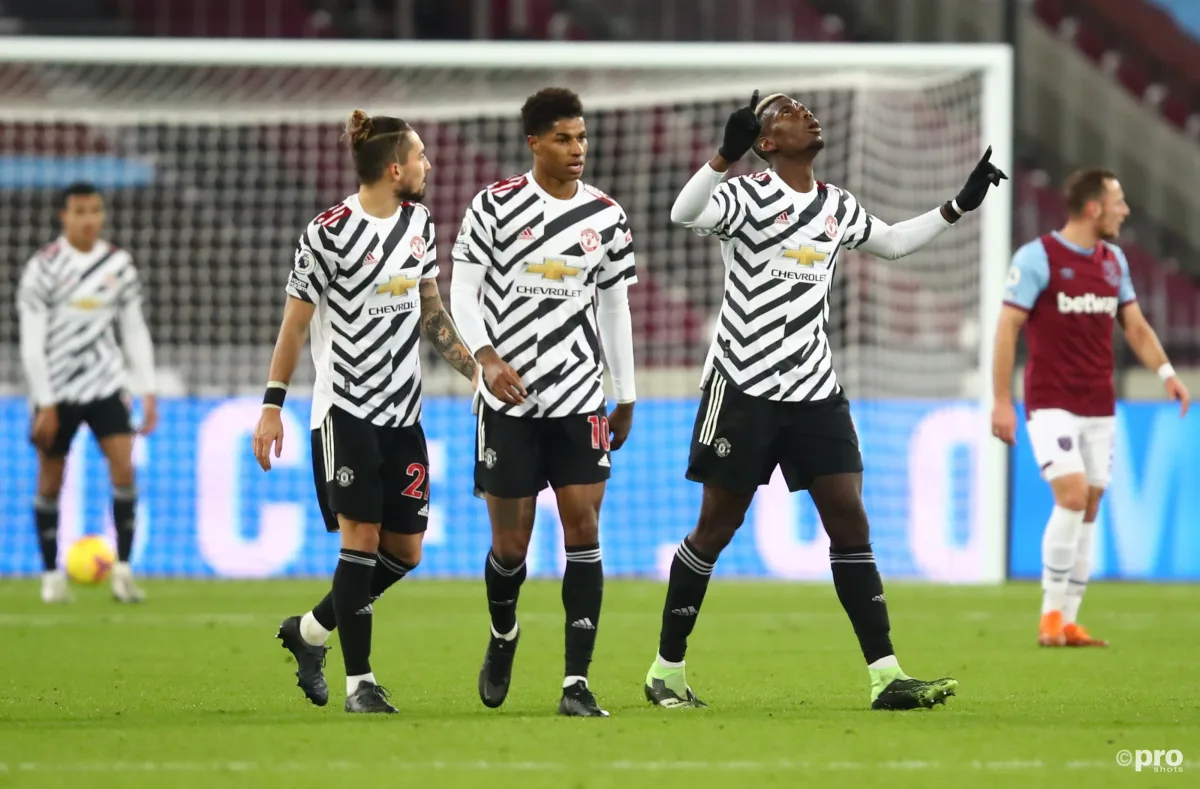 Paul Pogba says playing a key role in helping Manchester United to win games was why he returned to Old Trafford in 2016.
The midfielder scored a magnificent equaliser from long-range as United recovered from a poor first-half showing to defeat West Ham 3-1 in London on Saturday.
Bruno Fernandes and Marcus Rashford impressed after coming on at half-time, while Pogba earned a 8.4 FC Rating and was man of the match after an all-action performance.
It was United's ninth straight Premier League away win and moved them to within three points of leaders Chelsea with a game in hand.
READ MORE:
Pogba remains a constant source of debate among United fans and analysts, with his long-term future still uncertain.
Former United defender Patrice Evra felt the club poorly handled his request to leave at the start of the season.
Pogba himself says he has felt physically weak for much of 2020/21 after struggling in his recovery from coronavirus and a long-term injury.
But he is starting to feel close to his physical peak again, relishing his role in a morale-boosting comeback win against the Hammers.
"I feel so much better, I felt I could go again, control the game, getting the ball," Pogba said to MUTV.
"That's what I like doing myself. That's what I think is good for the team.
"I'm a team player. As long as the team wins, that's the most important.
"I find myself good and we want to win. That's why I came here and that's why I want to be successful."
Pogba wants 'beautiful' United football
The France international's 65th-minute goal gave United the shot in the arm they needed against West Ham.
Pogba felt it produced some impressive United passing sequences.
And he wants the way they played in the second half in this game, as well as their 5-0 thumping of RB Leipzig in October, to become a more regular occurrence.
"We played how we love to play football," said Pogba.
"Remember against Leipzig, when we played, when we scored the goals in the second half it was the same. It was two touch, two touch, one touch.
"The goal of Rashy [Rashford] was one-touch football. It was beautiful.
"That's what we are, we have the quality to do that, and we have to do it from the start.
"There are so many chances we conceded, it was hard for us in the first half.
"We showed character in the second half and that's what we have to remember.
"Now we cannot afford to lose and be happy with a loss or a draw. We have to be bad losers. Even 1-0 or 6-5… we have to win. That's what we want."
Pogba scores stunning goal
Pogba was asked to describe his spectacular goal, which was his first in eight league outings this season.
He added: "The kick from Dean [Henderson] was a bit… we didn't know if it was out or in.
"I just went for it, I saw Bruno had the ball and I was free. I hit it in the first half, it didn't go well, but the second time it went in and I'm really happy with this.
"It's good just to get back in the team and to score this goal to help the team get back in the game, it's very important. I'm very happy for that."