'Incredible at everything' – Man Utd fans rave over £70m bargain Casemiro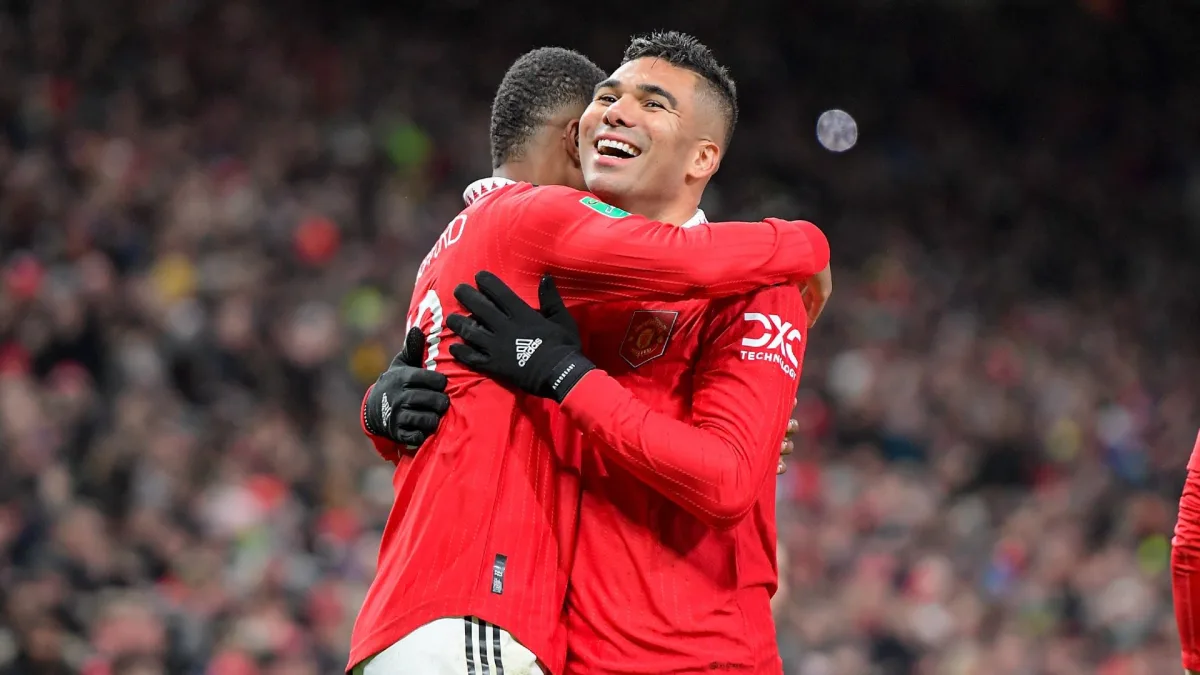 Manchester United were treated to another Casemiro masterclass on Saturday as the Brazil midfielder scored two second-half goals as the Red Devils beat Reading 3-0 in the FA Cp at Old Trafford.
Although Marcus Rashford had a goal controversially disallowed in the first half – an effort that would have seen him score for a record-breaking 10th home match in succession – Casemiro came to the fore after the break.
His opening goal was a delicious clipped finish after a deft through pass from Antony, while his second was a long-range strike that took a slight deflection en route to finding the net.
MORE: Man Utd's record with and without Casemiro
Casemiro's performance was yet another decisive display from the 30-year-old central midfielder, who has played a major role in transforming the Old Trafford side into very serious contenders for a top-four finish in the Premier League.
Indeed, his display had fans raving over a player who has barely been at the club for five months.
MORE: Van Nistelrooy ready to raid Man Utd for winger
Man Utd fans on Casemiro
Casemiro is just fucking incredible at everything. #MUFC

— Stretford Paddock (@StretfordPaddck) January 28, 2023
Casemiro puts Man Utd 1-0 up.

He defends, assists, and scores. He is that guy... 👑🇧🇷 pic.twitter.com/T7qS5IIRgz

— UF (@UtdFaithfuls) January 28, 2023
Casemiro has been our signing of the season so far. Is the reason for so many clean sheets, makes the team balanced and has completely changed the mindset of the team.

The missing piece of Manchester United for so many years 🔴🇧🇷 pic.twitter.com/5oEVk4lxoo

— Isiah Madrigal (@Realisiah1) January 28, 2023
I'm crying, Casemiro joined us just so he can do what he wants. This guy went from passing 5 yards to Kroos/Modric every week to defending, scoring from 30 yards and making worldie passes whenever he wants ffs

— . (@utdcynical) January 28, 2023
Casemiro didn't look this happy winning multiple European Cups with Real Madrid. He loves it.

— Andy Mitten (@AndyMitten) January 28, 2023
Casemiro my guy 👊🏽❤️🇧🇷

— Rio Ferdinand (@rioferdy5) January 28, 2023
Thank you Real Madrid you deserve another 80m♥️🫡

— F. (@chance2_0) January 28, 2023
If you ever compared your DM to Casemiro, there's still time to apologize. pic.twitter.com/euEgRlXxbt

— Trey (@UTDTrey) January 28, 2023
It feels unfair we only gave Real Madrid £70m for Casemiro.
Bargain. #MUFC pic.twitter.com/VKpv8cyzxT

— Stretford Paddock (@StretfordPaddck) January 28, 2023
January 28, 2023
If we had Casemiro against Arsenal we would've won.

— ًEl. (@UtdEIIis) January 28, 2023
𝐖𝐡𝐚𝐭 𝐰𝐨𝐮𝐥𝐝 𝐰𝐞 𝐝𝐨 𝐰𝐢𝐭𝐡𝐨𝐮𝐭 𝐭𝐡𝐢𝐬 𝐦𝐚𝐧. ❤️🔴 pic.twitter.com/iXytz8CJq9

— UtdPlug (@UtdPlug) January 28, 2023