Sweden manager accused of racially abusing ex-Man Utd star on LIVE TV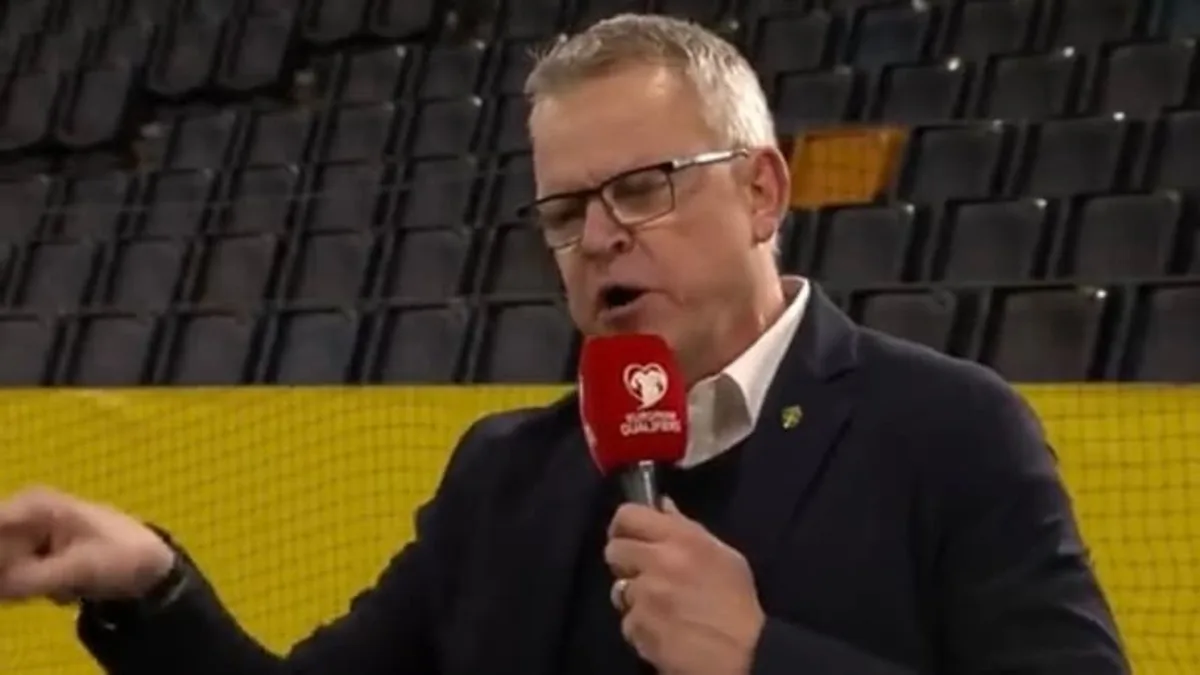 Sweden national team manager Janne Andersson has caused outrage after being accused of racially insulting former Man Utd player Bojan Djordjic on live television.
The incident happened after Sweden's 5-0 win over Azerbaijan in Euro 2024 qualifying on Monday evening at the Friends Arena in Stockholm.
Andersson was taking part in a post-match interview pitch-side live on national TV, with Djordjic one of the pundits asking the questions.
READ MORE: Man Utd star admits 'frustrating' lack of game time
Djordjic, who was born in Belgrade to Serbian parents but grew up and later played in and for Sweden, quizzed Andersson on his reluctance to use Jesper Karlsson more.
Karlsson has been in fantastic form for AZ but only played eight minutes during Sweden's two qualifiers this past week. He scored Sweden's fourth goal against Azerbaijan four minutes after coming on.
Andersson became very angry by this line of questioning. When Djordjic pointed out that Andersson had a duty to represent the people of Sweden by answering these kind of questions, he made an alleged racist remark by asking Djordjic who he represented, given the ex-winger's Serbian heritage.
Andersson was then scolded by Djordjic for his remarks before eventually walking out of the interview.
The exchange has caused outrage in Sweden where there has increasingly been racial tensions in recent years between ethnic Swedes and first or second generation immigrants often from Eastern Europe or Muslim-practicing countries.
What did Andersson and Djordjic say?
DJORDJIC: "What is your view on Karlsson? I just think he is amazing and should be playing more."
ANDERSSON: "And then, Alexander Isak and Viktor Gyokeres, who should be dropped?."
DJORDJIC: "But come on, eight minutes in two games, that's not enough for someone like Jesper Karlsson."
ANDERSSON: "Yeh but tell me who shouldn't play then, tell me who? I have to pick 11 players, who shouldn't play then?
DJORDJIC: "Change the formation. You don't need to play 4-4-2, you can play 4-2-3-1 or at least give him 30 minutes to prove himself.
ANDERSSON: "Excuse me but you can do what the hell you want if you were the Head Coach"
DJORDJIC: "But I'm not the Head Coach."
ANDERSSON: "I'm really sick of this nonsense."
DJORDJIC: "Why do you take it personally? You said you've just won five of the last six games."
ANDERSSON: "Damn it, we've just won 5-0 and you're standing here whining."
DJORDJIC: "I'm not whining, I'm asking specifically about Karlsson."
ANDERSSON: "He came in and he scored, that should be something positive. You just stand here and whine. When I come to this studio I know you've already been nagging about this. I really don't want to come here anymore because I can't bear to stand and talk about these things, it's so annoying."
DJORDJIC: "As a national team coach it's your duty to answer these types of questions. You are representing 10 million people out here and you're attacking people younger than yourself."
Janne Andersson, Sweden's national team manager just had a meltdown on live TV expressing himself in a racist manner questioning if @BojanDjordjic7 was representing Swedes.
No really, it happened. When Bojan says: "you represent 10 million Swedes" Janne pic.twitter.com/aTCHLgW1Hj…

— Nima Tavallaey Roodsari (@NimaTavRood) March 27, 2023
ANDERSSON: "And who do you represent then?"
DJORDJIC: "Sweden, of course."
ANDERSSON: "Oh really?! (sarcastic comment)"
DJORDJIC: "Why wouldn't I? What do you mean by that?"
ANDERSSON: "Congrats to you, good…good."
DJORDJIC: "Who else should I be representing?"
ANDERSSON: "Yeah you've been a coach at the highest level."
DJORDJIC: "Yeah and you've been playing football on the highest level, right?"
ANDERSSON: "This is so bad, this is so bad."
DJORDJIC: "You are talking too much now and becoming aggressive, why? Who else should I represent? Which other country? Are you referring to Serbia? Is that what you are trying to say? That's low of you Janne. It's a bad answer to say, 'who do you represent?'
"I represent Sweden just as much as everyone else. I will never forget this answer, it's very bad coming from the national head coach to say 'who do you represent?'."