Neymar labelled a 'spoilt brat' after PSG's surprise defeat
Neymar has been called a "spoilt brat" by former Paris Saint-Germain midfielder Edouard Cisse following another average performance from the Brazilian.
On Sunday afternoon, PSG faced Rennes in Ligue 1 and suffered a surprise 2-0 loss, with Gaetan Laborde and Flavien Tait grabbing the goals for the home side.
Lionel Messi, Kylian Mbappe, Angel Di Maria and Neymar all started in a star-studded front four, but were unable to break down the sturdy Rennes defence, who earned a clean sheet.
Indeed, PSG failed to land a single shot on target in the 90 minutes.
Neymar was the target of most of thee criticism following the game, with his attitude being questioned by Cisse.
"At Barcelona there was a structure," Cisse told Le Parisien.
"[Neymar] had a cleaner style of play, although he dribbled more.
"His job was to break the defensive line, make the difference and pass the ball to General [Lionel] Messi.
"He did it so well that he became his 'alter ego'.
"In Paris, they gave him the keys and they let him do what he wanted.
"In one moment, he was lost.
"He is a great player, no one can dispute that, but he has become a spoilt brat and he bosses everyone around."
Mbappe v Neymar
The addition of Messi this summer adds another ego to an already ego-filled PSG dressing room, with Mbappe and Neymar now apparently at odds with each other.
Following a 2-0 win over Montpellier, Mbappe was spotted on camera complaining about Neymar not passing to him.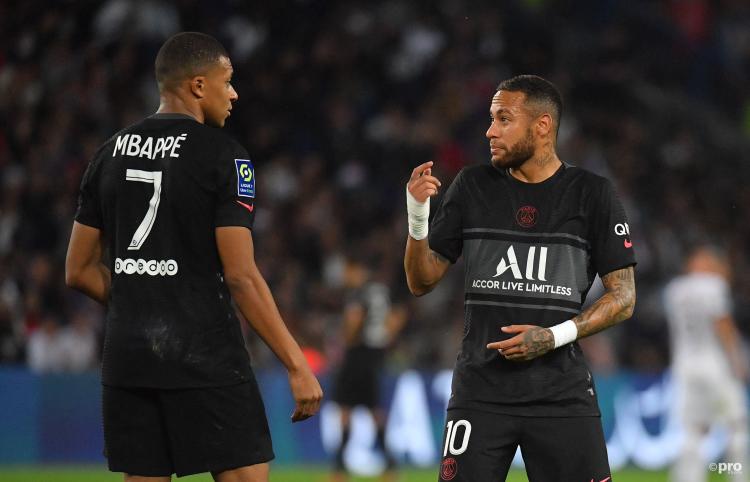 "He doesn't give me the pass," Mbappe was seen complaining after he was hauled off, apparently complaining about his Brazilian team-mate.
L'Equipe even reports that he called Neymar a "tramp".
It is a far cry from the relationship that the pair once had.
It was an outburst that Pochettino did not deny when questioned about it during Monday's press conference.
"In football, this kind of thing happens between competitors. The permanent goal is to win," Pochettino said. "It made a lot of noise outside of the squad, but internally it was nothing.
"The two spoke to each other, I also spoke with them, and you saw that in training they were laughing."