How fast is Kylian Mbappe?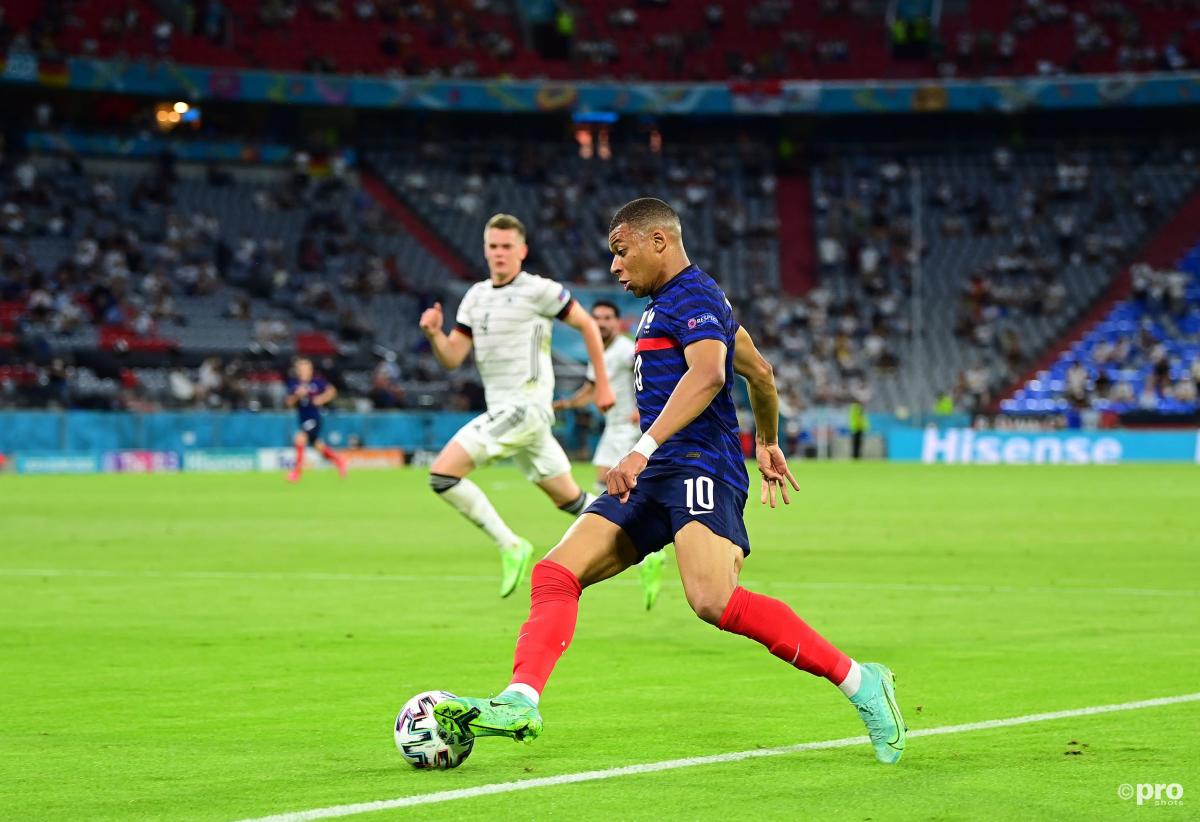 Kylian Mbappe showed Mats Hummels his lightning pace as France defeated Germany 1-0 in their Euro 2020 opener on Tuesday.
On several occasions, the 22-year-old forward blew by the Borussia Dortmund defender, who admittedly has never been known for his change of speed. However, Mbappe made Hummels look statuesque on one occasion in the second half, when he made up 10 yards of ground to reach a seemingly impossible through pass.
Real Madrid fans are hoping to get a closer look at the PSG man's speed in the years to come as their side chases the attacker, who is out of contract next summer and appears no closer to a new deal with the Ligue 1 outfit.
But just how quick is the Paris Saint-Germain attacker?
Mbappe. Hummels. pic.twitter.com/OGLzXtykmv

— Pablo Brunetto (@pablobrunetto) June 15, 2021
Mbappe has always been fascinated by speed. In a recent interview with France Football, the PSG attacker underlined that he has long had a fascination with big cats, while he is a fan of Usain Bolt.
"We stayed up one night until 11:58pm to watch Usain Bolt for nine seconds in the Olympic final," he said. "He was more than a sprinter, he was an iconic showman. He made you want to get up in front of the TV. But beyond the show, there were his strides. I really felt that I wasn't running in the same way as him."
How fast can Mbappe run 100m?
Indeed, Mbappe admits that he might have been a sprinter had life been different.
"I admit, I would have liked it," he said. "I remember training in Monaco and there was a 100m track next to the pitches. It's a long way, 100m. You don't realise it. Keeping such an intensity over such a long distance is a real task. It's not just waiting for the gun and running at full speed."
It's not just waiting for the gun and running at full speed
- Kylian Mbappe
Mbappe, though, admits that he does not know how quickly he can run 100m.
"I don't remember my time, but it couldn't have been terrible," he said. "I'd do it again out of curiosity.
"I'd race against a real sprinter, but not one too strong because I have to feel like I can win! But it would be interesting to gauge myself against a real specialist."
Mbappe speed 💯... #FRAARG #worldcup pic.twitter.com/J7Ymh9NL1g

— Match of the Day (@BBCMOTD) June 30, 2018
At the 2018 World Cup, Mbappe was clocked at running 38 kilometres per hour against Argentina to win a penalty by Swedish TV, although doubts have been cast on the veracity of this by the athletics community. For reference, Bolt's record is 44.72km/h.
There may be doubts over whether Mbappe's future lies at PSG or Real Madrid, but there certainly are not over the devastation his blistering pace can cause.