What happened to William Saliba at Arsenal?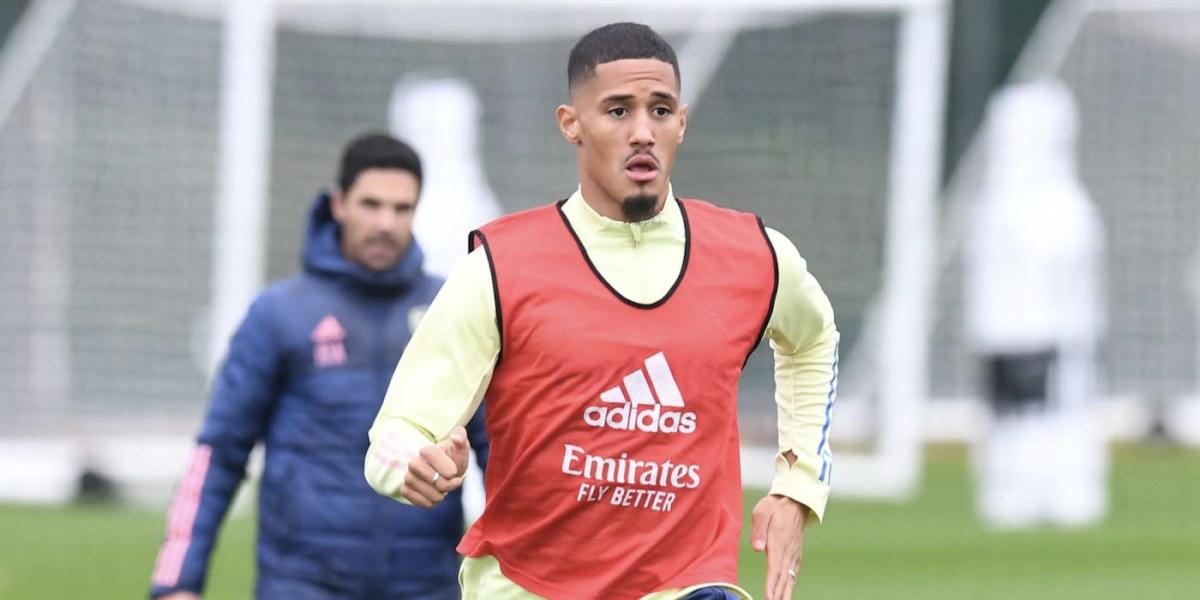 Arsenal defender William Saliba has proven to be a divisive figure in the camp, taking regular aim at manager Mikel Arteta since competing a move to Nice.
Signed in the summer of 2019 by Arsenal for a reported fee of £27 million, Saliba has not made a single appearance for the Gunners' first team in a competitive match.
Instead, he spent the 2019/20 campaign on loan at Saint-Etienne, where he had issues with injury before the Ligue 1 season was cut short by the coronavirus pandemic.
After failing to feature under Arteta when he returned to Arsenal, he was moved out on loan to Nice at the start of January and has excelled on his return to France.
Why did William Saliba leave Arsenal?
Saliba left Arsenal in search of game time. He was a notable omission from the club's Europa League squad, along with Mesut Ozil and Sokratis, and did not feature in the Premier League, though he was eligible.
Indeed, Saliba made the bench for only two of Arsenal's competitive matches in the first half of the season. He played six times in the Premier League 2 and twice in the EFL Trophy, however.
Given the Gunners' ongoing weakness at centre-back, this was surprising.
Saliba claims, however, that he was judged on just a couple of matches that arrived nearly six months after his previous game with Saint-Etienne.
"Mikel Arteta judged me on two-and-a-half games," he complained to RMC.
"I would've liked for him to play me more, but he told me I wasn't ready. I was waiting for him to give me a chance, but football is like that."
What has Mikel Arteta said about Saliba?
Arsenal boss Arteta has explained that he believes Saliba needed more first-team exposure elsewhere before being involved for the Gunners.
"I explained that he needed that transition year when we decided to buy him and send him on loan to Saint-Etienne, for many reasons that didn't happen, he didn't have that transition year and he needs to go through that," he said in November.
"At the moment, with the amount of central defenders that we have in the team we had to leave him out of the squad which is painful because we have some injuries and we could have used him, but it's part of this profession."
Certainly, Arteta has a point. Saliba was distinctly mediocre for Saint-Etienne during the 2019/20 season, though he was repeatedly hampered by injuries and the campaign was cut short in March owing to the coronavirus crisis.
What games has he played for Arsenal?
His only friendly appearance for the first team came in August against MK Dons. His performance was greeted warmly by the fans, who were impressed with the manner in which he was able to distribute the ball from the defence. He started the game on the right of a back three.
Four days later, he was in the squad that played Liverpool in the Community Shield, though only made the bench.
Saliba's only other notable performances for Arsenal came in the Football League Trophy, in which he played twice. He was sent off against Wimbledon in a 3-0 defeat.
Where is he now?
William Saliba is in Ligue 1 playing regularly for Nice. He was named the club's Player of the Month for January after a smooth start in France, which contradicts Arteta's claims that he was not ready for action.
Will Arsenal sell Sabiba?
Saliba has already indicated that he is open to staying at Nice for longer than his initial six-month term, although that was in the context of extending his loan.
There is no guarantee that Arsenal will wish to sell him when his time at Nice is up. Indeed, there is no purchase option for the French club in the loan agreement, so the Gunners have all the power in this situation.
While his relationship with Arteta may be far from perfect, it does not seem to be something a handful of strong performances could not fix – and there is no guarantee the Spaniard will still be in charge when Saliba returns in the summer.
What is in the Saliba video?
On February 9, 2021, the French Football Association (FFF) confirmed it was looking into a video that had gone viral on social media involving Saliba. In it, one of his colleagues is openly masturbating in the dressing room.
Saliba appears to be the person doing the recording. The FFF has apparently taken note of it because the players are in France national team tracksuits. He is charged with bringing the game into disrepute.
It is reported that the recording is three years old.