Why Barcelona and Real Madrid's transfer budgets have been slashed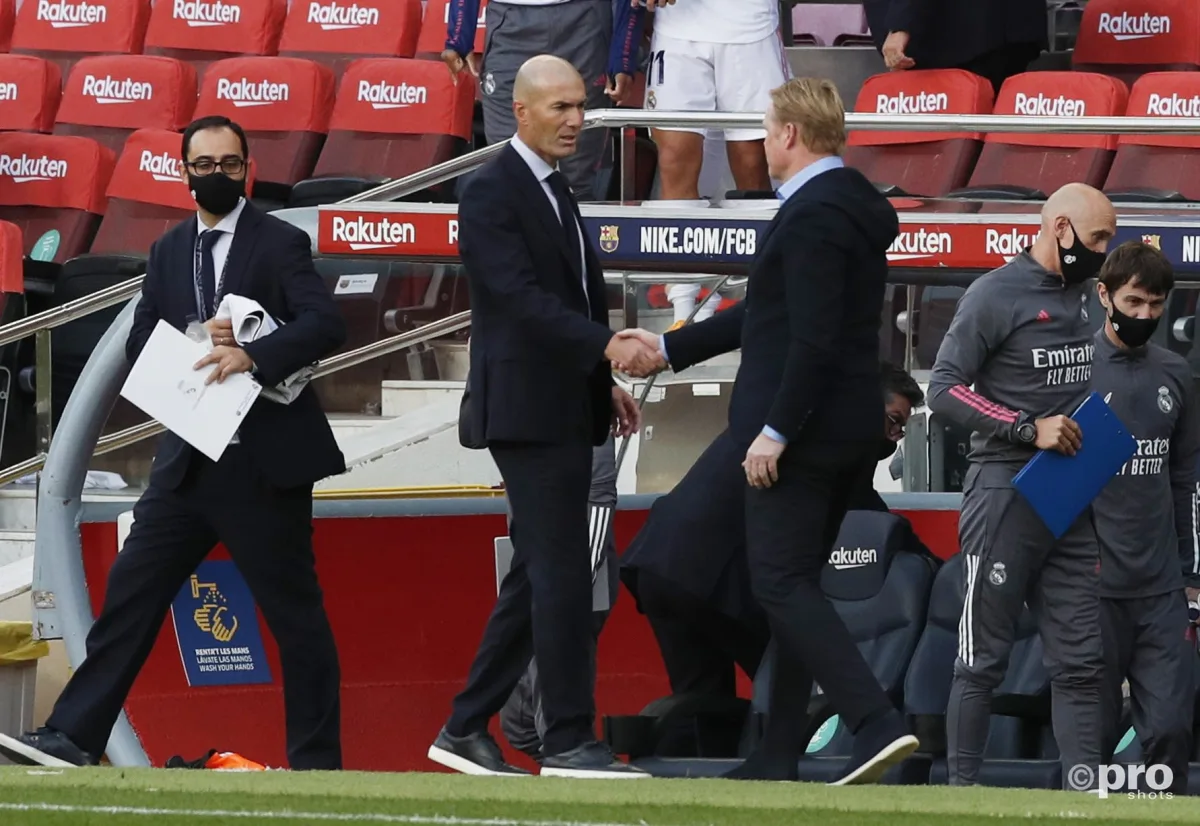 The economic impact of the coronavirus crisis is being felt in Spain's La Liga, where financial regulations are a little different.
In Spain, there are spending restrictions based on revenues from years, with each specific to an individual club and not just a 'one size fits all' rule.
The planning for these measures has been in place since 2013, but are being used most extensively due to the unprecedented impact of the virus.
"Economic control was created precisely for extreme situations like these," says Jose Guerra, corporate general director of LaLiga. "We work for the sustainable growth of LaLiga clubs and that is what the economic control will achieve."
The restrictions are on transfer budgets, and wage budgets for senior players, coaches, assistant head coaches, head physios, and their academy and reserve squads.
The regulations have been compared to Financial Fair Play, but the key difference is that La Liga's restrictions are put in place proactively based on previous spending, compared to FFP reacting to overspending with subsequent sanctions.
La Liga's Global Futbol Newsletter details that, from the 2019/20 campaign to 2020/21 there was a €600m decrease in money made available for extra spending as La Liga bosses attempted to recoup the losses felt.
Spending allowed: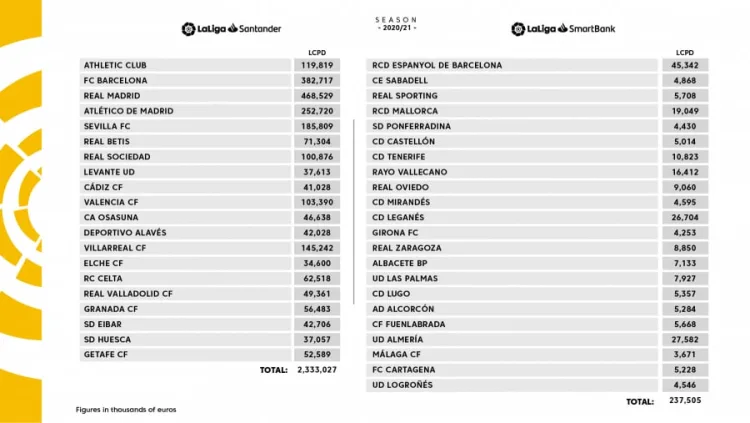 Normally, clubs would be subjected to severe sanctions if they exceeded their allowed limits. But La Liga president Javier Tebas explains that the current situation calls for some compromise.
He explained: "We are working with clubs on long-term plans and know the big reductions that some clubs need to make cannot be done overnight.
"We are not going to be as demanding with clubs as in recent years; rather than imposing sanctions we will work together to find ways to overcome our current challenges; be they wage cuts or encountering new sources of financing. Clubs know this is a process that will take more than a few months to resolve."
An example which highlights the very true impact of the regulations comes from transfer spending. In 2019 La Liga clubs were the second-highest spending in Europe behind the Premier League. But of the major leagues on the continent, they dropped to the second lowest spenders in the summer of 2020.
La Liga regulations: How do they affect Real Madrid and Barcelona
Real Madrid are one of the most free-spending clubs in history, with superstars regularly being courted to become 'Galacticos'.
However, in the summer of 2020 there were no major incomings at the Santiago Bernabeu. Despite the club making over £88m [€95m] in players sales from the likes of Sergio Reguilon, Achraf Hakimi, and Oscar Rodriguez, not a single penny was spent.
Their current wage budget is €448m, and they require this to be significantly trimmed rather than adding to it with any potential new transfers.
Real Madrid, no signings
Head coach Zinedine Zidane had the returning Martin Odegaard, who had been on loan at Real Sociedad, as the only fresh face in the senior squad.
The lack of investment has been felt, as the league's defending champions have been below par so far. They trail Atletico Madrid in the title race and came close to not qualifying from their Champions League group stage for the first time.
Things have improved in recent matches, but it is still a squad which requires new recruits; Toni Kroos and Luka Modric are still stars but the latter is now 35. Karim Benzema needs a reliable back up as centre-forward; a new winger is on the agenda due to the constant injuries suffered by Eden Hazard.
Barcelona, no budget
Things are worse, though, at Barcelona. The pandemic really couldn't have come at a worse time as the squad desperately required attention in the summer.
Following the embarrassing exit from the Champions League at the hands of Bayern, Quique Setien was sacked and replaced by Ronald Koeman.
The Dutchman gave the Barca board two names on his transfer wishlist for the summer – Gini Wijnaldum and Memphis Depay. Neither were bought, with the majority of the transfer budget spent on Sergino Dest.
Barcelona were unable to put together enough funds to lure away two players whose contracts are currently finishing in the summer of 2021.
And the way things are going they are not in a position to continue to pay Lionel Messi's wages under the current structure. They face losing the Argentine for free when his own contract runs out.
PSG have been strongly linked with a move for the Argentine superstar in recent weeks. FootballTransfers exclusively revealed that official club stores of the Ligue 1 side have been told to brace themselves for Messi arriving in Paris.
It is likely that Barcelona will need to sell before they can buy in January, so suitors for the likes of Philippe Coutinho, Ousmane Dembele, and Samuel Umtiti will need to be found before Koeman can get in new blood.
The wage budget is a real concern for the Catalan side, too, as they are currently spending a gargantuan €573m on player salaries at the moment.